Sales Have Ended
Registrations are closed
Through the eyes of a gamer event is coming soon. We can't wait to see you there. Three amazing guest speakers : Mick Walsh - The Learning Curve Program Daniel Donahoo - author of "Idolising Children" and "Adproofing Your Kids" . Dan Martinez - Chief Operating Officer at The FUSE Cup eSports. Hosted by Mandy Buchholtz (Uniting - Recoded - Changing the way we game program)
Sales Have Ended
Registrations are closed
Through the eyes of a gamer event is coming soon. We can't wait to see you there. Three amazing guest speakers : Mick Walsh - The Learning Curve Program Daniel Donahoo - author of "Idolising Children" and "Adproofing Your Kids" . Dan Martinez - Chief Operating Officer at The FUSE Cup eSports. Hosted by Mandy Buchholtz (Uniting - Recoded - Changing the way we game program)
Through the eyes of a gamer provides better understanding around video gaming and video gaming behaviour.
About this event
Through the eyes of a gamer, hosted by Mandy Buchholtz (Uniting)
Informing adults that care for children and young people (Parents, Professionals & Support Workers).
It is extremely exciting to have three highly regarded guest speakers! Mick Walsh, Daniel Donahoo and Dan Martinez: experienced professionals with varied and extensive backgrounds in several fields, including wellbeing and video gaming.
About the Event:
• Video gaming already generates greater revenues than the global movie and film industries combined and its prevalence continues to grow;
• Many children and young people have turned to or increased their video game play during Covid-19 lockdowns to manage boredom, connect with others and even as a coping mechanism during the pandemic;
• This event seeks to lessen the stigma around gaming among young people and to elevate understanding about the struggle between home-learning and video game play experienced in family homes today.
This event offers an inclusive and open discussion on ways to support the generation of young people who were born into this fast-evolving digital space, by providing:
• a non-judgemental space for parents and caregivers
• a more informed community around video gaming
• education around the blurry lines of gambling within video games
• strategies around healthy gaming as well as understanding what motivates gamers to play
• supporting resources and helpful tips
This is an online Zoom event Future sessions dedicated to children and young people will be made available.
We hope to see you there!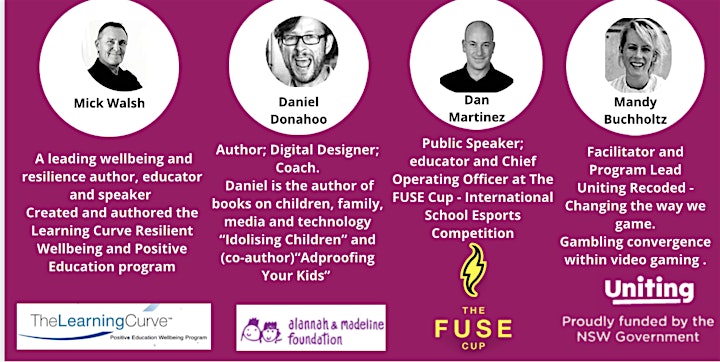 Dan Martinez - Public Speaker; educator and Chief Operating Officer at The FUSE Cup - International School Esports Competition.
Dan is an Apple Distinguished Educator, Microsoft Innovative Educator and has had experience leading innovation and learning in large scale independent schools.
Daniel Donahoo - Author; Digital Designer; Coach.
Daniel's work is driven by play, technology and narrative. Daniel is the author books on children, family, media and technology "Idolising Children" and (co-author)"Adproofing Your Kids" and writes and blogs regularly on the topics of technology, children, education and families.
Recent work: Gamers Guide by Gamers (Alannah Madeline Foundation)
https://joanganzcooneycenter.org/2021/07/23/by-gamers-for-gamers/
Mick Walsh - Author, Coach and Presenter
Mick has been a leading wellbeing and resilience author, educator and speaker across Australasia and internationally for many years.
PERMAH advocate.
Positive Emotions + gratitude
Engagement + mindfulness
Relationships + empathy
Meaning + purpose
Accomplishment + optimism
Health + strengths
Created and authored the Learning Curve Resilient Wellbeing and Positive Education program.