About this Event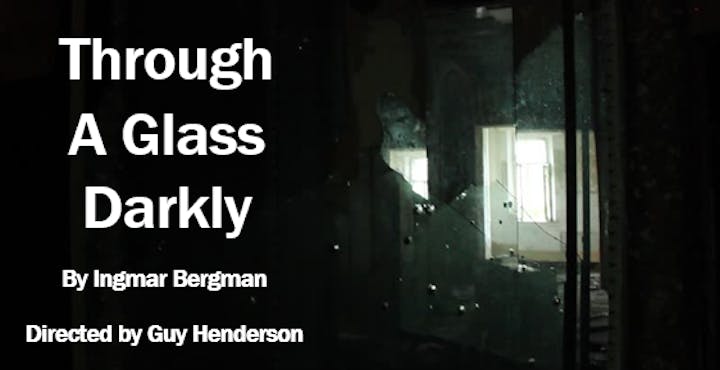 STUDENT PRODUCTION CASTING CALL
THROUGH A GLASS DARKLY
BY INGMAR BERGMAN
DIRECTED BY GUY HENDERSON
SUNDAY 24th MARCH 10 AM to 5 PM
IRA RAYMOND ROOM
PERFORMANCE DATES: 11TH, 12TH, 13TH OF JULY 2019
"If there was a place you could go to, where the better part of you could live, you would go, wouldn't you?"
Adapted from the Oscar Winning film of the same name, Through a Glass Darkly is an intense and beautiful exploration of mental illness and female autonomy. Recently discharged from hospital and holidaying with her father, husband, and brother at their isolated beach house, Karin's world begins once more to twist. Locked away by her husband and ignored by her remaining family, the voices in her head offer her a freedom she has only dreamt of before…
ROLES AVAILABLE:
(ALL AGES GIVEN ARE STAGE AGES)
The play is set in the early 1960's on Faro, Sweden.
KARIN (the protagonist): early/mid 20's, spritely, energetic, outwardly optimistic for her family, harbours deep insecurities towards herself and her illness.
DAVID (the father): late 30's/early 40's, weary, intellectual, distant, has intentions of being a better father to his children but can't overcome his own uncertainties.
MARTIN (the husband): early/mid 20's, straightforward, logical, well-intentioned in his attempts to support his wife which proves to be ineffective.
MAX (the brother): mid/late teens, serious, awkward, emotional, confused about his identity and feels overlooked by his family.
AUDITIONS BY APPOINTMENT ONLY. AUDITIONS WILL BE 15 MINUTES EACH.
On requesting an audition slot, please provide the following information:
• Which role you are auditioning for
• An email address
• A contact number
Each applicant will receive an audition piece from the play to read on confirmation of their audition time.
Please arrive 10 minutes early to your audition to allow yourself time to prepare and fill out an audition form.
While you won't need to fully memorise your audition piece, you will be required to be familiar with the audition piece that you have been sent and prepared to play around with your monologue and take direction during your audition.
Be prepared to read another excerpt from the play which you won't see until the day, extra time will be given to become familiar with the excerpt.
Call back auditions will be held on the 31st March 2019, you will be asked during your audition if you will be free during this time.