Description
In the new world of work machines are rapidly taking over algorithmic work - the simple, the routine and repetitive.
The good news is that this is a wonderful opportunity for more humans to be remarkable, and do meaningful to them and highly valuable to others work. This I have learned is the sure-fire way to better business results at less personal cost.
In this special seminar over breakfast we'll be exploring 3 proven ways to, as Steven Farber so wonderfully described it, do what you love in the service of people who love what you do.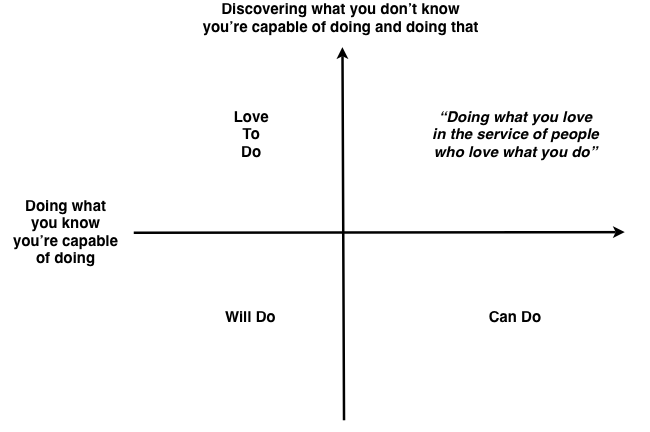 Warning: success in the new world of work is not about doing what you love and the money will follow or any other nonsense. It's actually really hard, gut busting, mind challenging, and demanding work.
The great news is that there are proven principles you can follow in your own best way and these are what this breakfast is all about.
A signature to all my work is that while what I say is important, it's nowhere near as important as what you hear yourself say to yourself, and then do your own unique work.
Be remarkable.
Ian
I've had the pleasure of working with Ian for close to two years in one-on-one and group settings. Ian's unconventional in his approach (refreshing!) but works to a brilliantly simple yet powerful philosophy that centres around our experiences as human beings (shocking I know!!). He's a purpose and values-driven mentor and team builder who I'd recommend to anyone.
Chris Pike, General Manager – Culture & Community, Surf Coast Shire Council
As a mentor to me and my family members who lead and manage our businesses Ian Berry has made a significant difference to our personal and business success including our 570% growth in just under 5 years.
Peter Taylor, CEO Townsend Building Services
We have had some great presentations at our breakfasts, and your presentation was one of the very best ever.
Malcolm White, Managing Director, Communicat
Ian's seminars are thought provoking and life changing.
Mark Kay, Department of Administration and Information Services
Date and Time
Location
Refund Policy