About this Event
Get ready for an intensive, practical Modern Marketing workshop for the Modern B2B Business and Thrive.
Learn how to Sell without Selling
The Modern Business stays relevant at all times. A Modern Business of tomorrow is able to sell more without selling, and as if that's not enough, they can sell better and faster than their competitors. Your answers will be revealed at the intensive 2-hour Modern Marketing 2020 lunch and learn workshop in Melbourne. At our session, we focus on arming attendees with 3 important strategies which will help you sell without selling.
Build trust online and offline, so you can sell without selling: How to tell your brand story so that you can build trust and sell more. Learn the art and science of story telling as a way to drive stronger, deeper connections by following the #CAT and serve the right CONTENT to the right AUDIENCE at the right TIME.
Generate leads and close deals: Learn how Offers, websites, Sales and Marketing automation tools orchestrate the buyer's journey and close deals.
Outperform: Practical metrics to measure your marketing campaign performance, so you always know what's working and where to focus your efforts and budgets.
Expand your network: A friendly event to meet with and learn from other like-minded Marketing and Communications Professionals in Melbourne! And share the latest Modern Marketing practices to help you attract, engage, close, delight your customers, and thrive ...
Includes morning tea and Workshop materials.
Speakers.
Business and Marketing Strategist
Follow the CAT, she says - serving the right content to the right audience at the right time.
Veronica is the creator of the Modern Marketing Framework that lets businesses tell stories so they can sell without selling while delivering real business value. She infuses Mathematics, Science, Creativity and Psychology to shape and deepen customer engagements.
Modern Marketer
Charlene is a firm believer in process. In particular, that modern marketing starts from understanding your audiences, through to amplifying your business development efforts by leveraging technology coupled with the human touch. Practices she applies to her family business in Australian immigration.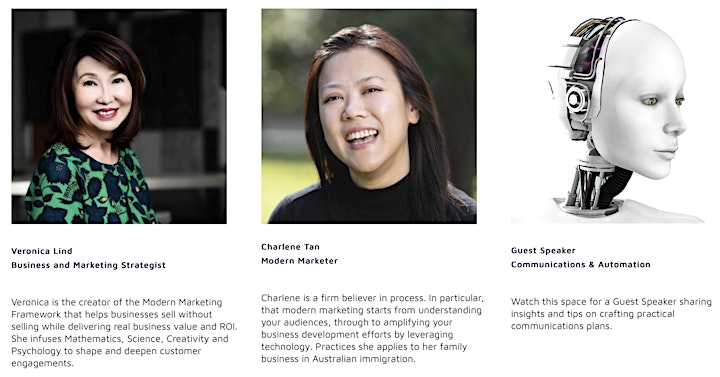 About Vermilion Pinstripes
Vermilion Pinstripes is a sales, marketing and communications agency with a team of creative, business and technology professionals who build business confidence so you can thrive.
Using creativity, maths, science and psychology to help you sell without selling and communicate with your most attractive customers to strengthen brand loyalty.
Agent for HubSpot, Bookeo and Kounta.