Description
Italy is renowned for having thousands of grape varieties spread across over 20 regions. But there are only three Italian wines they call the 'King of Wines' and Wine of the Kings. These are Barolo, Barbaresco and Brunello. El Vino has teamed up with the crew at Russo & Russo to bring you a battle of the Kings! Journey with us as we take you from sunny Tuscany to the hills of Piedmont and taste 6 premium wines matched with equally inspiring modern Italian dishes crafted with the freshest seasonal ingredients. We have carefully selected exceptional vintages to show case each producer and wine at its very best. Who will be your favourite? Let the battle begin...
The Contestants:
Barolo
Before Italy there was the House of Savoy, a royal family that expanded its ruling from a small county in Piedmont to leading the entire Kingdom of Italy from 1861 to 1946. Not only did they unify and rule the country, the Savoyard Kings of Italy also introduced to the world: the Barolo. Made from the esteemed ancient grape, Nebbiolo. Back in the 15th century this grape was so prized that anyone who cut down a Nebbiolo vine was fined 5 Lire. Repeat offenders had their hands cut off and in some cases even put to death!
Barbaresco
The underdog in this race, Barbaresco embodies the story of rags to riches. It was overshadowed by the Barolo until the late 18th century when a group of passionate farmers rallied for Barbaresco to be recognised in its own right. There were many initial setbacks as the lead propagator passed away unexpectedly, followed by World Wars which further hindered Barbaresco's rise. It wasn't until the 50s and 60s did it gain the serious recognition it deserves and became a serious contender.
Brunello
The story of Brunello embodies man's quest for perfection. Starting with the discovery of a special grapevine on a steep Montalcino hill in 1842. Its founder Clemete Santi and a group of 16 farmers were the first to believe in the quality of this grape. They promoted Brunello as a fine wine during a difficult time when many didn't even have food on the table. Today, Brunello is considered one of Italy's greatest wines and a supreme example of Sangiovese at its best. It has also become Italy's most recognised premium wine, internationally dubbed as "the wine that knows no recession".
Who are the Russos?
Russo & Russo is owned by father and son Pino and Marc Russo, and made possible by a dedicated team of "honorary Italians" in the Kitchen and Front of House. It represents Modern Italian cooking at its best. Built on foundations of a mamma's kitchen where everything is made from scratch, it employs modern cooking techniques using only the freshest local and seasonal produce.
Join us for THE Italian wine tasting event of the year!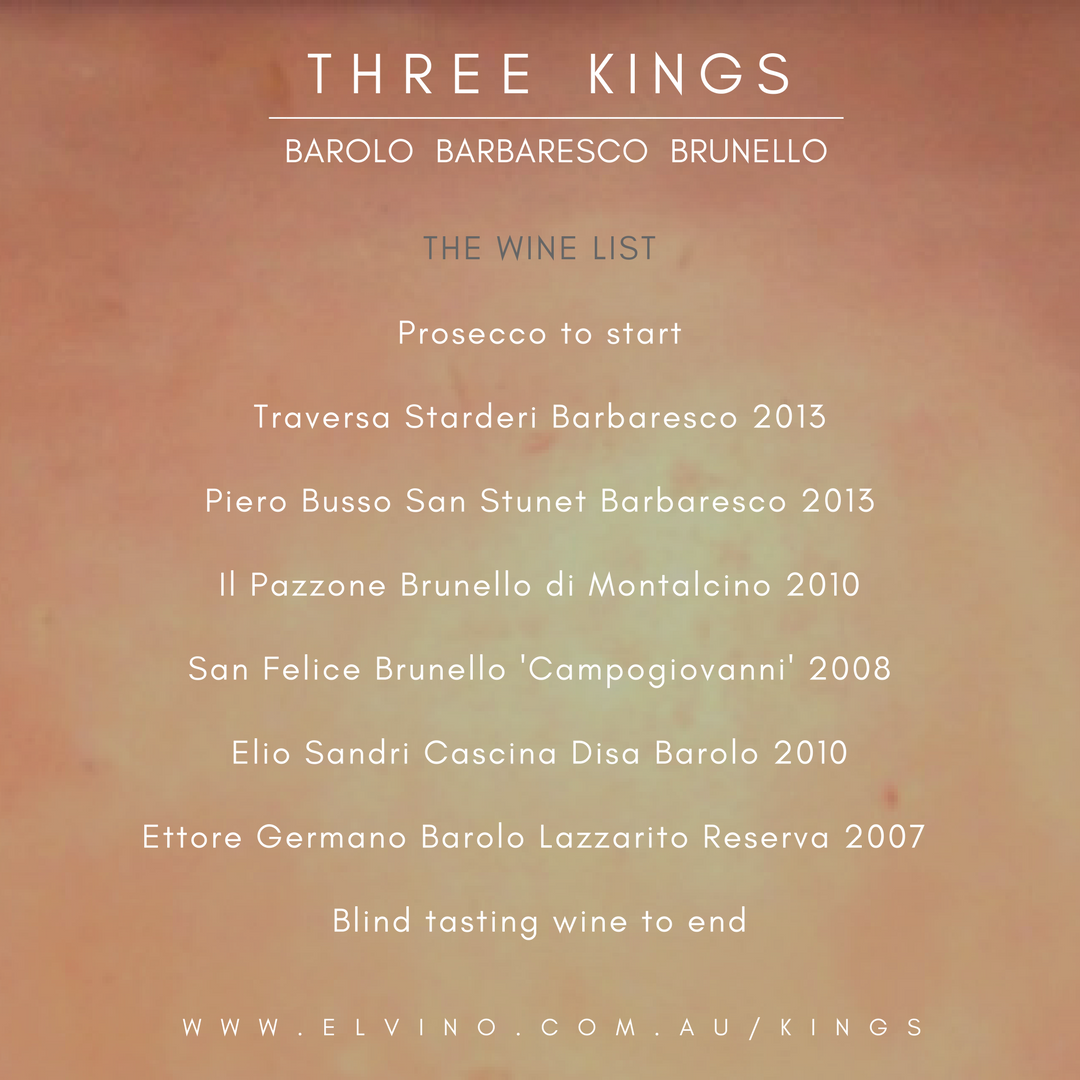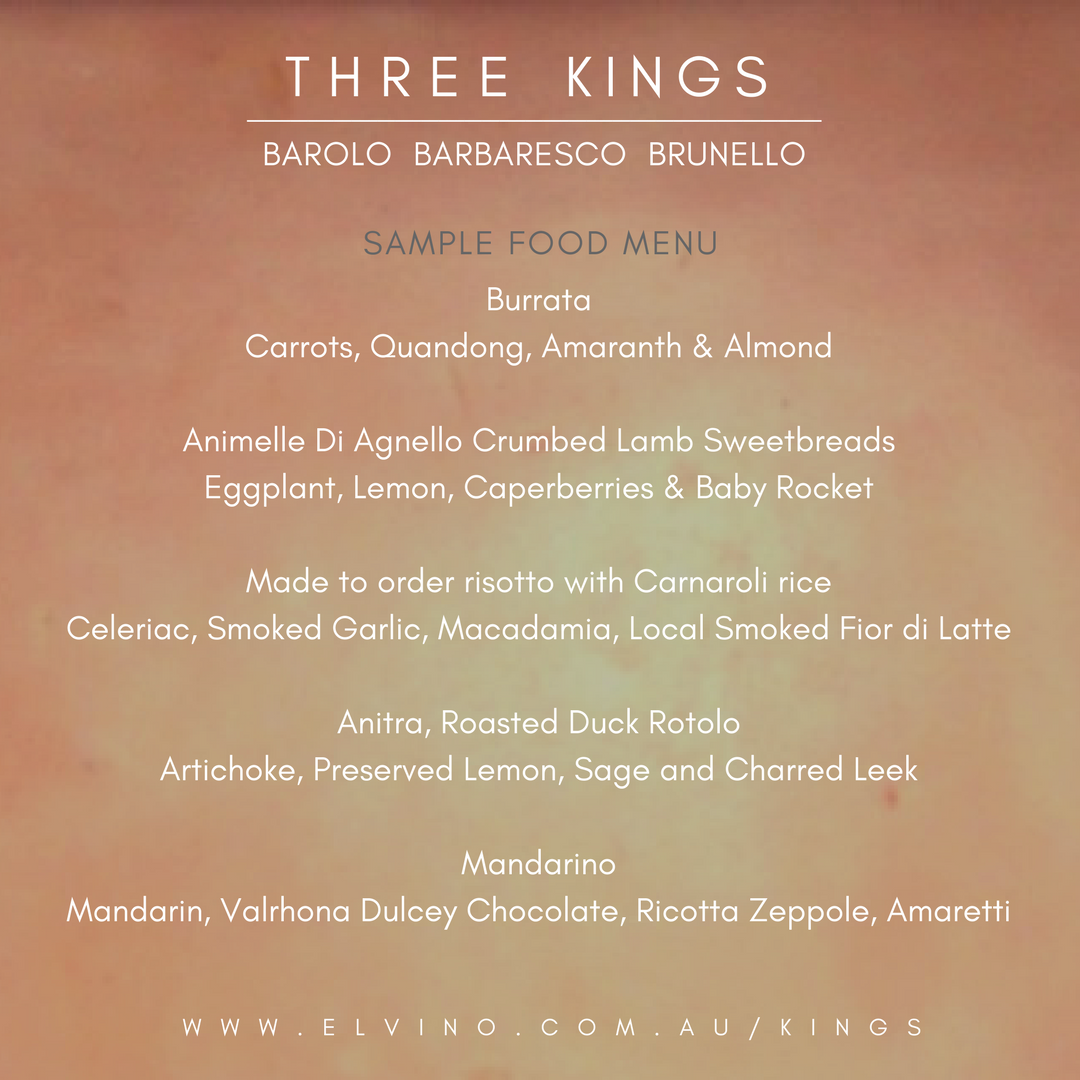 *Menu is influenced by seasonal produce and will be confirmed closer to the event. We can cater for any dietary requirements. Please email us prior to the event admin@elvino.com.au
Terms: Please note if minimum numbers for this event are not met, we reserve the right to cancel 48 hours before the event date and a full refund will be given.