Thought Leaders - Fashion Forward: Disrupting the Media Landscape
Description
Digital disruption within the media industry has been – and still is – a huge talking point amongst media professionals, investors, and the everyday Australians who consume content on a daily basis. With a rapidly digitising media landscape – where intersections between differing industries and new technologies are constantly in formation – how can working professionals navigate through such disruption, and glide effortlessly towards new forms of integrated communications?

In our second Thought Leaders of 2016, we bring you Fashion Forward: Disrupting the Media Landscape. With keynote speaker Edwina McCann, Editor-In-Chief of Vogue Australia, we'll explore how technology, cross-sector collaboration, and entrepreneurism are becoming the beating heart of Australia's media industry.

Stay on top of changes within the industry, now!

This event is open to UTS Alumni & Students only
Students please email business.practice@uts.edu.au before registering
PROGRAM
6.00-6.15 pm Registration
6.15-6.45 pm Keynote, Edwina McCann, Editor-In-Chief of Vogue Australia

7.00 -7.15 pm Q&A
7.15-8.00 pm Networking drinks
SPEAKER
Edwina McCann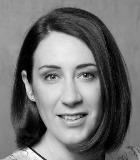 Edwina McCann has been the editor-in-chief of Vogue Australia since 2012 and is responsible for the Vogue brand across print, digital and social media platforms.
With 20 years' experience in the luxury fashion market, Edwina is one of the most respected and highly regarded editors in the market.
After starting her career as a fashion assistant at Vogue, Edwina moved onto fashion-related editorships at The Australian, WISH and Grazia before joining Harper's Bazaar Australia as editor-in-chief.
Edwina has spearheaded the creation of the Australian Fashion Chamber to nurture and promote Australia's fashion design community. She acts as chairperson of the AFC, which is recognised as a sister association of the British Fashion Council and the Council of Fashion Designers of America.
In 2014 Edwina was named in the Business of Fashion 500, a professional index of the people shaping the global fashion industry.
Edwina is passionate about her role on the Gold Committee, which raises funds for the Sydney Children's Hospital.Edwina joined the UTS Business School Advisory Board in 2014. In 2015, Edwina topped B&T's list of the 30 Most Powerful Women in Australian Media.
By entering this event you agree that UTS, Business Practice may use photographs or video footage taken of yourself during the event for marketing purposes including DVD production, posting on UTS Business Practice website and or social media platforms, or for future UTS, Business Practice events.


For any queries please contact:
Ph: 02 9514 3504
Email: business.practice@uts.edu.au