Description

Today: Monday 16th Oct from 7pm - 10:30pm at World Bar...
Rinske is hosting the FREE Latin & Jazz Open Mic/Jam Session
Your chance to perform, or be a loving spectator!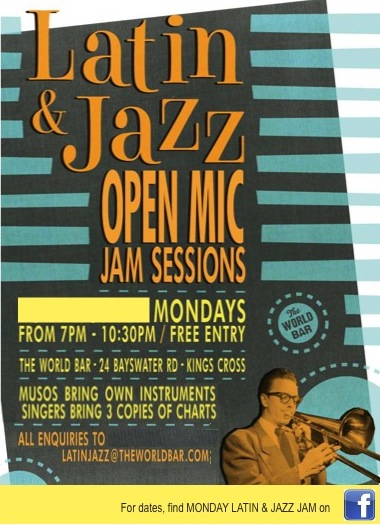 To all musicians, singers and spectators... we are on: Mondays 7:00-10.30 pm.
$8 cocktail special for early arrivers!
Join in as a singer, musician or spectator for a night full of creative jazz, Cuban son, Brazilian bossanovas and sambas, a bit of blues, Latin boleros, salsa, French chansons and a little poetry and acapela!

Recent visits from professionals such as Vince Martin, Jeanne Bastos, Dahlia Dior, Sally Street,
Wally Wrightman and Steve Clisby.

The night is supported by musicians Roslind Baker (bass), Pierre Della Puta(drums), Nigel Hearn (soprano/alto sax) Bernard (guitar), John revai (keys), Josien De Bie (vocals/MC) and guest artists.
There's a PA system, mics and piano.
Singers and muso's: Bring your own charts (3 copies) and/or your own instruments if possible.

No cover charge (!) but donations are appreciated for musical support.
Enjoy great pizzas and cocktails (or a nice beer or wine)
over some funky and sultry tunes.
No table bookings, so be there around 7pm to secure your seat!
Pizza menu - click here

FREE and not-for-profit... so please forward to any musicians or spectators who may be interested!