Description
Are you thinking about separating or recently separated and wanting to know more about the process?
Be in a space where you can share with and learn from others experiences with separation and divorce.
The overall purpose of the event is to give people who are thinking about separating or who have recently separated a forum to learn about their options from divorce professionals and others who have experienced separation.
Learn from those who are going through divorce and separation and hear what they are going through. There will be an opportunity to have a general discussion and to ask questions of each other and of the professionals.
Separation raises questions such as:
How will we/I manage the cost of two households?
How can we/I make sure we both have a good relationship with our kids?
These are some of the questions we will be talking about in our next Focus Group at MELCA.

--
Get a free copy of our book "Breaking up without Breaking Down" when you attend.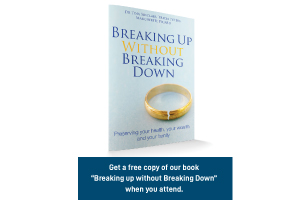 Tea, coffee and refreshments will be provided.