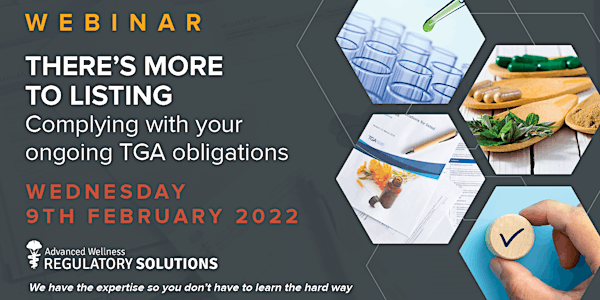 There's more to listing - complying with your ongoing TGA obligations
Event Information
Refund policy
Contact the organiser to request a refund.
Eventbrite's fee is nonrefundable.
You are warmly invited to our latest webinar - There's more to listing! Complying with your ongoing TGA obligations.
About this event
One of the many reasons that new clients reach out to us is that they have had a tap on the shoulder by the TGA regarding the compliance of their medicine. These compliance notices range from the obvious - advertising, listing issues and evidence to the less obvious - adverse reactions, pharmacovigilance, stability and GMP clearances.
Our clients are a range of large, market leading brands to small complementary medicine sponsors who largely understand that there are regulations and wish to comply, however more often than not are not fully aware of their ongoing obligations as medicine sponsors. Join us to learn exactly what your obligations are and what you need to do to comply.
Who should join us:
Those considering becoming medicine sponsors
New sponsors of medicines
Sponsors who do not have a pharmacovigilance contact person listed on eBS
Sponsors who do not conduct annua PQR's
Sponsors who do not have a stability program
Sponsors who do not have a dedicated record keeping system for their listed medicines
Sponsors who do not have change control systems in place
Sponsors who are not sure about any of the above
This event will include practical examples and a Q and A session.
The webinar will be held on Wednesday 9th February 2022, from 9.30am to 1.30pm AEDT.
About our speaker:
Rose Tallack BHSc (Nat), Adv Dip Nat, Dip Nut
Senior Regulatory Affairs Consultant
Rose has been working in the complementary medicine sector for over 20 years and has forged a highly successful career spanning several areas of the industry. Over the last 14 years Rose has worked for respected practitioner and retail brands with her career portfolio covering technical writing, seminar presentations, product training and research. Prior to joining AWRS Rose held a senior management position that was responsible for regulatory affairs, product development and technical support for a large retail brand. Rose joined the AWRS team 4 years ago. Drawing on her extensive knowledge of the regulatory environment and manufacturing practices, she provides AWRS clients with expert advice on a broad range of regulatory matters, and research and development projects. Rose has been an active member of the CMA Regulatory and Technical Committee for the last 7 years.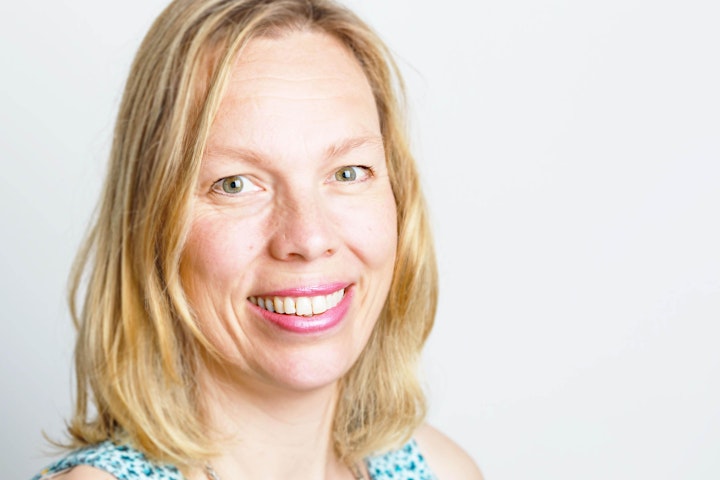 Learning objectives and outcomes:
The objective of this webinar is to provide sponsors with a clear outline of their regulatory responsibilities as a medicine sponsor and to provide solutions for sponsors to fulfil these obligations.
After attending this webinar you will understand your responsibilities as a sponsor of listed medicines as underpinned by legislation and recognise the risk associated with not undertaking these responsibilities. You will also have access to solutions to implement to manage and maintain compliance.
About Us:
Advanced Wellness Regulatory Solutions are a team of highly skilled professionals with over 70 years of combined industry experience, who specialise in providing timely and reliable regulatory advice, saving our clients in time, money and reputation. We have the expertise, so you don't have to learn the hard way.
Date and time
Location
Refund policy
Contact the organiser to request a refund.
Eventbrite's fee is nonrefundable.