There Is No Use-By-Date: Inspiring Women to Make The Best of Their Life
Sales Have Ended
Ticket sales have ended
Thank you for registering to attend our gathering. This is an exciting, fun workshop so look forward to seeing you in the room. Victoria Rose 0414 805 576 PS. If you have any questions or would like to just have a chat, then call me :)
Sales Have Ended
Ticket sales have ended
Thank you for registering to attend our gathering. This is an exciting, fun workshop so look forward to seeing you in the room. Victoria Rose 0414 805 576 PS. If you have any questions or would like to just have a chat, then call me :)
Description
If your life is not how you want it to be, if you wish you could reinvent yourself, if you wake up wondering what to do with the rest of your life then you need to be at this gathering of like-minded women.
You know there are no dress rehearsals for life.
You are on stage straight away and you were not born to be mediocre. But yes, it's tempting to mingle with the crowd, to be average, to be the person others expect you to be. Yes, stepping out of your comfort zone is scary but drowning in the tedium of everyday life is much scarier. You're meant for better things. Your life has a purpose. It's never too late to start over again, to start a new chapter in the book of your life.
Time to step into a better life, to get out of the back seat and into the driver's seat of your own life.
Come and be part of this gathering of smart older women as you discover new ways to look at your life, new ways to handle those difficult situations and new ways to see you.
"Victoria is so authentic and believes what she talks about. I love her passion for life and her beliefs. It is contagious." -Jan-Maree Blatman
"A great thought provoking day to help understand more about our underlying beliefs and values that can drive the decisions we make! Thanx." -Carol Wilson
"Victoria is very passionate, articulate, inclusive, affirming, knows her subject and engages everyone. Thank you." -Anne Shearman
"Victoria Rose is an excellent and personable trainer who encourages people to seek to find the best in themselves so that they can see the best that life has to offer." -Kim Wood
"Thank you very much Victoria Rose for the attention and advice you gave to us/me. You touch my deep feelings in a special way and in the end I feel like I find myself again and I can go on in my life!" -Nina Koleva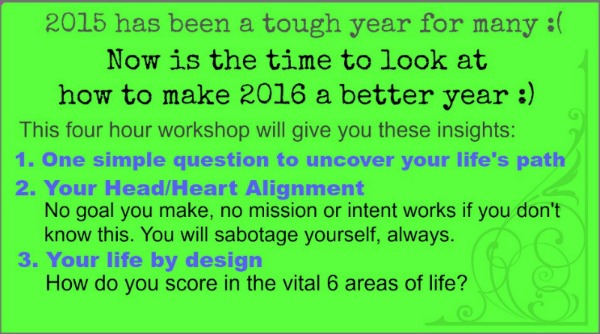 Check out the event page to see videos and more details:
http://www.theleadershipvoice.com/there-is-no-use-by-date.html
Is my registration/ticket transferrable?
You may transfer your ticket to another fabulous baby boomer woman
What is the refund policy?
Full refund provided if requested, in writing, 46 days or more prior to the event date.
No refund provided if requested 45 days or less from the event date. However, the full amount will be credited to attend another Leadership Voice workshop of your choice. This credit is valid for one year from the date of the original event.