Description
#THEPAC2018 will be held on the 26th - 28th of November 2018.
The Panalitix Business Growth Conference will be inspiring, educational and memorable. We will be hosting world-class speakers to address the industry's hot topics. Getting your CPE credits has never been this fun. Be prepared for an experience you'll never forget!
Last year's conference hosted roughly 500 attendees. We encourage first-timers in addition to our loyal attendees for our first ever PAC in the United States.
Thought Leaders. Industry Influencers. Business Mentors. Innovators. Life-changers.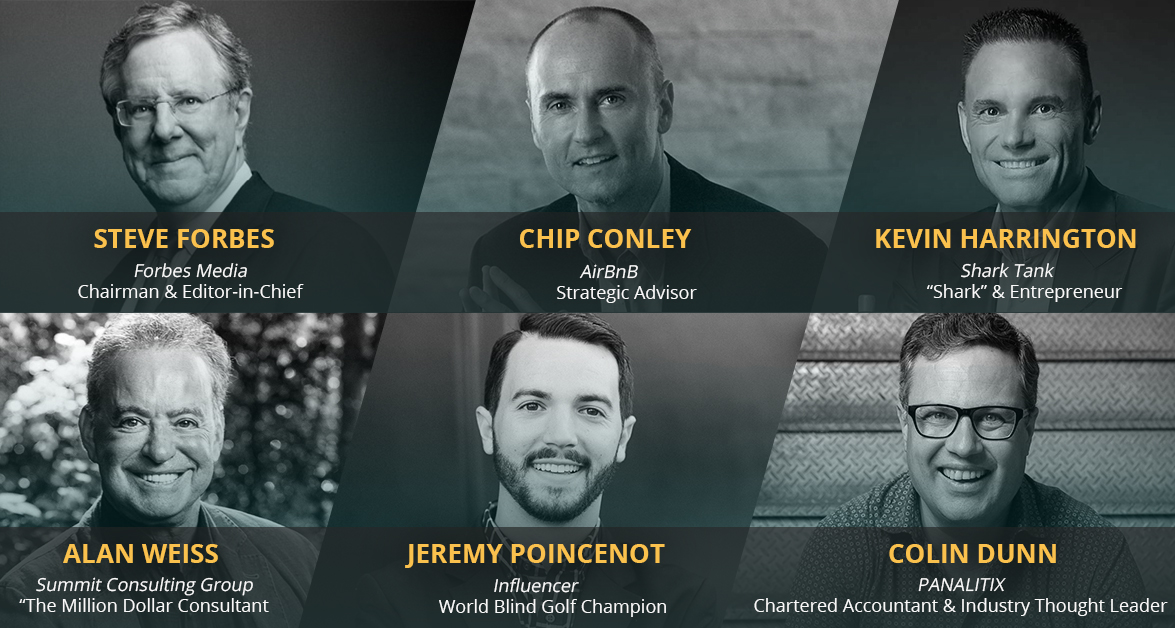 We will be introducing one speaker at a time so stay tuned each week for a new speaker introduction.
For more information, visit #THEPAC 2018 @ http://bit.ly/2IdwH8d
---------------------
Steve Forbes
---------------------
Born into a publishing empire, Steve Forbes grew up immersed in the worlds of publishing and politics. Steve's grandfather, B.C. Forbes, was a financial journalist who founded Forbes magazine in 1917. In 1954, his son, Malcolm Forbes, took over the magazine. It wasn't until 1973, Steve, 26, began writing his own column for his father's magazine. In 1980, Steve became the president and chief operating officer of Forbes, Inc. and following his father's death in 1990, he became chief executive officer of the company as well as editor in chief of the magazine. Steve also founded Empower America in 1993, joined the board of trustees of the Heritage Foundation in 2001 and joined the board of directors of Freedom Works in 2006.
Steve has authored books and continues to write editorials for each issue of Forbes magazine's "Fact and Comment" section. He is the only writer to have won the highly prestigious Crystal Owl Award four times.
His political ventures include being appointed by President Ronald Reagan to head the Board of International Broadcasting, re-appointed by President George H.W. Bush as well as running for the Republican presidential nomination in 1996 and 2000. He also served as national co-chair and senior policy advisor in the 2008 Republican campaigns.
---------------------
Kevin Harrington
---------------------
Known as the Entrepreneur's Entrepreneur and the Entrepreneur Answer Man, Kevin Harrington has been assisting entrepreneurs with turning their dreams into realities for over 30 years. At the age of 15, Kevin launched his first business but didn't have a business breakthrough until college. By his freshman year, he had built his first million-dollar enterprise. After, he began selling franchises and working alongside other entrepreneurs to help them succeed.
"But wait, there's more…" before long, Kevin launched the Infomercial and built on its success to pioneer the As Seen on TV brand. Through these opportunities, Kevin launched products including The Food Saver, Ginsu Knives and The Great Wok of China as well as worked with celebrities including Billie Mays and George Foreman.
From this, he built his personal brand which earned him a seat as an original "shark" on Shark Tank, where he continues to live out his passion of empowering entrepreneurs to greatness. Kevin has produced well over $5 billion in global sales, has launched over 500 products and has helped 20 of his companies gross $100 million in revenue.
---------------------
Chip Conley
---------------------
For years, Chip Conley has been sharing his philosophy and tools for success to individuals and organizations around the world. He strives to shift the way people think about their businesses and their lives by viewing everything through a unique lens that honors the human being.
At age 26, Chip took an inner-city motel and turned it into Joie de Vivre Hospitality, the second largest boutique hotel brand in the world. Conley was CEO for 24 years before accepting an invitation in 2013 from the founders of Airbnb to help transform the home sharing start-up brand to the world's largest hospitality brand. As Airbnb's Head of Global Hospitality and Strategy, Conley shared his award-winning methods to thousands of Airbnb hosts in nearly 200 countries and created Airbnb Open, a global festival of belonging. In 2013, Chip founded Fest300 to share his passion for travel and the world's best festivals. In 2016, Fest300 merged with Everfest with Chip as the Chief Strategy Officer.
Chip was awarded hospitality's highest honor, the Pioneer Award; he is founder of the Celebrity Pool Toss; creator of San Francisco's Hotel Hero Awards as well as serves on the boards of the Burning Man Project and the Esalen Institute. He is known for his TED talks and has had the opportunity to work with organizations including PIXAR, Google, Zappos and countless others.
--------------------
Alan Weiss
---------------------
Alan Weiss has published over 500 articles; written 60 books appearing in 12 languages; and coached executives and entrepreneurs around the world. Whether speaking or coaching, his career has taken him to 60 countries and 49 states. He has worked with clients including Mercedes-Benz, The Federal Reserve, Hewlett-Packard, New York Times and over 500 others.

Weiss is the only non-journalist in history to receive the Lifetime Achievement Award from the American Press Institute. In 2006, he was inducted into the Professional Speaker Hall of Fame® and the recipient of the National Speakers Association Council of Peers Award of Excellence, representing the top 1 percent of professional speakers in the world. He was later named the Fellow of the Institute of Management Consultants, one of two people in history to hold both designations. The New York Post described him as "one of the most highly regarded independent consultants in America" and Success Magazine as "a worldwide expert in executive education.
----------------------------
Jeremy Poincenot
----------------------------
Jeremy Poincenot, was your typical, healthy college sophomore when without warning life started to blur. At age 19, Jeremy had lost central vision in both eyes. The diagnosis – a rare genetic disorder called Leber Hereditary Optic Neuropathy (LHON) that affects 100 people in the U.S. each year with no treatment or cure. Like most people would, Jeremy thought that losing his vision meant forgetting his life. He quickly learned that with every challenge a new door opens for greatness.
With hard work, dedication and the team he surrounded himself with, Jeremy competed in and won the World Blind Golf Championship in England, only one year after losing his vision. He created the C.U.R.E. (Cycling Under Reduced Eyesight), an annual bike ride that has raised over $200,000 for LHON research.
Jeremy now focuses his time inspiring audiences around the world by sharing his story of overcoming adversity and encouraging others to gain perspective in their lives. He's been featured on ABC's 20/20, CNN.com and ESPN as well as had the pleasure of speaking for prestigious companies including Aflac, Honda, John Hancock and many more.
His message each time, "Life is about making choices and if you choose to have a positive outlook, resolute purpose and a hint of humor, anything is possible."