About this Event
This talk is primarily for Curtin University staff and students, but members of the public are welcome to attend.
Thea Costantino's practice includes drawing, sculpture, video, photography, written works and performance. She has exhibited and undertaken residency projects within Australia, Europe, the UK and USA both in a solo capacity and collaboratively.
Broadly, Thea's work investigates the representation and memorialisation of the past: the use and abuse of history, the continuing influence of the past on the present, and the ways in which repressed or forgotten material can resurface in daily experience. She often explores the talismanic power of objects including photographs, which despite their ubiquity often have intense personal significance and are intimately tied to rites of memory.
Thea holds a PhD from Curtin University and undergraduate degrees in Fine Art and Literary Studies. She received a 2015 Visual Arts and Craft Mid-Career Fellowship from the WA Department of Culture and the Arts, the 2013 Hutchins Art Prize, a 2011 Qantas Foundation Encouragement of Australian Contemporary Art Award and the 2012 Artsource/Gunnery Artist Exchange. Her work is held in collections including the Art Gallery of South Australia, Art Gallery of Western Australia, The Cruthers Collection of Women's Art, Murdoch University, John Curtin Gallery, City of Perth, and City of Joondalup.
Thea will talk about her current practice and the works currently on show in the Atrium as part of the Gallery's Collection Focus.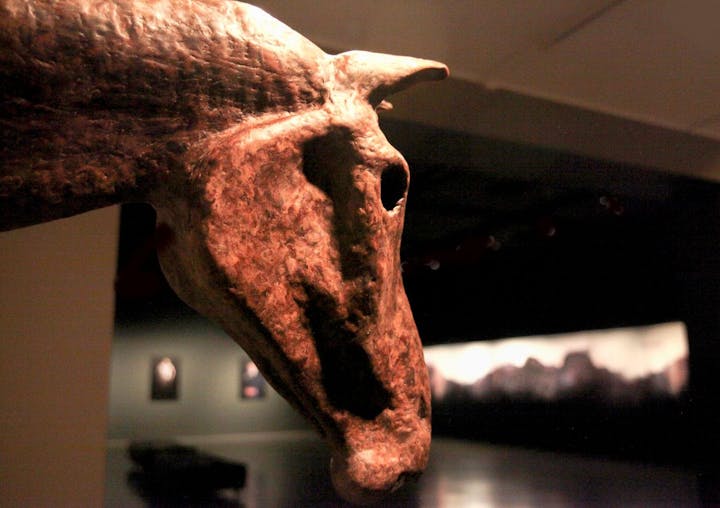 Thea Costantino, Foreign Soil , 2015, exhibition image, JCG.