Event Information
Refund Policy
Contact the organiser to request a refund.
Eventbrite's fee is nonrefundable.
Join in this live, facilitated & focused session when you need to get work done. It's productive, creative, effective... and supportive.
About this Event
In these changing times, if can be challenging to find the motivation, focus and commitment to get the work done that we need to or would like to… particularly if we're working alone at home, are missing co-workers or the buzz of the office, have missed out on learning opportunities or feel the loss of not being part of a tribe or team.
Come along to the work hack club with Lynne Cazaly and you'll get a boost from her facilitating, hacking and leadership skills, guiding you through sprints of work, checking in via accountability sessions and being in a co-working environment with Lynne... online.
All the while, you'll be doing your work AND you'll be learning and trying out new and better ways of thinking and working.
"I signed up for the Work Hack Club as I'm trying to build self-discipline while working from home. I was blown away with the session as Lynne, not only held the space I needed to be productive but, collaborated with me on my ideas to help unlock their greater potential. This club has arrived at exactly the right time for me and I cannot wait for the next session."
- Emma Prentice
the work hack club is all about being:
productive
creative
effective
supportive
If you're worried about what to do with your to-do list, join the work hack club and Lynne Cazaly will help you get it done!
The dedicated time and space is set!
Plan ahead and lock in the times you want to be focused on working, then with Lynne's support, coaching, guidance and expertise you'll make incredible progress on the work to be done.
Lynne's expertise at hacking processes, systems and productivity is what will bring you great progress in each session you join.
How will it help me get more work done than I usually do?
1. Sign up - buy your ticket via Eventbrite and choose the dates you'd like to join in with the work hack club.
You'll receive your link to sign in to the work hack club Zoom session 24 - 48 hours prior to the session
2. Show up on your chosen date/s
3. Check in with Lynne Cazaly on the work you're hoping or planning to do in that session.
4. Start the hack ... get started on your work in the session led and supported by Lynne Cazaly, LIVE, in every session.
There will be focused sprints of work and other times for conversation, sharing, reporting back, accountability … and support. If you've got questions you'd like to ask Lynne or like her support, advice, guidance and direction on, you'll be able to do that too.
1st session is $129 AUD for 3-hours
2nd and subsequent sessions are $99 AUD for 3-hours (you become a 'Frequent Flyer')
Q: What if I need Lynne's 1:1 guidance on identifying the work I should be doing or how to do it?
You can join in even if you don't yet know what you'll do on the day, but know that you just need to 'get away from it all', get some peace and quiet and get some focused time. Lynne Cazaly will available to have a 1:1 conversation with you to answer questions and give you guidance, direction and support on the work that could be done - whatever your situation, role, task or responsbility.
About Lynne Cazaly
Lynne Cazaly is a communications and work specialist. She finds the most efficient route, the fast track to getting things done and done well. In these times of overwhelm, lack of focus, being alone and being easily distracted, it's natural to not know how to do your best work.
Lynne is an experienced facilitator and new / better ways of working expert. She has worked with agile teams and understands how today's work can be done more productively, effectively, creatively… and with greater support. Lynne is a 6 x author and understands how to get things done!
She has led hackathons, team sensemaking days and large group hacks for businesses like Telstra, NSW Health, SafeWork and students in the Thought Leaders Business School.
She trains you in using new and refreshing techniques so you can achieve what you need to achieve in the right kind of environment.
Lynne is obsessed with working in creative, innovative and ingenious ways that change how people think, live and work.
Once you've got the insights on how newer and better ways of working can help you, you'll achieve more, feel less stressed and enjoy trying some different ways of getting things done.
the work hack club will give you:
greater focus
new principles, processes, tools and techniques for work
progress on your own work
learning and insights
increased engagement and effectiveness
opportunities to work in creative ways you may not have tried before.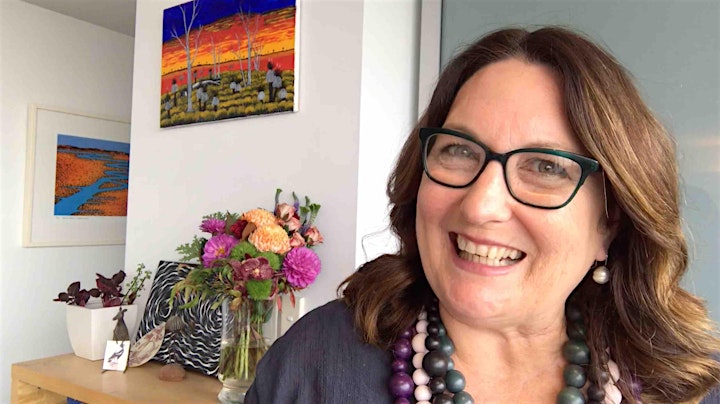 Date and Time
Location
Refund Policy
Contact the organiser to request a refund.
Eventbrite's fee is nonrefundable.