The Wholesome Collective - cooking and nutrition presentation | NERRIGUNDAH
Come along for a fun, interactive and tasty night and enjoy a cooked meal followed by music!
About this event
CONNECTING COMMUNITIES THROUGH FOOD - all welcome!
The Wholesome Collective (TWC) was founded by Accredited Practising Dietician Kerryn Boogaard and Home Economist Mary Wills. TWC uncomplicates nutrition and helps members of the community overcome barriers to cooking and eating well. They making healthy eating achievable and enjoyable.
TWC provide practical nutrition education via social, relaxed group cooking presentations. No matter what your social situation, living situation, budget, age or health status, this fun night will deliver skills and tips to eat well and develop essential cooking skills.
TWC have facilitated many nutrition and cooking programs in fire affected communities with residents that may be living in temporary dwellings such as caravans, sheds and pods.  The program considers how to utilise limited bench space, conserve water and use pantry staples and non-perishable food items with limited cooking equipment, utensils and power sources. TWC address barriers to make healthy eating and cooking affordable achievable and sustainable for everyone.
You'll get fed on the night and all participants will receive a TWC cookbook for ongoing education and inspiration.
Register to attend or contact Community Recovery Officer Linda Wilton on 4474 1258 or email Linda.Wilton@esc.nsw.gov.au
This community recovery event is hosted by The Wholesome Collective in partnership with Council.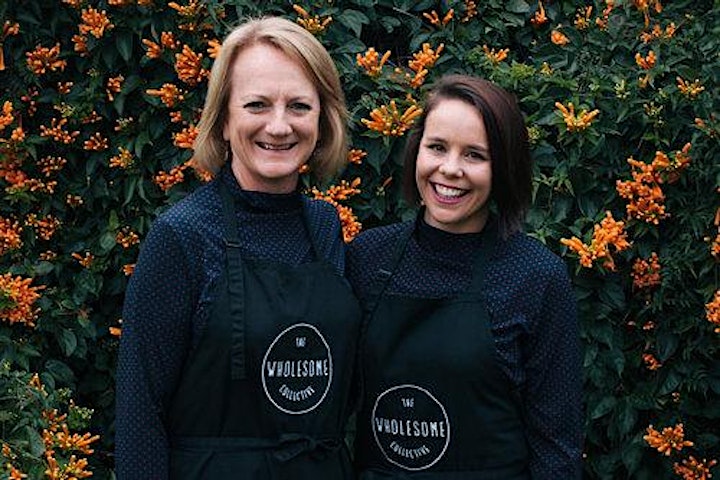 Mary Wills (left) and Kerryn Boogaard (right) from The Wholesome Collective are excited to visit Nerrigundah and meet the community on Friday 19 November 2021.
Organiser of The Wholesome Collective - cooking and nutrition presentation | NERRIGUNDAH