Event Information
Refund Policy
Refunds up to 1 day before event
Eventbrite's fee is nonrefundable.
About this Event
The Wealth Formula Series
Unleashing your massive earning power
When Joseph Chou came to Australia in 1991 with $4,000, like many migrants, he came with a dream to build a better life – to become successful and wealthy. He also wanted to prove to himself that anyone with big dreams, a positive attitude and strong work ethic can become super successful given time.
After being stuck at an income of half-a-million dollars for three years between 1995-1998, he decided to find the secret to breaking through this barrier.
Since then, not only has he grown his own income many fold, he has put together a formula for other people to break their own income and career bottlenecks. Some of his friends, colleagues and clients have used his formula to multiply their income to hundreds of thousands of dollars or even millions.
Now for the first time, he is sharing his formula with the public.
In this 2-week, 6-lesson and 12-hour LIVE online series, Joseph Chou, Founder & CEO of Ironfish will reveal:
The No. 1 reason why you get stuck in your career or business
3 ways to double your income within 12-24 months
5 reasons why you are selling yourself short
The 4 paths of financial independence and which one is for you
The ultimate breakthrough formula
Date and Time:
30 June – 9 July 2020
Every Tuesday, Wednesday and Thursday
7:00pm – 9:00pm
Course fee:
BOOK NOW FOR FREE (Limited Time Only)
(Price will resume to $198 after free tickets sold out )
Course outline:
Lesson One : The One Reason Why Most People Get Stuck – you stopped dreaming
Lesson Two: Why You Should Change Your Positioning – How you position yourself will determine how far you progress in your career
Lesson Three: 8 Laws of Success
Lesson Four: The Secrets to Unlimited Wealth
Lesson Five: How to Build Winning Teams and How to Become a Crucial Talent in Any Organisation
Lesson Six: Sell Your Way to Success – Key Factors to sell yourself or your products and services to the world
What's even better?
The first 100 people who have attended all of the 6 sessions will receive a free copy of Joseph's book – "From Bicycles to Bentleys" after the event.
(*Offer limited to attendees based in Sydney, Brisbane, Melbourne and Perth only.)
See what our recent attendees say about this online series:
"This 2-week course changed my mindset. I have gained a lot from it. For example, I have realized the power of the subconscious and the importance of taking action. Success is based on a positive attitude together with a method to achieve your goal. The course taught me not only how to achieve financial freedom, but also how to become a better person."
"I'm so grateful to have attended Joseph's course and hear him share his success stories and life experience.
I was deeply moved by the phrase "Excellence is a habit". Being a new mother for a year or two, I started to feel less motivated and just wanted to live an 'average' life. However, I gradually realized how hard it was even just to live a stable life, and felt at a complete loss after the outbreak of COVID-19.
After attending Joseph's course, I have now realized I need to work much harder and learn more practical skills. My goal is to double my income within the next 12 months and to become a top salesperson."
"I'm deeply impressed by Joseph's personal story and his valuable experience in life and business operations. His whole-hearted and selfless sharing is so inspiring. My most favourite sessions were "The laws of success; How to Build Winning Teams and How to Become a Crucial Talent in Any Organisation; and Sell Your Way to Success – Key Factors to sell yourself or your products and services to the world".
"Joseph is so down to earth and sincere when sharing his success stories. I mostly benefited from the Q&A session where Joseph provided practical advice and guidance to the audience."
"I'm at a hard point in my life. Joseph's course enabled me to see new hope and I have found my direction to restart my life!"
Speaker: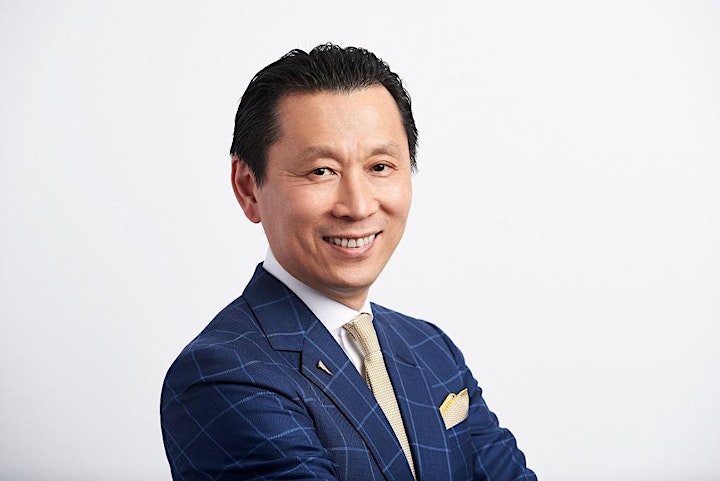 Joseph Chou
CEO & Founder, Ironfish
"Everyone has the intention of building wealth, but they lack the knowledge, time or commitment, or someone to guide them through it. I knew I could help with that process."
As the CEO and Founder of Ironfish, Joseph Chou has assisted investors across Australia and China build a strong property investment portfolio designed to deliver long-term financial wellbeing.
Joseph is dedicated to inspiring and motivating others to reach their potential. He is a highly sought-after speaker, presenting to thousands with the aim of disrupting status-quo thinking and transforming mindsets to support people in achieving their goals. His personal story of success, 'from bicycles to Bentleys' continues to inspire many.
In 1991, Joseph gave up a distinguished career as a Chinese diplomat and migrated to Australia with very little. His desire to create a better life for himself, and a strong determination to succeed paved the way for his entrepreneurial spirit to emerge.
Joseph quickly established himself as one of the most sought-after Mandarin translators and interpreters in Australia, with clients including Qantas, Telstra, Boral and BHP. In 1998, Joseph made the switch to property after discovering the great potential for building wealth through property investment in Australia.
Before founding Ironfish and overseeing an expansion that has seen 14 offices open throughout Australia and China, Joseph enjoyed considerable success as the General Manager of a major Australian property group. In 2006, Joseph established Ironfish to pursue his vision for a broad scale property services company which could be a true, life-long partner for people seeking to build wealth through property investment.
Joseph is now also committed to helping young, up-and-coming entrepreneurs succeed; he serves as a business mentor as well as a founding investor in a number of FinTech start-ups. Joseph is an alumnus of Peking University, a proud father of two, a connoisseur of luxury cars, an avid reader and a true Renaissance man with many musical talents.
Date and Time
Location
Refund Policy
Refunds up to 1 day before event
Eventbrite's fee is nonrefundable.