About this Event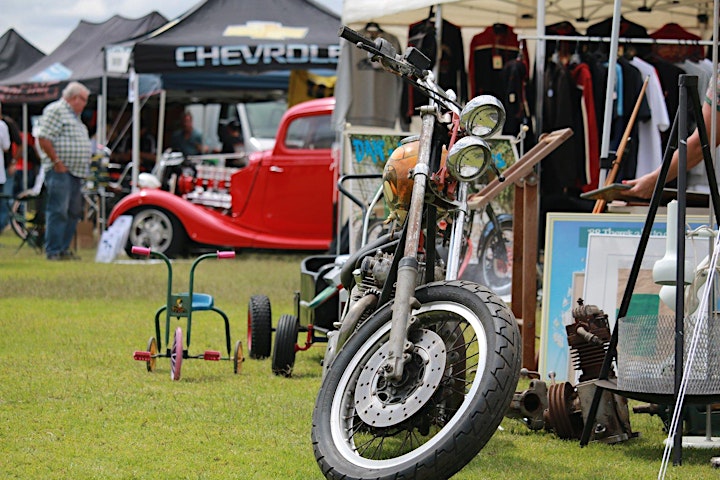 VCM Perth Events bring you the best in all things Vintage, Retro, Upcycled, Recycled, Rockabilly, Pinup, Manmade and Man Cave.
From our Vintage Market, to the amazing All Wheel Show'n'Shine, indoor record fair and our own amazing Pinup Parades, you will find something to please at our events.
Our Events are designed to bring a fun, friendly day out full of entertainment, great food and treasures to hunt at our Markets.
Established in 2011, #VCMPerth has grown to be one of the premier Vintage Events in Perth. And it is still
FREE entry for the public to enjoy!
So bring your dancing shoes and swing those hips on the purpose built indoor dance floor, enjoy a beverage at the bar and cruise the outdoor markets for some treasure and view the 100+ rides that join us on the day.
This event is FREE entry for buyers and spectators
A gold coin for All Wheel Show'n'Shine participants.
FREE to watch the pinup parade.
FREE to boogie with the band indoors.
Free to let the kids run with some FREE activities
Bring along your family and enjoy an amazing day with VCMPerth Events.
Vendors info:
If it's true vintage , rusty shed finds or second hand or upcycled a 3x3 bay is FREE yes FREE (still need to register using the ticket button here)
Non vintage but just as good 3x3 bay is $50
Other options are available just click on the tickets button.
To book a stall please use this site.
Thanks.
Does the event event run regularly?
Yes we run many times a year and also have festivals such as York Motorcycle Festival, RetroRewind and Avon Descent Festival, where The Vintage Collective Markets are named content holders at these events.
Can I also book a stall these major events?
Only vendors whom book our Swan Valley Events are invited to book early bird stalls, after which we open up any vacancies to the public.
Do you have insurance?
Yes VCM Perth Events has extensive broadform insurance - Allianz Insurance.
Do you have insurance cover for stall holders?
Yes we have cover for stallholders whom do not have specific cover for their attendance at the event. Seperate to ours. It does cover you for Public Liability Insurance.
Do you refund stall holder if the event is cancelled?
Yes definitely. If we cancel and you can not attend a rescheduled event we happily refund in full.