COMING TO BRISBANE OCTOBER 27th AND 28th! Food & drink packages, live music, incredible feature acts and more! HURRY TICKETS SELLING FAST!
About this event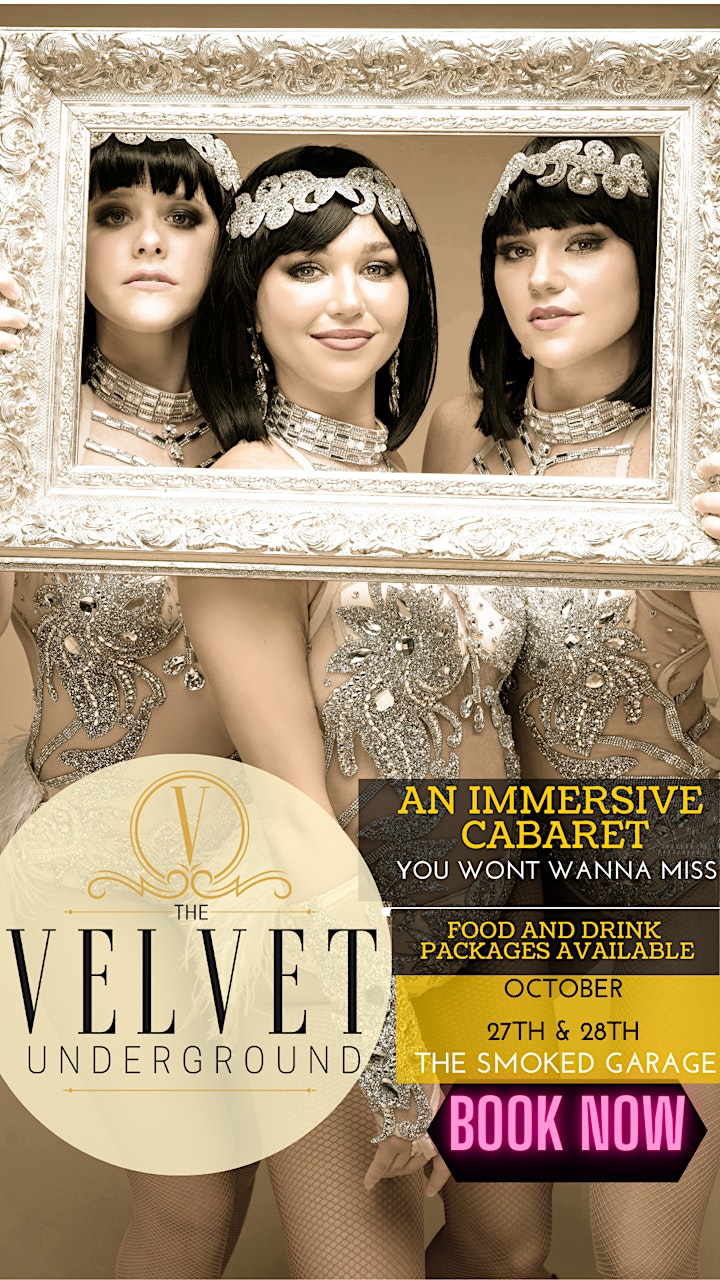 Event Info:
Brimming with luxury and style in a sophisticated speakeasy, 'The Velvet Underground' is a vivacious, flirtatious soiree featuring an incredible cast of singers, live musicians, dancers, and specialty acts that will take you on an immersive cabaret experience and have all your senses singing. Event located at the Smoked Garage, Brisbane.
The Experience
Our brand new production is an immersive experience where you'll be surrounded by entertainers as we place you in the centre of the show. You'll be dazzled, delighted and most of all encapsulated by our glamorous local cast as you are seated in the middle of the entertainment. This is not your normal stage performance, this is a non-stop 360 degree delight of the senses.
This 1-hour cabaret show is by far the best entertainment in Brisbane this October that you simply cannot miss. All the music is performed live at the venue, including our talented flamenco guitarist, with catwalks between the crowds as dancing and music is being played all around you. This show is a modern take on speakeasy underground Jazz club is up-close and personal, be a part of the experience something like this has never been done before in Brisbane.
Let us entertain you!
Pre-Show entertainment
For the hour prior to the event Drinks are available at the Smoked Garage bar prior to the event for general ticket holders and VIP customers will have drinks and food provided before the show. There will be ​​music and performers in the bar area to start the night so please come early and enjoy the venue.
Dates and Times: RESCHEDULES DATES BELOW
Wednesday 27th October 7pm - 8pm
Wednesday 27th October 8:30pm - 9:30pm
Thursday 28th October 7pm - 8pm
Thursday 28th October 8:30pm - 9:30pm
Seating:
It is free range seating but it will be allocated in sections (VIP section, Premium section and Prime section). If you do book tickets individually but want to sit together, just let our friendly ushers know when you are being seated for the show (must have the same ticket type to be seated together).
Parking:
Street parking available otherwise pre-book parking at Cathedral Square Car Park 410 Ann Street Brisbane
COVID SAFE
We practice all COVID safety regulations for our event. You will be required to check-in to the venue and practice COVID-Safe requirements. In the unfortunate event of a lockdown, your ticket will be refunded. Please see the eventbrite terms and conditions for refunds.