Event Information
Refund Policy
Contact the organiser to request a refund.
Eventbrite's fee is nonrefundable.
About this Event
This Valdora Series house concert features an Island theme with Brisbane powerhouse OFA FANAIKA, a songwriter and singer known mostly for her work heading bands Chocolate Strings and Captain Dreamboat headlining on Sunday 22 December on the Sunshine Coast. Having amassed a loyal following playing the festival circuits in Australia, NZ and in the Pacific Islands, Ofa has kept homebase over the past 13 years in inner city West End, Brisbane. Ofa has a distinct deep and rich voice that is full of soul, grit and many a story to tell.
A sunshine Coast favourite, Australian-Fijian singer songwriter ANDREA KIRWIN will be supporting with her beautiful songs and stories. Andrea has released 3 independent albums under her own record label Peace Run Records and is one of the hardest working musicians playing over 300 shows a year solo, and with her band at Festivals.
The Valdora Series is an intimate and inclusive gathering that promotes LGBTQI artists. This is a family friendly event. BYO picnic rug, chair and nibblies and drinks and we look forward to enjoying a beautiful summer evening of great music and conversation as the sun sets. Tickets are capped at 45 so please book in early to avoid missing out. The address of the concert will be emailed to attendees the day before the event.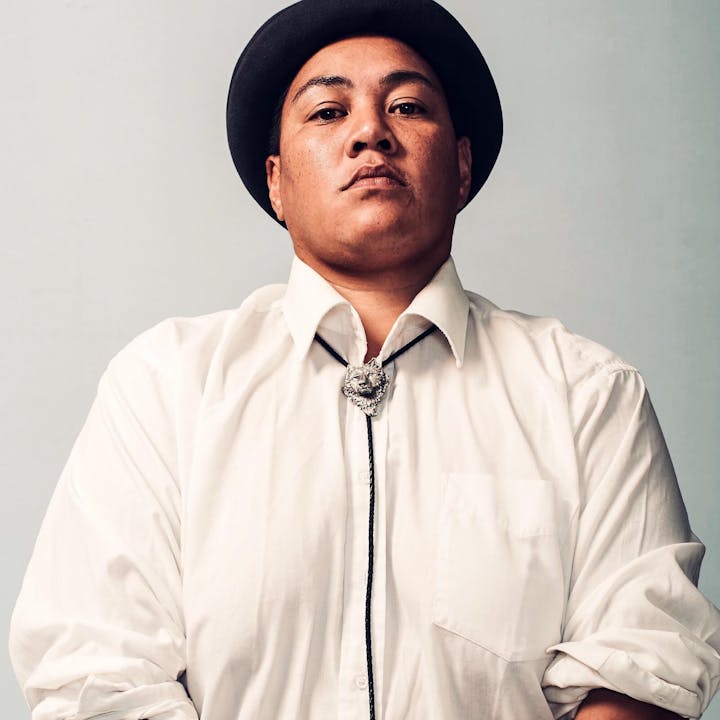 OFA FANAIKA
West End backed Ofa Fanaika when she was finding her creative feet. Now the singer and songwriter is dedicated to giving back to the colourful crowd, helping others find their song.
Ofa is mostly known for heading bands Chocolate Strings and Captain Dreamboat and C H U R C H, having amassed a loyal following playing the festival circuit both in Australia and internationally. But music is not simply a hobby for Ofa — harmonies run in her veins. "I grew up in a Tongan family; everything that we do is surrounded by music," said Ofa. It was the music at her local Tongan church that especially drew her in. "For every part of the sermon, there was a song to accompany with four to five vocal harmonies. I found it so engaging and interesting."
Once Fanaika picked up an instrument, her passion for music began to snowball into something greater than herself. "When I learnt the guitar, I started writing poetry to accompany the chords I'd been tinkering with. Once I wrote a few songs, performing and then starting a band was all a natural evolution."
While Ofa was falling more in love with the power of music, the reality of making a living began to hit. Without a high school diploma or significant work experience under her belt, Ofa looked to West End, her home base for the past 15 years, to draw inspiration from the local creatives. "I wanted to do something that I enjoyed and was actually worthwhile. There were a bunch of people in the same boat as me, trying to do something they loved that was also thought provoking and contributed to the community. You could literally walk through the street into share house after share house filled with likeminded people."
The 4101 gave Ofa a platform to progress her music career, but her big heart, steadfast social activism and tireless community support inspired her work with marginalised individuals. "I was able to connect with people doing similar things to me and find resources to do the projects I wanted to do."
To Ofa, West End is a safe space for those who are voiceless or feel invisible in a society where they are ignored. "I mentor young women on ways to get into creative jobs without necessarily completing high school and university. I work as a music tutor with marginalised young people aged between 15 and 25 years old. It's a place to experiment with the performing arts and other creative ideas. I love hearing their stories and the songs of struggle from the young people I work with."
When all is said and done, Ofa just wants her music to inspire those who listen. "I want to instil hope in the way we love, work, relate to one another and in our confidence to change the world around us for the better. I want to write music that touches people and offers a shared or alternative perspective in a way that invites them to go deeper into themselves."
Ingrained in Fanaika's melodic words is a human story, one that is beautifully worded, and subliminally soulful.
- West End Magazine, Jan 2019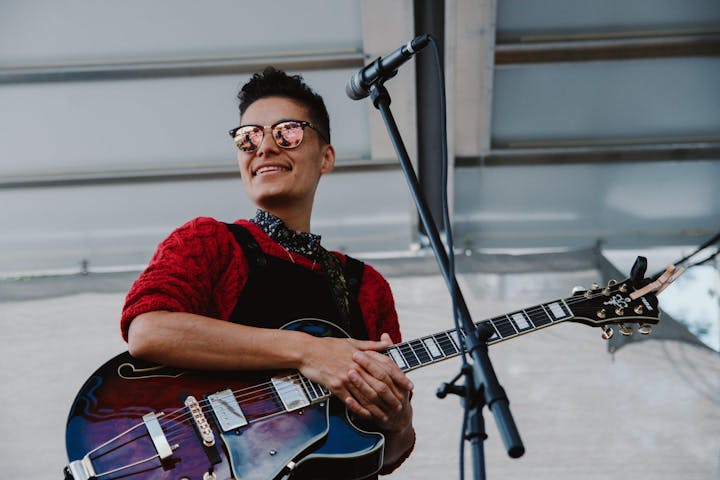 ANDREA KIRWIN
WHAT IS YOUR EARLIEST MEMORY OF MUSIC, AND WHAT INFLUENCES HAVE HELPED TO MAKE MUSIC SUCH AN IMPORTANT PART OF YOUR LIFE?
Music and singing was a part of my life from a very early age. I grew up in Townsville and my Fijian mum used to sing to me and taught me how to sing when I was very little, and I used to make up songs to sing to the animals and remember making up little songs to sing to the little fish on Magnetic Island when we went there on holidays at Picnic bay.
HOW LONG HAVE YOU BEEN CREATING YOUR OWN MUSIC, AND HOW DID YOU START OUT YOUR MUSIC CAREER?
I was 21 years old studying law in Canberra when I went to my first live concert at ANU Bar in 2006 and saw Clare Bowditch and the feeding set play. That night after the show I asked Clare questions about how old she was when she started pursuing music and I started writing original songs that night when I got back to the dorm. I was gifted a guitar for my 21st birthday from a good friend and not long after that I met George Bishop busking one day and we ended up forming the Andi and George band. I went solo after the band broke up on stage at the Woodford Folk Festival on 1 January 2009. I shaved my head and moved to Tathra, South Coast NSW. At that time I worked lots of different jobs but I didn't release my first album until 2013 after moving to the Sunshine Coast. I then released 2 more albums under my own label Peace Run Records and am currently saving for my fourth release.
CAN YOU GIVE US AN IDEA OF YOUR JOURNEY AS A MUSICIAN SO FAR?
My musical journey has been an unfolding path that has led me to many places and given me so many great experiences, connections and friendships. To be a musician is a way of life. It's playing at people's weddings, funerals, and everything in between. It's being a bridge between cultures, generations and giving of yourself and your art to your community. I am very grateful to be a part of this community here on the Sunshine Coast and I love living and performing here regularly.
THINKING BACK ON YOUR CAREER SO FAR, IS THERE A PARTICULAR MOMENT OR PERFORMANCE THAT STANDS OUT AS A FAVOURITE MEMORY?
Any time that I lose myself in the music is a highlight for me. I've been honoured to support some great international Artists and played some big Festivals but it is often the intimate gigs that are my favourite. I recently took part in the Sunny Coast Muso Woodstock 50th Anniversary fundraiser in Cooran in August. They raised $3,300 for my Fijian Family to help raise my cousin Seini's (who passed away from Domestic Violence) 2 young children. I was so grateful for the music community here on the Coast. I will never forget that gig and the energy of everyone in the room who came together to support my family.
WHO ARE YOUR FAVOURITE MUSICIANS AND WHO INSPIRES OR INFLUENCES YOUR MUSICAL STYLE?
I look up to Tracy Chapman, Rodriguez, Lior, Katie Noonan, Kate Ceberano and Clare Bowditch. I've always admired their music, and attitude to having a career in the Music Industry. My style is ever changing but my influences would be John Mayer, Eric Clapton and Bebel Gilberto.
WHICH OF YOUR OWN ORIGINAL SONGS ARE YOU MOST PASSIONATE ABOUT, AND WHAT IS THE MEANING OR MESSAGE BEHIND THE SONG?
My latest songs that I am writing for my 4th Album are more vulnerable than every before. Music has saved my life in the past and has helped me through somes dark times. I am taking my time in putting together my next album and also working with a producer from LA for the first time, which I'm looking forward to! The meaning and message behind all of my music is one of authenticity, belonging and connection.
- Eumundi Green, September 2019
Date and Time
Refund Policy
Contact the organiser to request a refund.
Eventbrite's fee is nonrefundable.