Sales Have Ended
Ticket sales have ended
Thank you for registering. You will receive the login information to each session on the morning of the event (Thursday 27 August) via email. For any further queries, please email david.dimarco@theurbandeveloper.com
Sales Have Ended
Ticket sales have ended
Thank you for registering. You will receive the login information to each session on the morning of the event (Thursday 27 August) via email. For any further queries, please email david.dimarco@theurbandeveloper.com
A property industry perspective on the specialist disability accommodation (SDA) sector.
About this Event
The Urban Developer Disability Housing and NDIS vSummit is an online conference dedicated to the emerging specialist disability accommodation (SDA) sector.
A new housing market specifically for people with a disability is emerging across Australia.
Introduced by the Federal Government in 2016, the National Disability Insurance Scheme (NDIS) provides a $5 billion funding stream to build new accessible and affordable housing for 28,000 Australians with a disability.
It is estimated that $700 million will be spent annually on SDA payments as part of the NDIS, unlocking an enormous opportunity for the private sector to deliver new specialist dwellings.
So where are the opportunities and what are the challenges for the property industry?
Join us as we bring together a panel of advocates, experts, operators, developers, financiers and designers to guide you through the future of the specialist disability accommodation sector.
See full program below: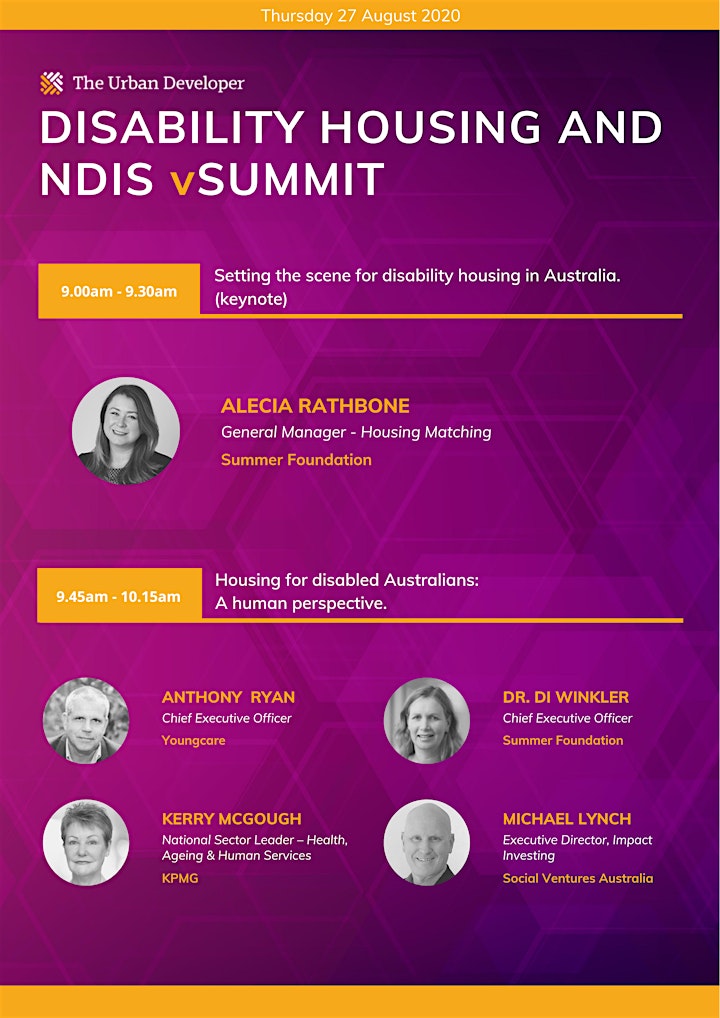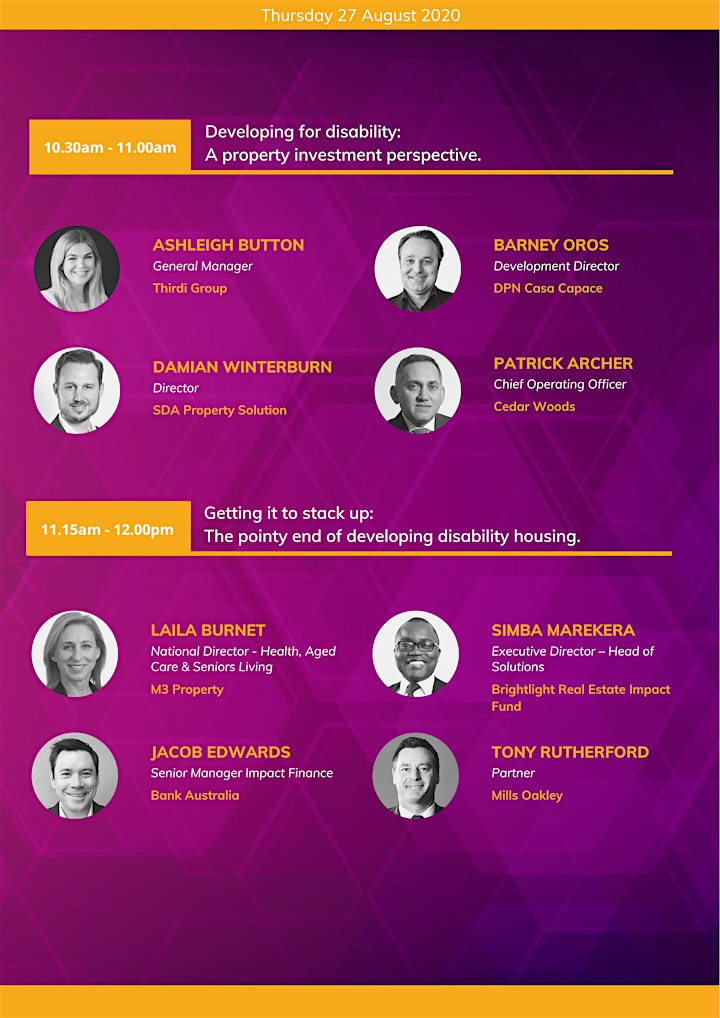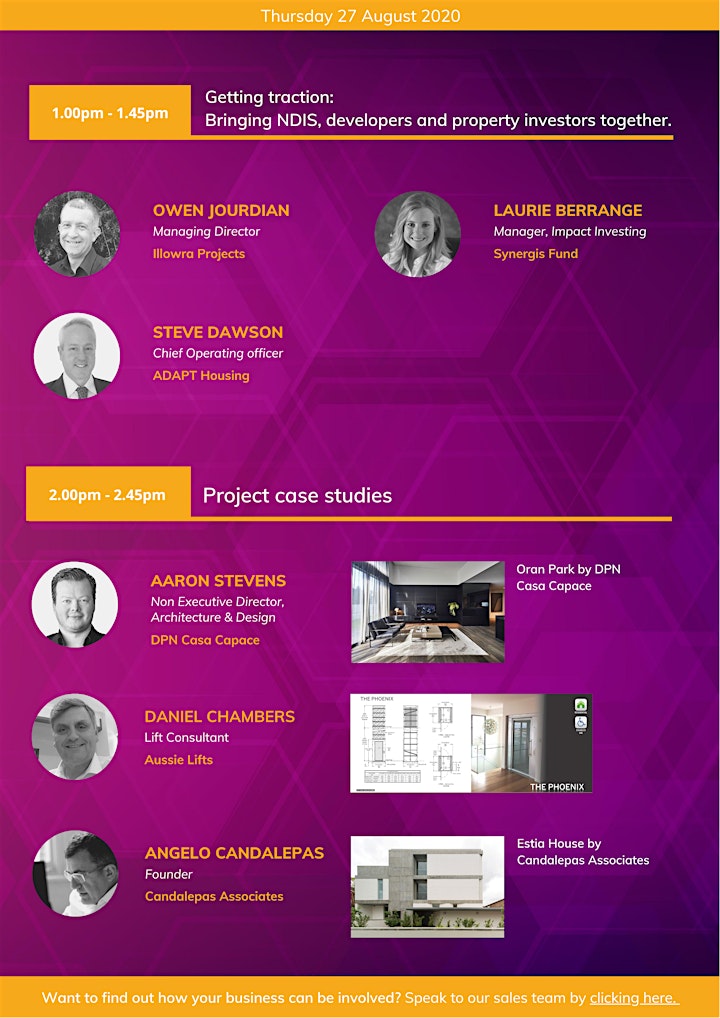 Who is this event suitable for?
Property developers and investors
Consultants and real estate professionals
Builders, suppliers and contractors
Finance and investment professionals
Disability services and community housing providers
Legal, financial and other professional services
Planning and government authorities
Residential accommodation and asset owners
What will you learn?
The demand and requirements for disability housing
Opportunities for the private sector to become involved
The funding and financial models
The regulatory, financial and social frameworks for disability housing
Unique case studies representing 'best in class' outcomes
Practical insights and perspectives of successful operators within the sector
Frequently Asked Questions (FAQ)
Are you suffering financial hardship and want to invest in your future?
Contact david.dimarco@theurbandeveloper.com directly and we will do our best to respond in the most compassionate way we can.
What about if I can't attend the vSummit - Can I watch a recorded version?
Yes - register for the vSummit and you will be able to view a recorded version of the webinar. Please contact david.dimarco@theurbandeveloper.com to source the link.
What if I am a corporate user and would like to watch with my team?
Great idea! We love it when corporate teams engage with us. Contact david.dimarco@theurbandeveloper.com directly to arrange access as a corporate user.
Do you provide discounted registrations for not-for-profit, community organisations or full-time students?
Yes - we absolutely do. Please contact david.dimarco@theurbandeveloper.com for further details.
Disclaimer
The Urban Developer cannot accept any liability or responsibility for loss occurring as a result of anyone acting or refraining from acting in reliance on any material contained in this presentation.