The KIS Exam Cram - a free revision session for HSC Business Studies
About this event
🔥🔥 Free event: Friday the 15th of October 4:00-6:00PM AEST (Syd time)🔥🔥
KIS Exam Cram: The Ultimate Guide to Acing the HSC - BUSINESS STUDIES🤓👩‍🎓🧑‍🎓!!!
⚠️Limited to 500 spots!
the HSC is coming up fast so let's get straight to the point:
this is the ULTIMATE guide to HSC exams by some of the top scorers **** in the entire state!
This FREE HSC revision lecture will focus on Exam skills, tips and tricks for the HSC to make sure YOU achieve your academic potential in your HSC exams!!
🤔 What are we going to cover?
You asked and we listened! The overwhelming response to our survey was to focus on:
1. Content broken into modules
2. Past HSC Questions
3. Exam Skills
So that is exactly what we are going to do.
For Business we want to focus on essay skills and exam technique. To do this we will be giving you examples from past HSC questions.
Our lecturer will be running through how to manage your time in the exam as well as covering the technique required by the syllabus for each individual module.
About the Lecturer 🎤 - 🔥ALAND GORAN🔥
Aland is one of our wonderful KIS private tutors. He teaches math, physics, chemistry and business!
Aland received an outstanding 99.90 ATAR after graduating in 2018.
Now Aland is studying Medicine!
Want to know more about Aland? Or even request him as your tutor? Check out the link below!
https://kisacademics.com/w/tutors/aland-goran-198
🤷‍♀️ Why is KIS doing this?
We know you are going through enough stress with the HSC - so we want to help!
At KIS we believe students deserve free resources - it's just the right thing to do.
Thank us later 😎
🤩 Your Host - Emma Ashley
Emma Ashley is not only the KIS Academics Events Manager who has put this all together for your studying pleasure but also a top scorer herself achieving a 99.45 ATAR in 2020!
With a years worth of tutoring experience under her belt - she knows just what students want and desperately need!! Trust me - you are in good hands 🥰
🧠 Want to know more about KIS?
This free event is organised by KIS Academics. For more free resources, online courses and private tutoring, visit the KIS Academics website:
🥺 Can't Get Enough of our FREE lecturers?
Don't forget to check out our 5 other subjects!
ENGLISH ADVANCED– 4-6pm Thursday 14 Oct
https://kisexamcramhscenglish.eventbrite.com.au
MATH ADVANCED –12-2pm Saturday 16-Oct
https://kisexamcramhscmath.eventbrite.com.au
CHEMISTRY– 3-5pm Saturday 16-Oct
https://kisexamcramhscchemistry.eventbrite.com.au
PHYSICS– 12-2pm Sunday 17-Oct
https://kisexamcramhscphysics.eventbrite.com.au
BIOLOGY– 3-5pm Sunday 17- Oct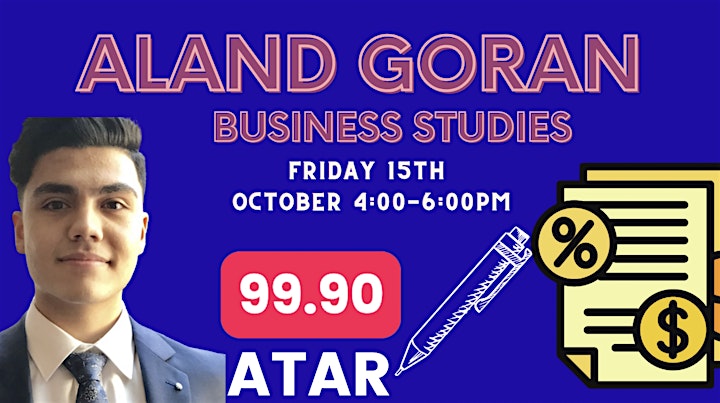 Organiser of The Ultimate Guide to Acing the HSC - Business Studies