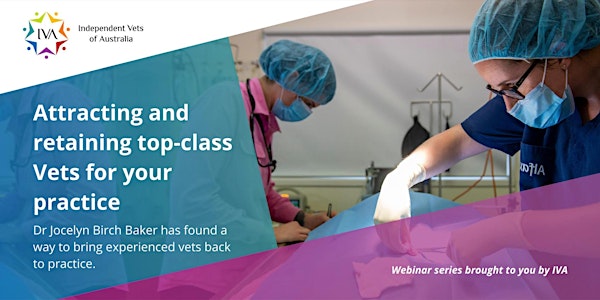 The Truth Behind Attracting and Retaining Top-Class Vets for Your Practice
A webinar series bought to you by Independent Vets of Australia
About this event
The surprisingly simple truth behind attracting and retaining top-class Vets for your practice.
Webinar for Veterinary Practices
Is recruiting vets your number one challenge today?
Would getting a couple of vets working in your practice be a game-changer for you?
Join us as we hear how Jocelyn Birch Barker overcame her recruitment challenges by catering to a specific segment of highly talented veterinarians who are skilled, confident, knowledgeable and to our detriment are likely to leave the profession.
"Now my clinic runs itself. I very rarely do clinical work and only guide management. I am fully staffed and growing. I have a thriving and profitable practice where vets ask me if they can join us."
Jocelyn has recognised and catered to a group of undervalued vets that would love to return to practice. "Because the demographics of our vets have changed, we as practice owners and managers need to improve and manage better – to sustain our profession."
Jocelyn's practice, High Street Veterinary Surgery, is a case study of how you can do this too.
We know that the clinical side of the vet profession is losing vets daily.
We are graduating more and more vets each year.
The demographics have changed, and we are not managing the effects of this in practice.
Eighty per cent of graduates are women and have a unique career structure to their male counterparts.
Jocelyn Birch Baker, BVSc of Smooth Operating Vets, has investigated the situation and has a treatment plan.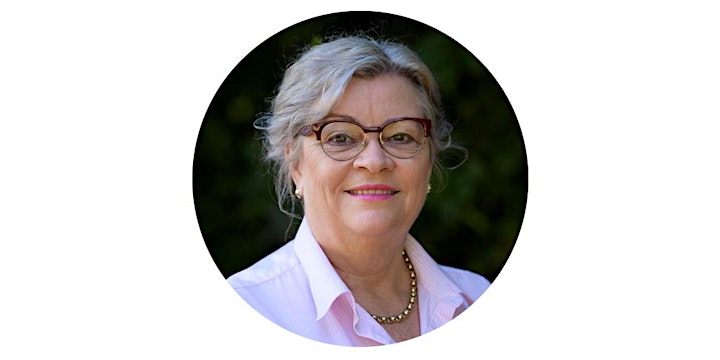 Jocelyn Birch Baker BVSc (Hons)
Founder, practice owner, veterinarian, mother.
Jocelyn has experienced many areas of the vet profession, from the cattle industry to mixed and small animal clinics. She has held positions on National and State Boards and Committees and has taken time out from her career to raise her children.
As the Owner of High Street Veterinary Surgery, Jocelyn has hands-on, day-to-day experience in today's veterinary marketplace. She understands the complexities of running a profitable practice while having an excellent lifestyle for herself and every team member. Jocelyn has seven vets available to do the work of 3 full time vets.
As the founder of Smooth Operating Vets, Jocelyn is working to create mother-friendly Veterinary practices.
Webinar Notes
This 45-minute webinar will be done through Zoom video conferencing software. After you register through Eventbrite, you will receive a separate email from Zoom which will include your unique Zoom webinar link.
If you do not receive the e-mail, please also check your spam/junk folder.
Please check the webinar start time based on your corresponding time zone:
12:00pm AEST (Brisbane, Gold Coast)
1:00pm AEDT (Sydney, Melbourne, Canberra, Hobart)
Please install Zoom software prior to the start of the event for the best experience. Download the Zoom software here: https://zoom.us/download
During the webinar, you will need a strong internet connection and audio speakers to watch and listen to the speakers. You will also have the opportunity to interact and ask questions by typing through a group chat.
Contact
If you have any questions, please contact us by:
Email: info@independentvetsofaustralia.com.au
Phone: 1300 83 85 83

About Independent Vets of Australia
Independent Vets of Australia (IVA) provides independent vet clinics with greater purchasing power and a multifaceted collegial foundation to leverage from. IVA wants you to remain independent, to practice how you want to practice whilst having a successful and profitable business.