Sales Have Ended
Registrations are closed
Thank you for your interest in this event. This particular event is now closed.
Sales Have Ended
Registrations are closed
Thank you for your interest in this event. This particular event is now closed.
The cutting edge of travel marketing strategies and ideas.
About this event
Join us for a full day of future-focused ideas and stories delivered by marketers with extensive backgrounds in tourism and beyond. We'll inspire you with content created for a digital-first world. At The TNQ Tourism Marketing Conference you'll be among your people and industry from across the region. Connect with peers, local suppliers, talk with our speakers and the members of the TTNQ team.  When the presentations are done, we'll help you break the ice with our tourism marketing happy hour. Leave feeling connected and inspired to take your organisations marketing efforts to the next level.
CREATING OUR CUSTODIANS; SHAPING OUR STORIES
The blow dealt to our industry by COVID-19 has eclipsed all man-made and natural disasters that the Cairns & Great Barrier Reef tourism industry has weathered. The good news is that interest in our region is strong. Cairns is now the most Googled regional tourism destination in Australia. How can you leverage this opportunity for 2021?
The TNQ Tourism Marketing Conference will focus on how we can create our custodians and shape our stories whilst matching traveller expectations and pivoting from a heavy international push to domestic markets. Join us to explore the full path to purchase for the new COVID-traveller.
EVENT PARTNER - AIRNORTH
Book your tickets to the TNQ Tourism Marketing Conference and go into the draw to win! Our Event Partner, Airnorth, have generously provided an amazing incentive for you to come along.
Airnorth has been mastering the northern skies for over 40 years. From the illustrious Kimberley region in the west, to the northern oasis of Timor-Leste's Dili, and along the diverse east coast; Airnorth services over 20 incredible destinations nationwide and beyond.
Up for grabs is two return airfares with Airnorth from Cairns to Darwin, three nights' accommodation at H Hotel on Smith and a jetski tour with 00Seven. It's as easy as purchasing your tickets and you're in the draw. The winner will be drawn on the day.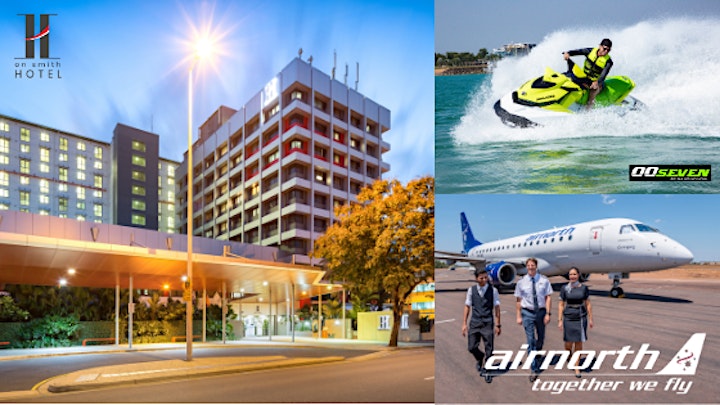 AGENDA
Arrival Tea & Coffee
10am Sessions 1 & 2
Lunch
1pm Sessions 3 & 4
Afternoon tea
3.30pm Session 5 & Networking
6pm Conclusion
Session 1: Dreaming
Matt Jones, Four Pillars Distillery  - Branding, Politics & Gin
Matt Jones is one of Australia's leading strategists and storytellers. His eclectic background of economics, politics, brand experience and gin allows him to expertly explore thinking and working differently in a world of disruptive change. One of three co-founders, and the brand brains behind Four Pillars, Matt Jones connects the dots between brand and purpose and is a former panelist on The Gruen Transfer.
Session 2: Planning
Katie Iles, Hello Clarity - Embracing the New Look Millennial; Cashless & Integrated
Katie Iles is a communications strategist, specialising in generational change and business growth. Katie will explore how our region can embrace the "new look millennial". Millennials are fast moving into the young family category, so what does a millennial look like in 2021 and what does this mean for the purchasing experience if they are cashless and integrated?
Oliver Vickers-Price, NewsCorp - Trends, Strategy, Targeting, & Results
Oliver will outline what a year of consumer research and spend tracking taught us, along with an exclusive, market-first look at the preliminary findings of a landmark study. He will identify the challenges and opportunities that exist for local tour operators, provide recommendations on connecting with consumers, and what News Corp Australia is doing to help tourism operators.
Session 3: Booking
Daniel Finch from Wotif Group, Geoff York from Crystalbrook Collection, and Ryan Thomas from Ignite Travel Group
Daniel, Geoff, and Ryan will discuss booking trends from their perspective. Topics for the panel session will include what impact COVID-19 has had on who their customers are, their booking lead times and patterns, and what techniques are working well and why.
Session 4: Experiencing
Chloe Knight-Gregson, Tourism Australia & Eleni Kozionas, Tourism & Events Queensland - From visitor to storyteller to ambassador; how to get your customers talking about their experience with you.
Chloe and Eleni will explore strategies they utilise to not just create content, but to inspire ambassadors and advocates for each region through their storytelling.
Eleni also manages the Queensland Creators program; learn how you could host the Creators and have them become brand advocates!
Session 5: Sharing
Shane Purss, Jersey Road - Igniting your UGC
Jersey Road specialises in project and event management, they understand the business of events and activations and the importance of driving brand ROI and commercial returns. Operating a tourism business is like running a mini-activation every day. Using experience from Jersey Road, learn how can you create fanatical supporters for your business and benefit from their UGC. Share, share, share!
Session 6: Networking
Compare notes with your industry colleagues over a drink during the networking session at the end of the Conference.
Costs
Members $40pp
Non-Members $60pp
Champion of Tourism Members receive 2 complimentary tickets. A promo code has been sent to your organisation to access the complimentary tickets.
COVID-19
A COVID-Safe Event Checklist by TTNQ, and a COVID-Safe Industry Plan by the venue, will be adopted for this event. Social distancing measures will be in place during this event. Please stay home if you are unwell or displaying any COVID-19 symptoms, and please ensure you get tested.