Description
---
The Take 15 Program. 4 Tuesdays over for 4 weeks.
Dates are as follows:
Week 1: Tues 24th April (Group Workshop) 9.30 - 1.00pm
Week 2: Tues 1st May (One on One 30min session)
Week 3: Tues 8th May (Group Workshop) 9.30am - 11.30am
Week 4: Tues 15th May (One on One 30min session)
See below for more information


---
LIVE 'workshop' EVENT IN MELBOURNE
THE TAKE 15 PROGRAM - 5 Steps to Effective Productivity
A SIMPLE, POWERFUL TIME MANAGEMENT WORKSHOP SPECIFICALLY DESIGNED TO FOSTER PERSONAL ACCOUNTABILITY
With so many things competing for your attention, it can be hard to manage your workload, keep track of finances and juggle the endless requests for your time without feeling scattered, overwhelmed and out of control.
But imagine if there was a simple, easy way to do more with less time, stop procrastination, be in control of what's happening and manage your workload.
Imagine if all it took was 15 minutes and nothing more...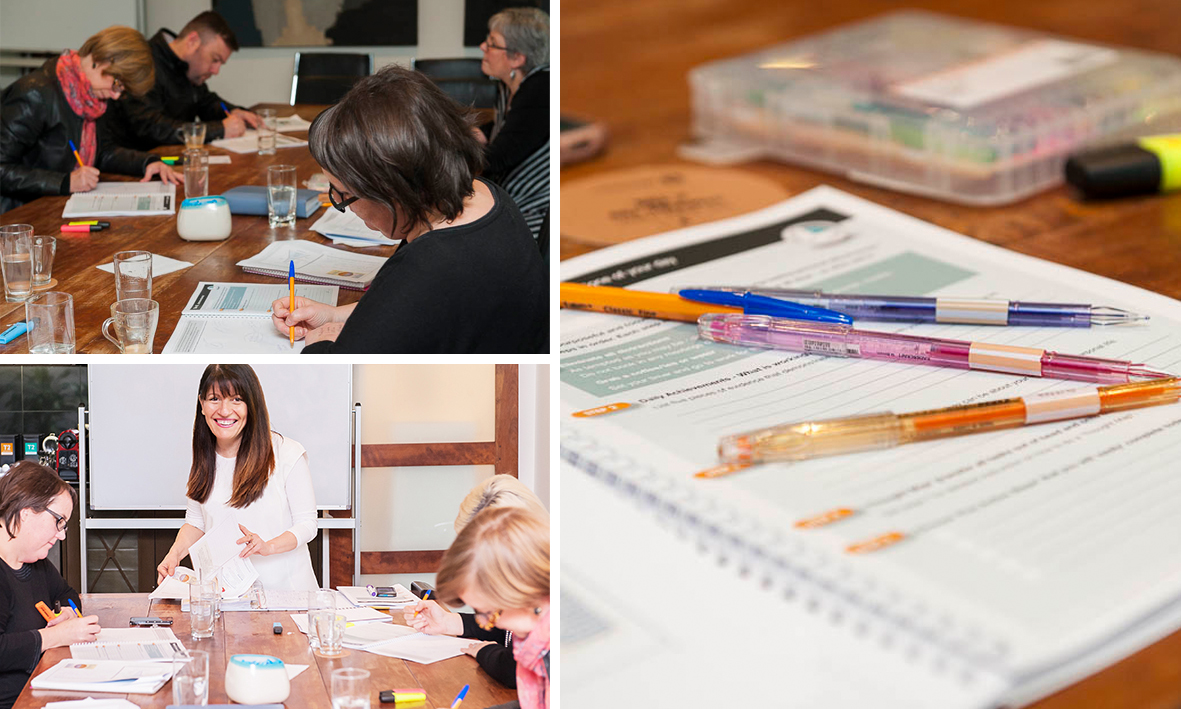 INTRODUCING THE TAKE 15 PROGRAM
A personal accountability system that consists of 5 simple steps you do every morning before you start your working day. This system is based on the latest brain science and takes no more than 15 minutes a day.
THIS ISN'T ABOUT PRODUCTIVITY TIPS, THIS IS A SYSTEM THAT WORKS.

In 5 simple steps - you'll learn how to:
• Minimise distractions
• Strengthen personal accountability
• Manage your workload and take control of your day
• Easily prioritise tasks and effectively meet your deadlines
• Create a structure which supports you to stay focused
• Understand your brain to be more productive

• Work smarter, not harder


---
How the Take 15 program works:
A small group to ensure you receive personal one on one support

They say it takes 30 days to change a habit. The Take 15 Program involves four meetings over a period of 4 weeks, to ensure successful implementation. Included in the program are two 30 min one on one sessions, where I will assist you to customise the program to your specific needs.
Week 1: Tuesday 24th April 9.30am - 1.00pm
A 3.5-hour group workshop, to introduce the Take 15 program and the 5 key steps to effective productivity
Week 2: Tuesday 1st May
30 minute one on one meeting to track progress. Individual meeting times to be confirmed.
Week 3: Tuesday 8th May 9.30am - 11.30am
2-hour group workshop, where I will show you how to manage larger projects easily.
Week 4: Tuesday 15th May
30 minute one on one meeting to track progress. Individual meeting times to be confirmed.
Total Price $497 (includes your personal Take 15, daily planner)


---

Here's what our clients are saying:
"Who would've thought that just 15 mins would be all the time I'd need to transform my day" PHILIP L.
"At the end of the day, I have a real sense of accomplishment instead of always feeling like I haven't done enough" ALICIA N.
"Take 15 continues to be the rock that keeps me focused. It's indispensable" ROB F.
"The satisfaction I have from completing tasks, minimising distraction and remaining focused is liberating" AMY H.
"Take 15 is my bible, it's my favourite new tool" JUSTIN O.
"Rather than constantly doing urgent stuff and getting nowhere, Take 15 enabled me to be more productive" JULIE DBB.


---
For more information contact Helen Ebdon on 0407 306 301 or email: helen@affirming.com.au