Description
What is The Sydney Business Networking Event?
It's a thought provoking evening for business leaders and top level professionals to grow their peer network, create new relationships and have a good time.
Who is it for?
Business owners and professionals like yourself covering all industries, with an open mind to meeting new people, sharing your wealth of knowledge and not being afraid to ask for what you need.
You will meet everybody from marketing gurus, communications professionals, brokers, designers, executives, lawyers, accountants, entrepreneurs, speakers, and so many more. Scroll down to see a full list from one of our previous events.
Who is Presenting?
At each event we have a short presentation. To give you new ideas on how to improve your business, collaborate, cut costs, get funded, grow sales and more. Each time the focus is on something you can bring back to your office and implement right away.
The night includes...
A room full of high profile professionals - there are "business connectors" to welcome you, and introduce you to people who most interest you
Complimentary wine, beer and finger food

Engaging ways to "meet-and-mingle" with other guests

Presentation with take-home insights you can implement right away

Prizes and a goodie bag from our sponsors
To reserve a space at this exclusive event please use the registration options above.
How does it work?
We believe that business networking can be both effective and fun. The game is not about walking away with a huge stack of business cards of people you couldn't recognise if they called you the next day. It's about fostering real relationships with people who can help build your business, or whom you can help build theirs. This is how we make it happen...
You are greeted and introduced as you arrive. Nothing worse than being the last new arrival trying to break into somebody's conversation
We interrupt proceedings throughout the evening. Gives you a chance to connect with other business owners and with exhibitors. No need to be stuck with the same person for 45 minutes
There is always a great mix of people. Some have been to many of our events, however, generally 50% of attendees are there for the first time. That means there is always somebody new to meet for everybody.
You meet real, serious business owners, executives and specialists. The list of titles below is real, we just removed the duplicates. From one single event. As we ask people to connect and share, instead of to sell, you will see that really genuine people show up.
Who will you meet?
Well, we can't guarantee exactly who will be in the room, but we can tell you who normally shows up (this list is a condensed list of the titles of people who showed up at a previous Business Connector event, copied from Eventbrite):
Creative Director
Owner & Head Copywriter
Photographer
Financial Controller
Project Engineer
Principal Lawyer
Managing Director
General Manager
Garden Designer
Solicitor/Director
Executive Producer
Advisor/Counsellor
Photographer
Consultant
Business Writer
Principal Strategist
Business Performance Strategist
Principal
Owner
Counsellor/Psychotherapist
Co-founder
Business facilitator
Internet Marketing Consultant
Social Media Specialist
Chairman
Executive Assistant
Regional Manager
Director
Founder
Business Manager
Operations Manager
Managing Director
CEO
Copywriter
Principal Consultant
Facilities Manager
Owner
Marketing Consultant
Director - Corporate Training
Partner
Lawyer, Consultant & Business Adviser
Brand Designer
Producer
Senior Graphic Designer & Brand Manager
Peak Performance Executive
Principal
Small Business Specialist
Business Banking Manager
Investment Adviser
Senior Consultant
Business Advisor
Business Coach
Chiropractor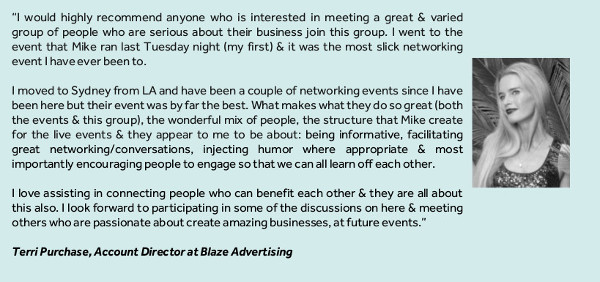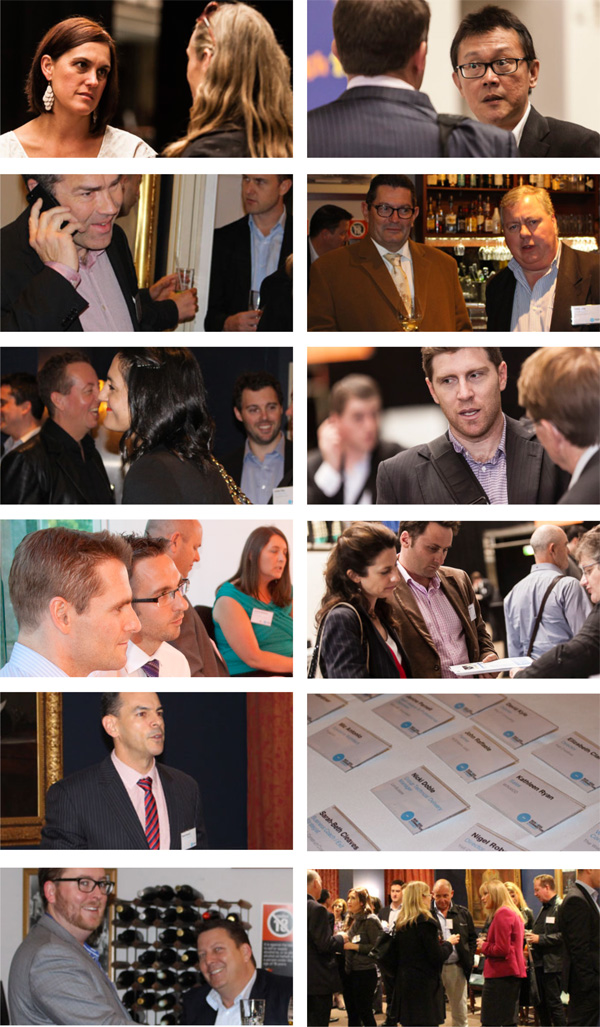 FAQs
What is the refund policy?
You can cancel your booking up to 5 days before an event and your ticket will be fully refunded. As this is the normal cut-off for organising catering and other event details, no refunds are possible after that point.
Do I have to bring my printed ticket to the event?
You can bring your printed ticket or install the Eventbrite app on your smartphone. We love paperless!
What's the dress code?
Business casual is normal - most people come straight from work so whatever you wear professionally is fine.
Should I bring business cards?
Are you serious? If you don't have something to share so that people can contact you again, why bother making connections in the first place? :)
When should I arrive?
If you arrive more than 15 minutes after the start you will probably miss our introduction and our explanation of how our events run, so please try to be prompt.
Any other tips?
Arrive early, welcome people arriving later, be honest and open, be prepared to ask for help with your business.