Description
Around 85% of federal government budgets since federation have been in deficit but it's only in recent decades that this has been viewed as an inherently bad thing. We're constantly told that, just like a household or a business, the government must live within its means but what does this mean for the entity that creates the currency?
The truth is that the federal government is nothing like a household or a business and the implications for fiscal policy are profound.
Join Democracy4Dinner this June with Warwick Smith of Per Capita to explore the myth of the desirability of a budget surplus and what it means for our economy and democracy.
Background reading (recommended):
Listen up Scott Morrison, it's time to bust the myth of the budget surplus - The Guardian
Why the federal budget is not like a household budget - The Conversation
Location: Bridge Hotel Castlemaine (BACK ROOM, not the band room)
Food & drink: We will have the staff take our order for food at 7.30pm at the table. People are welcome to arrive any time from 7pm, grab a drink on your way in, and have a yarn before we start.
Maximum 16 people, RSVP by June 9th. If you grab a ticket and have a change of plans, please contact Lexi on lexi.lestrange@gmail.com to let her know.
Join the conversation before the event on Facebook by sharing your ideas, and other articles / veideos of interest: https://www.facebook.com/events/726795527492974/.
Federal government deficits 1902-2014 shown below, as seen on ABC Fact Check.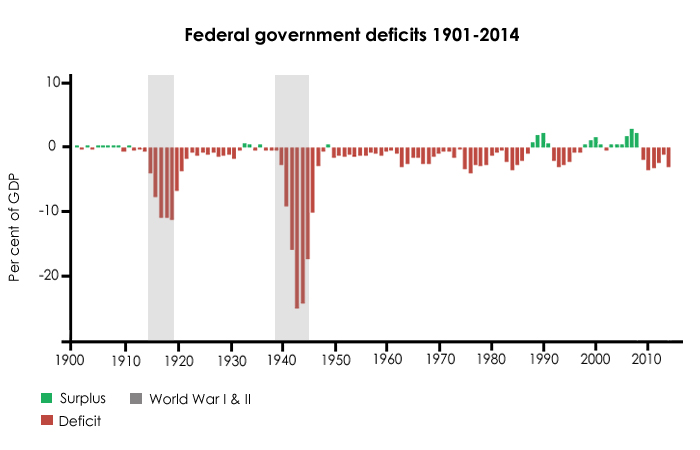 Organiser of The Surplus Fetish
Democracy for Dinner - Sharing the burden of democracy
Democracy for Dinner (D4D) is platform for reinvigorating individual and collective interest and trust in our democracy as a mechanism for change in the places where we live.
Our events cover social, economic and environmental policy issues, as well as alternative models for democracy including mechanisms for representation, voting, and borader concepts of community governance and decision making. We encourage balanced views and a non-partisan approach to ensure events are inclusive and informative.
Speakers explore a topical policy issue or democracy innovation relevant to the local community where the conversations are based, and apply both a local and national lens. The speakers learn through teaching, and share the burden of being informed, engaged citizens with fellow attendees.
Events are held over dinner in a relaxed, conversational environment, and offer a way to engage with locals in your area. 
On occasion we will run larger public events to stimulate community conversation and action.
Sign up to our newsletter here: http://eepurl.com/b8jIDX. 
If you would like to run events in your own town, please contact Lexi Randall-L'Estrange via info@democracy4dinner.org.