The Sunday Soul Assembly: The year of you (because you matter too)
Before you invest in everyone else this festive season, it's time to do something your future self will thank you for!
About this event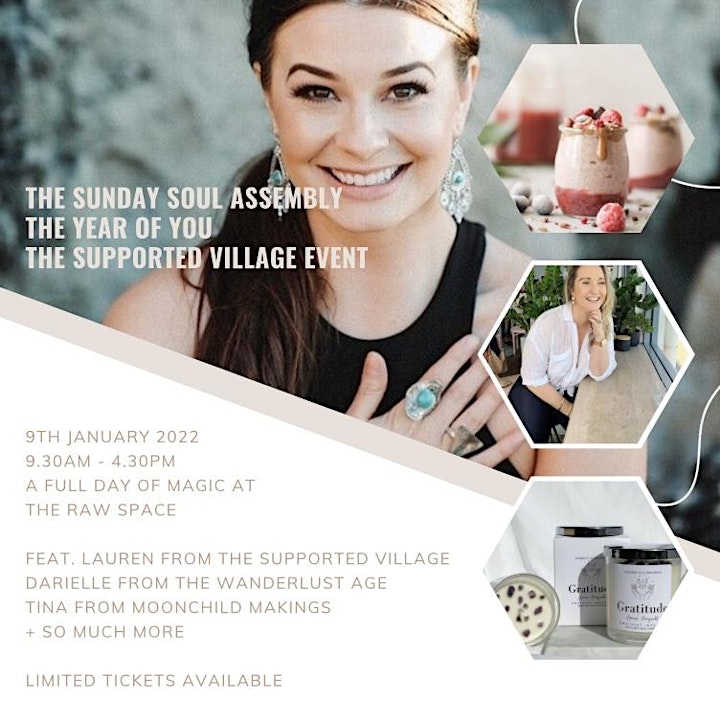 I don't know about you, but I'm feeling 2022!
Nestled in a tranquil environment surrounded by nature, you will have the mental (and physical) space to reconnect to yourself in a way that will have you dancing into the year with purpose, backed by tangible strategies.
This FULL DAY mini escape invites you to disconnect, tackle your roadblocks in a safe, non-judgemental environment (with a qualified Counsellor and Life Coach), and create heart-led goals in a pretty special way.
The Sunday Soul Assembly: The Year of You (because you matter too)
This is the year! To be honest with yourself, and finally take action. It's the year we look beyond our list of goals alone, and welcome courageous shifts within ourselves to conquer fears, and identify how we wish to feel. These tools can be woven into any aspect of your life, both personally and professionally!
It's a little 'feel-good-fluff' to settle the nervous system, with a whole lot of substance, wrapped up in a bite-sized portion. We're planting the seeds to invite change.
The important bits:
Sunday, January 9th 2022
9.30am - 4.30pm
The Raw Space, 78 John Street, Henleybrook, WA, 6055 (parking on site to the right, as you enter the property)
Your ticket includes:
A heart-opening practice to invite presence, connection, and journal a thoughtful intention before we dive in! Drop out of your mind and into your body as you're guided through a meditation, and gentle Slow Flow Yoga practice, with Lauren from The Supported Village.
Workshop with the phenomenal Darielle, from The Wanderlust Age. Darielle is a qualified Counsellor and Life Coach dedicated to helping you from a holistic, and soul-led space (minus the BS). You'll be working with her to identify your fears, create strategies to overcome them so they no longer hold you back; followed by a powerful goal setting process that focuses on your intentional and emotional goals for the year ahead. These strategies can be applied to all aspects of your life, whether business or personal. If you're a heart-led human, this is for you!
A nourishing light lunch, complete with a grazing table, and refreshments. Your ticket also includes a delicious smoothie, so make sure you select your preferred flavour when you checkout so our amazing caterer can deliver them at lunch time! Please also ensure you list any dietary requirements so we can cater to your needs.
Creative immersion with the magical Tina from Moonchild Makings. She will be teaching you how to make your very own full sized soy candle, infused with crystals and divine botanicals. You get to choose from 3 x labels, 3 x scents, and Tina's collection of crystals and botanicals for purposeful decoration. Candles are a beautiful way to instil ritual into your daily life, and be guided by intention as you bring light into your home.
After all that magic, you'll need a little break and some yummy treats to keep you going. Insert a light afternoon tea here.
Like a salve to the soul, we soften into a nourishing Yin and Meditation practice to reflect on an uplifting, soul-enriching, and downright nourishing day!
Your ticket also includes a few items you may need for the day like a journal, pen, and some other little goodies.
What to bring:
Yoga Mat
Rolled up towel/ pillow/ yoga bolster for maximum comfort during Yin
Favourite cosy throw
Please wear comfortable clothes, as we will be doing yoga.
Limited spots available!
The November Mini Escape sold out quickly! If this event speaks to you, please don't hesitate to secure your spot. We would love to have you there. We never regret investing in ourselves. Do something your future self will thank you for.
Organiser of The Sunday Soul Assembly: The year of you (because you matter too)