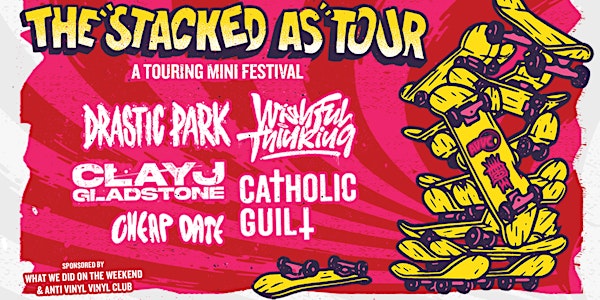 THE "STACKED AS" TOUR: A touring mini-festival
Destroy All Lines presents
Performers
Drastic Park
Wishful Thinking, Clay J Gladstone, Catholic Guilt, Cheap Date
Location
Burdekin Hotel
2 Oxford St
Darlinghurst, NSW 2010
Australia
Destroy All Lines presents THE "STACKED AS" TOUR: A touring mini-festival Sponsored by What We Did On The Weekend & Anti Vinyl Vinyl Club
About this event
THE "STACKED AS" TOUR: A touring mini-festival
Drastic Park, Wishful Thinking, Clay J Gladstone, Catholic Guilt, Cheap Date
Saturday March 12th
Burdekin Hotel, Doors at 5:00PM
18+
After multiple rescheduled, postponed and flat out cancelled tours from a tumultuous year for the Australian live music touring circuit comes The Stacked As Tour: A touring mini festival. Showcasing the best fresh and celebrated talent in Australia's emerging pop/punk/alternative scene. Featuring the likes of Drastic Park, Wishful Thinking, Clay J Gladstone, Catholic Guilt and Cheap Date.
The touring Mini-festival will make its way to Adelaide, Melbourne with two stages and eight bands will be performing along with Brisbane and Sydney that will have one stage and six bands performing at both events with many more special guests to be announced
Melbournes Drastic Park was born out of a love of the late 90s/early 20s punk rock/pop punk sound. Stumbling across a sound that mixes open octave lead guitar with thundering bass chords, they have been able to fashion a sound that is immediately identifiable as the "Drastic Park Sound." After spending the most time in a lockdown in Australia this did not slow down Drastic Park as they continuously released great single after great single generating a lot of interest from Triple J's Short Fast Loud on songs like 'Snakes & Ladders' and 'Lost' and doing sold out shows in Melbourne, Sydney and Adelaide in between.
2022 finally sees the return of legendary pop punk band Wishful Thinking, heading around Australia for their first national tour in over 17 years. The band returned with new EP 'One More Time' (their first release since 2006's "You'll Never See It Coming"). The EP received a strong reaction from fans old and new across Australia and beyond igniting a new passion for the band from all members. Australia gets to see Wishful Thinking at their best, performing songs from their entire back catalogue for die hard Wishful Thinking fans this is not to be missed.
Hailing from Sydney Clay J Gladstone's debut ep 'Dead Friends' dropped Aug 2021 with singles 'Dead Friends', 'Move On', 'Balance' and 'People Like You' gaining support from mainstream Triple J & Spotify / Apple Music editorials. The band has gone on to tour the east coast of Australia and headline the return of AM/PM Emo Night in Sydney. For fans of Real Friends, Stand Atlantic, The Used, the Sydney emo act continue to win hearts through their 'heart on sleeve' lyrics, emotive earworm bangers and aggressive performances. 2022 will see the band go from strength to strength with some big plans scheduled.
Catholic Guilt write raw, emotional and disarmingly honest music for the internally conflicted masses, blending elements of punk, folk and alt-rock to create a sound they describe as 'honest music'. The Melbourne four piece have hit stages all-across the Australian east coast in support of some of the country's best acts. Having shared the stage with the likes of Danny Worsnop (UK), The Bennies, He Is We (USA), The Bottlers, Chasing Ghosts and more. Catholic Guilt are ready to take on the world.
Cheap Date is a newly established 5 pieced band, making noise around the Brisbane music scene. Led by artist Lara Dee and backed by four incredible musicians, they are working the sounds of 90's pop rock into the beloved indie genre. Their first release of singles 'Beside Me' 'Woman To You' and 'Kissed You In The Car' is an emotional roller coaster, taking listeners from a melodic entry to a pumped-up rock driven joy ride. With intrinsically genius lyrics and melody, this isn't just another band passing through the indie conveyor belt.
With special guests still yet to be announced. Every event of The Stacked As Tour is one not to be missed by all.