Description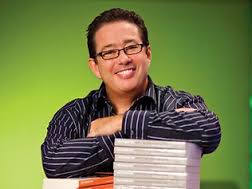 In this candid and convivial conversation in camera online my very special guest will again be Australia's #1 small business and entrepreneurial author, Andrew Griffiths.
We'll be exploring why stories really matter and how to create and share them in ways that engage and inspire other people.
Andrew's authored 12 books now sold in over 60 countries. He's also an in demand speaker sharing his powerful stories all over the world.
What I really love about Andrew is that he's down to earth. And his ideas are proven and practical.
Andrew will be sharing his own unqiue story creating process.
I'm in no doubt that you'll take away from our conversation insights, inspiration and ideas you can immediatley begin to implement to become a story-sharer of significance which I regard as one of the 8 roles 21st century leaders and mentors play remarkably well.
Take the Test Drive Ticket should you want to participate in camera in this webinar.
Take the Observer Ticket should you wish to just observe and ask questions if you wish.
Andrew and I look forward to "seeing" you online.
Best regards
Ian Berry