The significance of sharing stories with special guest Andrew Griffiths

Thursday, 23 July 2015 from 3:00 pm to 4:00 pm (AEST)
Event Details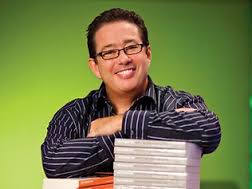 In this candid and convivial conversation in camera online my very special guest will again be Australia's #1 small business and entrepreneurial author, Andrew Griffiths.
We'll be exploring why stories really matter and how to create and share them in ways that engage and inspire other people.
Andrew's authored 12 books now sold in over 60 countries. He's also an in demand speaker sharing his powerful stories all over the world.
What I really love about Andrew is that he's down to earth. And his ideas are proven and practical.
Andrew will be sharing his own unqiue story creating process.
I'm in no doubt that you'll take away from our conversation insights, inspiration and ideas you can immediatley begin to implement to become a story-sharer of significance which I regard as one of the 8 roles 21st century leaders and mentors play remarkably well.
Take the Test Drive Ticket should you want to participate in camera in this webinar.
Take the Observer Ticket should you wish to just observe and ask questions if you wish.
Andrew and I look forward to "seeing" you online.
Best regards
Ian Berry

Have questions about The significance of sharing stories with special guest Andrew Griffiths?
Contact Ian Berry
Organiser
Ian Berry
Ian Berry is the Creator of Who Before Do - a one-of-a-kind program for leading and thriving in the new world of work, in your own best way.
For more than two decades Ian has worked with reputable, purpose-driven business owners and leaders to increase the number of people being remarkable, and doing meaningful for them and highly valuable for others work, because this is the sure-fire way to more people feeling valued, living values and delivering value.
A key consequence is better business results at less personal cost.
From 1974 - 1991 Ian enjoyed a very successful corporate finance career including leading a 100million business unit. He held Branch, Regional, and State manager roles in three Australian states receiving numerous awards for his leadership, development of people, and results. 
Since 1991 Ian has helped more than 1000 business owners/leaders, women and men, in over 40 countries to reach the pinnacle of leadership - fully appreciating and getting the best out of yourself and other people.
Ian has played active roles on the boards of eight diverse organisations and has been instrumental in their sustainable and profitable growth, with one of these organisations (Townsend Building Services) achieving 570% growth in just under 5 years.
Ian's clients include leaders from AVIS Western Victoria, AXA Asia Pacific, Ballarat Regional Industries, Bendigo Bank, Bombardier, Crowe Horwath, EMI, Eureka Concrete, Haymes Paint, Jones Lang LaSalle, Plan Australia, Oxfam Shop, Queenslanders Credit Union, Singapore Chinese Chamber of Commerce and Industry, and Smurfit Kappa UK, to name just a few.