Event Information
Location
The SHACK
Shoalhaven Heads Apex Cottages for Kids
cnr. Scott Street and Staples Street
Shoalheaven Heads, NSW 2535
Australia
Description
Need a last minute holiday with your family? The SHACK is a lovely seaside complex at Shoalhaven Heads on the South Coast (just two hours South of Sydney).
The SHACK beachside cottages are owned by APEX and Plumtree is sponsoring some accomodation for families of children with disability or developmental delay currently enrolled at Plumtree (FREE of charge for families) throughout the year.

For further information in regards the SHACK, follow this link http://www.apexfoundation.org.au/project/the-shack
PLEASE NOTE- We will give priority to families who have never been to the SHACK before.
WHAT to do:
1- Please select a cottage while booking. All cottages have similar layout and furnishing and they sleep up to 6 people (Please indicate ALL occupants during the registration process).
2. Your booking will be under 'Plumtree', not under your personal name. When you arrive on location, take the unit you selected on this booking (I will send you a reminder). All cottages are the same. Cottages will await for you open, you will find the keys inside.
3. Read below for information on what to bring.
4. A reminder will be sent to you, from Plumtree, a month before your booked weekend.
Please contact Mana at Plumtree mana@plumtree.org.au or 95728840 if you would like more information.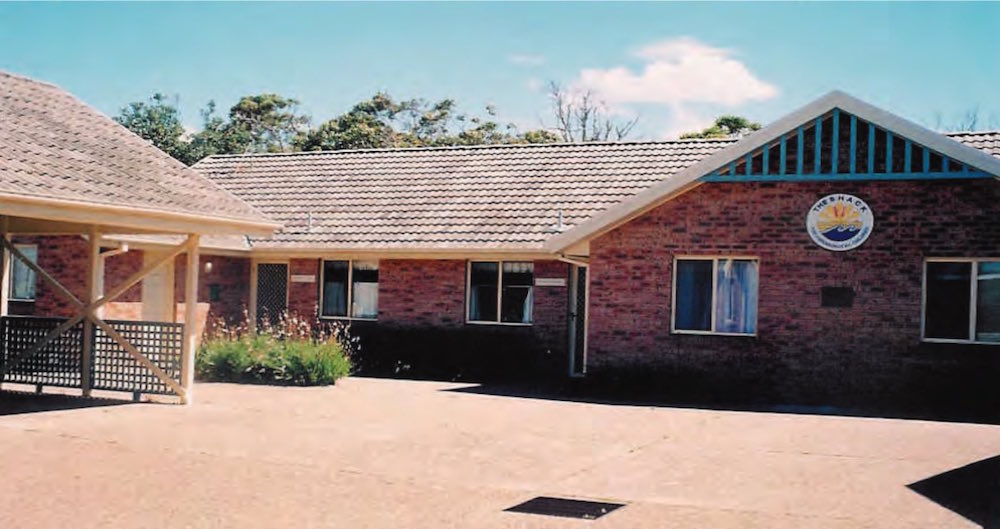 When is a 'shack' not a shack? When it is a beautiful seaside holiday complex of six two bedroom units located at Shoalhaven Heads on the South Coats. This is an APEX/Community project built especially for children with disabilities, delays or serious illness and their families. The units were built mainly by volunteer workers using community and individual donations. They were officially open in 1992.
Each Unit contains two bedrooms and sleeps six (double bed in one room and bunk beds, single and trundle in the other). Cots are also available. All you need to take for a happy stay is food and drinks, sheets and pillow-slips or sleeping bags, pillow and bath towels.
The lounge/dining room contains a dining table and chairs for six, a two-seater and three-seater lounge and a colour television. High chairs are also available.
The kitchen is fully equipped with a microwave, stove, fridge and all the kitchen utensils, pots and pans you might require. There is also an iron and ironing board. The bathroom contains a bath, shower, vanity unit and a toilet.
There is a central courtyard area with two double carports and two gas barbecues. The carport area can be used to get together with other families or as a play area for the children. There is a fenced children's playground and four of the units open onto a fenced front patio.
The laundry has a washing machine and dryer. Washing powder, toilet paper and cleaning aids are also in the laundry. There is a telephone in the laundry for tenets' use and on the board a list of important phone numbers in the area, e.g. Doctor, hospital etc.
There is a golf course across the road and a path to the beach. The beach is close and is good for fishing. Swimming MUST be between the flags and near the Surf Club, otherwise the beach can be dangerous. However, a council pool is located about 400 metres from the SHACK and is excellent for small children. Shops and other essentials services are nearby.
---
You're receiving this email because you have enrolled with Plumtree or signed up for our mailing list. If you'd like to be removed from our mailing list, please click UNSUBSCRIBE at the bottom of this page
Date and Time
Location
The SHACK
Shoalhaven Heads Apex Cottages for Kids
cnr. Scott Street and Staples Street
Shoalheaven Heads, NSW 2535
Australia