Description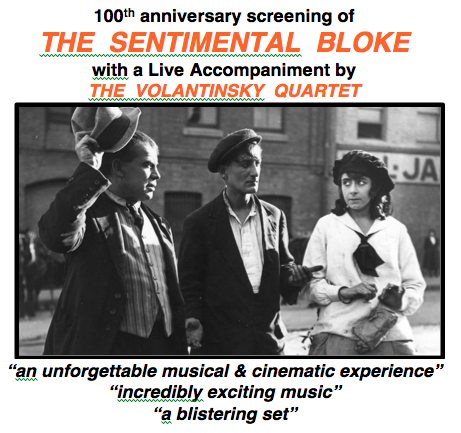 THE SENTIMENTAL BLOKE was first screened 100 years ago this coming November. It is regarded as the supreme achievement of Australia's Silent Film era. The heartfelt, sympathetic storytelling, its mixture of comedy with realistic Woolloomooloo backgrounds, and its Australian box office success played a major role in defining Australian national character on screen. The film is an adaptation of C.J. Dennis' much-loved poem about an ex-convict who experiences the love of a good woman for the first time.
This newly restored copy will be presented with a live 100 minute musical accompaniment, composed and performed by The Volatinsky Quartet. The Quartet composed the music for this silent film, whose original score has long been lost. They play an exotic combination of instruments, with Russian-trained Lucy Voronov (cimbalom & hammer-dulcimer), impro-cellist Anatoli Torjinski (from Odessa), Kiev-trained mandolin/guitarist Stephen Lalor and master percussionist Jess Ciampa - all laced with the flavours of Russia, the Balkans and Australian quirky classics. They have been a headline act at WomAdelaide, Woodford and Fairbridge Festivals & their music is often heard on ABC FM.
The 100 minute film was directed by the famous Raymond Longford and the cast features the love of his life Lottie Lyell. It was lost for decades until found in a vault at New York's Eastman Kodak, filed mistakenly as THE SENTIMENTAL BLONDE.
One of the prints made from the new negative was screened to renewed enthusiasm at the 1955 Sydney Film Festival, and its director Raymond Longford was discovered to be still alive, working as a nightwatchmen on the Sydney waterfront. The National Film and Sound Archive have allowed us this copy to celebrate its 100th anniversary.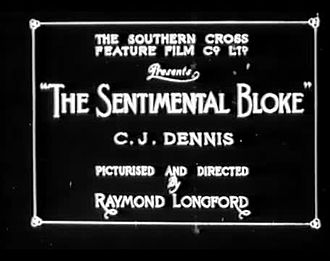 Avalon resident, Film Producer Bill Leimbach, will introduce the film and tell some of the story behind the making of this landmark collaboration of Raymond Longford & Lottie Lyell. The film transformed Lottie into Australia's first international film star. But she also contributed to the screenplay, art direction, editing and production. The British press called their film, "The best that has been made in Australia".
Lyell and Longford went on to form a very influential and pioneering partnership, making two or three films a year - half hour pieces, totally silent. They started a relationship but Longford could not marry her as his wife Melena would not give him a divorce until 1926 – the year after Lottie Lyell died – at the age of 35.
Today the couple are remembered with a most prestigious award named in their honour, the LONGFORD LYELL AWARD - the Australian film industry's highest accolade for an individual for their "unwavering commitment over many years to excellence in the film and television industries and has, through their body of work, contributed substantially to the enrichment of Australian screen culture". Since the introduction of the award by the AFI in 1968, winners have included Peter Weir, Tim Burstall, Bud Tingwall, David Stratton, George Miller, Phillip Adams, Phillip Noyce, Jack Thompson, Geoffrey Rush and Cate Blanchett.
Avalon Bowling Club will come alive with The Volantinski Quartet on stage accompanying the 100 anniversary of the film, playing to 150 lovers of film, history and exotic music.
Leimbach said, "I saw this SENTIMENTAL BLOKE accompanied by the QUARTET at a film festival in Queensland earlier this year. Everyone had such a wonderful festive night. I approached the Quartet to ask if they could come down to NSW and do the same. They answered excitedly, they would love to - they live in Elanora Heights!"
Don't miss this fantastic opportunity. There will be food, bar drinks and plenty of fun as we laugh and cry and dance in the memory of this great Australian achievement.
THE VOLANTINSKY QUARTET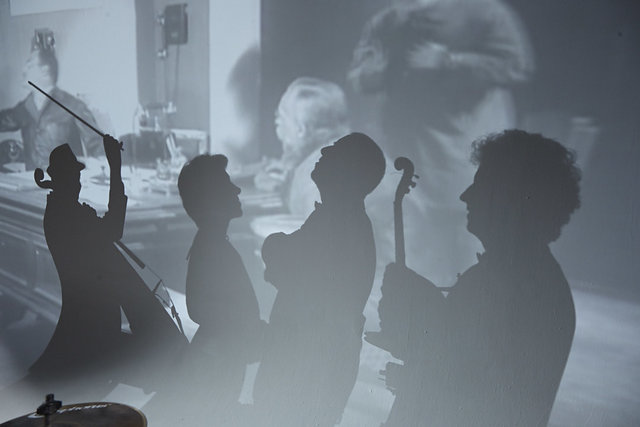 Organiser of THE SENTIMENTAL BLOKE with the Volantinsky Quartet