Sales Have Ended
Ticket sales have ended
Thanks for your interest. Ticket sales have now ended but you can keep up to date with the latest events by signing up to our newsletter here. We hope to see you at a Canon Collective event soon!
Sales Have Ended
Ticket sales have ended
Thanks for your interest. Ticket sales have now ended but you can keep up to date with the latest events by signing up to our newsletter here. We hope to see you at a Canon Collective event soon!
Two day intensive landscape photography workshop, location shoot, and editing session using advanced techniques.
About this Event
Learn how to use advanced techniques to capture landscape photography beyond the scope of the traditional capture. This hands-on workshop will feature an intensive workshop where Greg will share his knowledge and experience, before heading to a location to put the theory into practice. The following day, the group will return to the classroom for an editing session to produce a finished work of art and valuable feedback.
Run as a small group, this exclusive workshop will give everyone plenty of 1 on 1 time to fully understand how to shoot a range of techniques that will take your creativity beyond the limitations of the single image using a combination of in-camera artistry with editing to extract the best image from the raw file.
We will cover topics such as:
Creative Filters and Long Exposure Calculation
Exposure Blending, Focus Stacking & Panoramic Photographic Technique
Planning for Sunset, Moonrise and Astrophotography
Stitching, Blending, Merging & Editing Workshop
Workshop Itinerary
Day 1 Session 1
Advanced Technique Workshop ,12:00pm - 3:00pm
The Miami Tavern, 2043-2047 Gold Coast Hwy, Miami
Day 1 Session 2
Location Shoot, 4:00pm - 6:30pm
Currumbin Beach Car Park, 230 Duringan Street Currumbin
Day 2 Session 3
Editing Workshop, 10:00am - 1:00pm
The Miami Tavern, 2043-2047 Gold Coast Hwy, Miami
IMPORTANT NOTE: Please choose carefully. Except where otherwise indicated, we do not offer refunds unless an event has to be cancelled, rescheduled to a date you cannot attend, or where required under Australian Consumer Law. View the Terms of Registration.
Recommended equipment:
A sturdy tripod is essential to attend this event
Canon EOS camera and wide angle lenses
Good cleaning cloth
LE Calculator from app store or ND Calculator from Google Play store
Photopills from app store
Remote switch if you own one, or borrow one from the Canon Collective
Closed toed, supportive hiking boots or shoes with good grip
Appropriate clothing for outdoors for late afternoon and night shooting, a head torch is recommended
A laptop with the latest version of Adobe Lightroom Classic, Adobe Photoshop. It is recommended to have at least a trial version of NIK Software and Aurora HDR
Download and install Datacolor SpyderCheckr 48, you will be emailed a serial number prior to the event to complete installation.
Equipment provided: Each participant will have access to a HAIDA Filter kit, or bring your own. A loan camera, lens, tripod or remote switch will be available upon prior arrangement.
Important information: An average level of physical fitness and mobility is required in order to attend this workshop. Guests will be required walk over variable and uneven ground including rocks, rock pools, wet surfaces and sand at this workshop. Where the event takes place outside we can't control the environment so please take care in your surroundings. Guests who arrive without sufficient or suitable footwear will not be able to join in the workshop. In the event of rain, the event will be cancelled with full refund or rescheduled to another date.
Please note that this is an advanced level workshop, there is a requirement that you already have an intermediate level of photographic and editing experience. Please refer to Canon Collective Beginner Level workshops prior to booking, if you are unsure in fairness to other participants.
To get the most from this workshop, please make sure that your equipment, apps and software is in good working order prior to the workshop. There will not be technical support available on the day.
Share your images with us: We'd love to see what you capture! Please share your images from this event by tagging @canoncollectiveofficial, #canoncollective, @maxxum.pty.ltd, @haida_filters_au, #haidafilters, @datacolorspyder.asia, #datacolor, @benqau, #aurorahdr, @skylum_global
And don't forget to follow @canoncollectiveofficial on Instagram, join our Canon Collective Facebook community and sign up to receive our newsletter.
Please note that by booking this workshop you agree to the necessary precautions to ensure the safety of all participants and of our team. This includes:
Adhering to a maximum number of persons (inclusive of your Collective Ambassador) as per government advice
Maintaining 1.5m social distancing at all times and indoor distancing as advised by each state government – applicable between Ambassadors and all guests
Learning outcomes will be provided by verbal explanation. Canon Collective Ambassadors will be unable to handle your cameras or review results on the LCD screen
Access to hand sanitiser during the event
Wiping down / sanitisation of all shared gear
Who should not attend?
Anyone feeling unwell or awaiting COVID-19 test results
Anyone who has travelled overseas within the last 14 days
Anyone who has been in contact with any known positive COVID-19 person within the last 14 days
Anyone at "greater risk of serious infection" as described by the Australian Government as follows:
people aged 70 years and over
people aged 65 years and over with chronic medical conditions
people with a compromised immune system
Aboriginal and Torres Strait Islander peoples 50 years and older with one or more chronic medical conditions
By booking an event, you agree to cooperate with all requirements and confirm you do not fall within one of the above listed categories. If your situation changes between booking your event and the day of the event, please do not attend and reschedule your place by contacting us.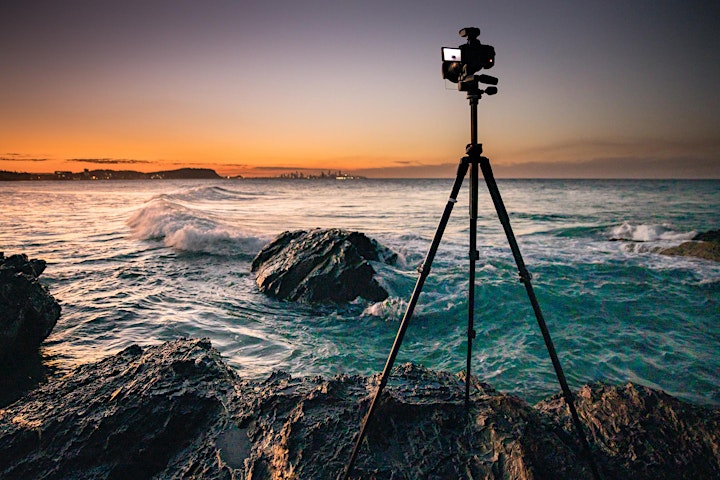 Main image by Canon Collective Ambassador Greg Sullavan, Currumbin Beach
Above image by Canon Collective Ambassador Greg Sullavan, EOS R on Manfrotto Tripod and HAIDA Filters
Body Image below by Canon Collective Ambassador Greg Sullavan Currumbin Rock with Milky Way.