Description
Despite its many challenges, oncofertility continues to rapidly advance. In 2012 in response to calls from cancer survivors and their families, a multidisciplinary taskforce involving major Victorian Comprehensive Cancer Centre (VCCC) partners was established across the paediatric and adult sectors to address the unmet needs around fertility. Respectful exchange has enabled the introduction of new ethical and integrated models of care. It is in this spirit that we welcome families, clinicians, scientists and policymakers to the second National Oncofertility Summit at The Royal Children's Hospital. We hope to explore potential solutions for the most challenging issues in oncofertility care and survivorship. We thank our partners for contributing to the success of this event: The University of Melbourne, The Royal Women's Hospital, The Youth Cancer Action Board Peter MacCallum Cancer Centre and Fertility Preservation Taskforce Consumer Advisory group.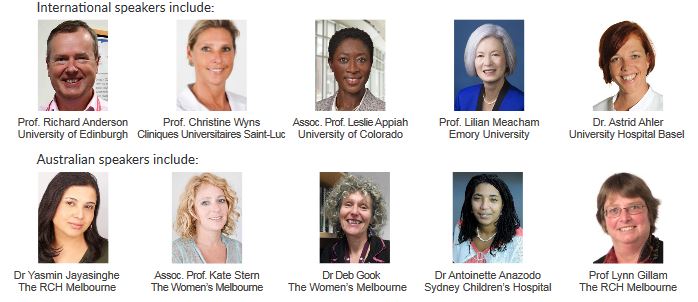 Key themes for this conference are:
Science and technology: where did we come from, where are we now
Programs: updates from Australasian, Global and European Oncofertility Consortiums
Working towards national key performance indicators in paediatric oncofertility
Governance: selection criteria and clinical ethics governance
Care for special population: Gender diverse community
Psychosocial: Supporting patients, families and clinicians in fertility decision-making
The value of coordinated nurse-led oncofertility care
Sexual and reproductive health care in survivorship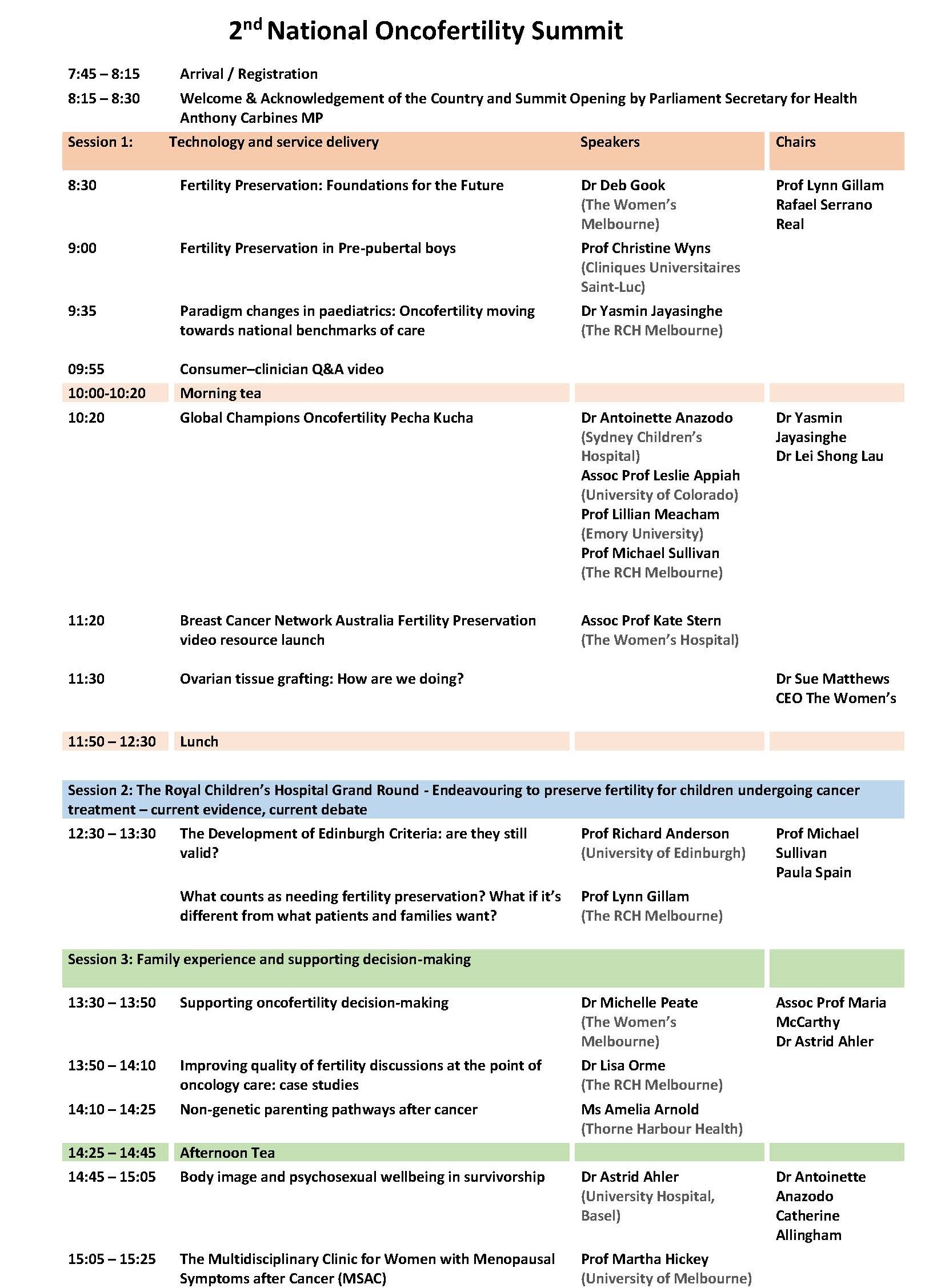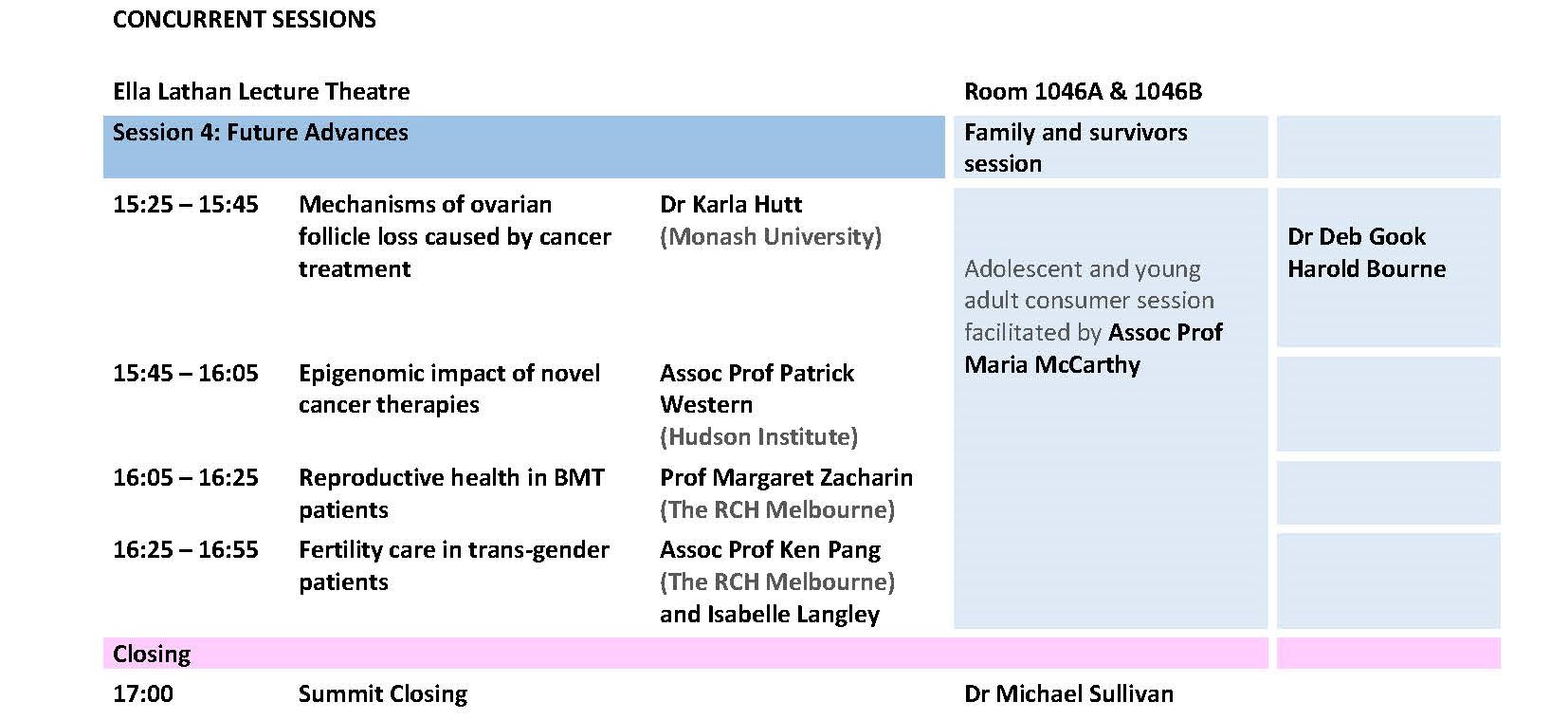 For further information on this event please visit The Royal Children's Hospital Fertility website.
Free Summit registration for families and consumers.
During registration, please indicate if you are interested in contributing to a national paediatric oncofertility coalition that will develop and implement the national standards of care.
Cost of registration is for a full day conference on 4 December, and discounted rate is available for RCH staff and students. Full refund can be given up to 7 days before the event. For refund requested less than 7 days before the event, please contact the event organizer to find out if a full or partial refund is possible.
Free registration for partial attendance is available for RCH staff on clinical duties.
Scholarships and sponsorships
Scholarships are available to support nurses and allied health staff to attend the Summit at a reduced rate ($110 instead of $165).
Full sponsorships are available for students.
For staff and students who wish to apply for a scholarship/sponsorship, please send a statement (no more than 100 words) on the reasons why you want to attend the Summit and how the scholarship will benefit you to the Chair of the Organizing Committee (laul@unimelb.edu.au).
Pre-Summit sessions
The World Congress of Paediatric and Adolescent Gynaecology will be held on 30 November to 3 December. On the 3rd December, there will be a breakfast session on Surviving and thriving: Overcoming reproductive late effects in cancer, followed by a morning session on oncofertility preservation. Professor Richard Anderson will be speaking on assessing ovarian reserve post cancer treatment, and Dr Yasmin Jayasinghe will be speaking on paediatric oncofertility.

Organiser of The Second National Oncofertility Summit 2019
The Fertility Preservation Service at The RCH (www.rch.org.au) is committed to improving the lives of children and adolescents who may require fertility care due to cancer treatment or other medical conditions. We promote good governance, pathways of care, communication, research and education for fertility care. We achieve this by integrating the collective wisdom of families and patients, with experts from a range of disciplines including Paediatric Gynaecology, Oncology, Endocrinology, Reproductive Medicine, Ethics, Legal, Sociology, Transgender Care and Paediatric Surgery. We promote the integration of fertility care between the paediatric and adult sectors. 
The Fertility Preservation Service

Develops clinical pathways and policies
Guides referrals to clinical ethics committees
Supports patient-provider communication
Conducts academic research programs
Educates health providers and the community
Leads the development of paediatric and adolescent fertility preservation programs world-wide.
The Fertility Preservation team has ties with the University of Melbourne Department of Obstetrics and Gynaecology and the Royal Women's Hospital Melbourne.