Description
After two decades of peace within their wartorn region, catfolk, wolffolk, and ratfolk come together for their first ever annual celebration of their new alliance. This is a simple adventure that explores the beauty and the confusion that comes whenever cultures collide and the exciting task of developing new traditions and re-introducing old ones through experiencing one such celebration from the inside.
Kitsune (fox-folk) are a sub-category of particularly charming wolf folk. While only one kitsune is specified in the character list you may request another wolffolk be switched into a kitsune.
GAME STYLE: This is a very emotional scenario where characters from one-time enemy tribes come together to forge peace and find reconciliation in these difficult times against a backdrop of tradition and the creation of a new celebration. Therefore the characters will also get to try and create a variety of new games and traditional experiences with which to mark this celebration.
AGE LIMIT: MA 15+ due to mature themes.
SETTING: The Alliant. A world of wonder and magic where people walk within a hollow world with forests growing alongside the inner edge of a planet-sized dragon shell. A place are held to the land not by gravity but by love of the land. A place of phosphorescent creatures, edible mosses and spirit beings that frolic and play and give good (and not so good) advice.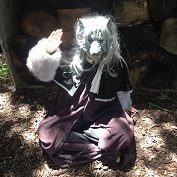 COSTUMING: People are encouraged to wear fantasy-style costuming and clip on ears / tails, and to apply make up or face paint to give their faces an animal aspect. We can provide a face painter to assist with make up for an additional gold coin donation to players who arrive early on a first come, first served basis.

AFTERNOON TEA: There will be a light afternoon tea available for both characters and players. This will include a variety of fantasy-themed snacks.
CHARACTER CREATION: All characters are written by the organisers. You can choose any character from the cast list that will be shown on the order form. Examples include:

A bright-eyed and hopeful catfolk seer who only spent a year at war.
An old catfolk healer who needs a cane after injuries taken escaping as a prisoner of war.
An aggressive but well-meaning ratfolk veteran soldier-turned-traveling-merchant who just wants to feel safe again.
A veteran wolffolk warrior who burnt many catfolk homes in the war and now feels terrible.

You will receive information on the character, several secrets and goals, and a culture packet to help define what this mysterious world is like.
What is a LARP: LARP is an acronym for a Live Action Role Playing game. You are not yourself at a LARP. You are portraying someone else. You go by a new name, present a new personality and have all new motivations while moving through a setting that has been designed by someone else. Perhaps you are a brave warrior in a fantasy town under siege, a medieval villager trying to cope with the plague or perhaps you are a grieving widow trying to identify your husband's murderer. You can learn more here: https://arc-adelaide.com.au/what-is-larp/.