THE SCIENCE BEHIND SUSTAINABILITY-Questacon's Earth Quest Exhibits-SCHOOLS
Description
What
A sustainably super hands-on science session is coming to Coal Point's Progress Hall. All local schools are invited to experience Questacon's Earth Quest Travelling Exhibition during Science Week from August 12 - 20.
The science extravaganza will include 15-20 hands-on exhibits as well as an observation trail looking at the impacts of fire on the local bushland as part of the Threatened Species Last Stand on the Coal Point Peninsula project.
Why
To appreciate and understand environmental sustainability there are basic scientific concepts that need to be understood. The Earth Quest travelling exhibition allows for this foundational science to be experienced in a hands-on and interactive manner within the framework of Science Week's Future Earth theme.
Learning resources have been developed by Questacon and can be viewed at
https://www.questacon.edu.au/outreach/travelling-exhibitions/earth-quest
How
A five dollar ($5) entry fee/student will be charged. Transport to and from the venue is to be arranged by the school. If sufficient sponsorship is received the admission fee will be reduced.
The Coal Point Progress Association and Toronto Area Sustainable Neighbourhood Group will host the science week extravaganza at Progress Hall through the support of community sponsors aiming to provide a value-for-money experience with minimal travel time.
Who
Primary and High School students are invited to attend 2hour sessions throughout Science Week (14-18 August).
The exhibition is mainly targeted at visitor's aged 8 to 12 but can be enjoyed by all ages
A priority booking system is being used to provide local schools with the chance to book first. After the closing dates have passed all bookings will be processed as received.
Local schools (Wangi to Teralba)- priority closing date 29/3/17,

West Ward schools- priority closing date 3/4/17

the rest of the city, Lake Macquarie
Schools can book at any time until 31/7/17 or until all sessions are full.
Where
The event commences with The Fern & the Burn Observational Trail starting at Stansfield Close, Coal Point (the drop off point). The trail is approximately 300m in distance over a 20m descent and ends at Progress Hall (the exhibition and pick up point).
The Earth Quest exhibition venue is Progress Hall, 197 Skye Point Rd, Coal Point.
To protect the exhibits there will be no eating or drinking in the hall.
Water and toilets are available at the hall.
The CPPA holds $20million Public Liability Insurance.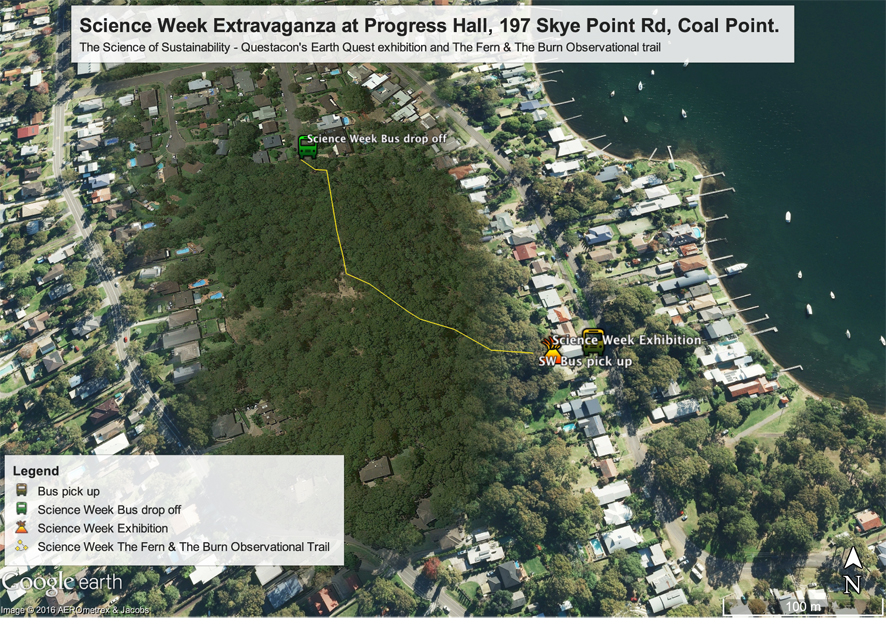 When
There are three sessions each school day on 14th, 15th, 16th, 17th and 18th of August.
There are session limits of 60 children/session.
Morning:
Start @ 9am
End @ 11am
Midday:
Start @ 10:35am
End @ 12:35pm
Afternoon:
Start @ 12:10pm
End @ 2:10pm
Bookings & Payment
Session bookings can be made through the Eventbrite ticketing system. Payments will be received on the day or by prior arrangement.
For more information please contact
Suzanne Pritchard
m: 0438 596 741
coalpointprogress@gmail.com