Description
Join us for an afternoon of great jazz from the Rookies! A fixture in Brunswick Street and beyond, these guys were a huge hit when they visited last time.
This is the kind of jazz band that you'd enjoy in a cool Melbourne or Sydney venue but instead it's right here in gorgeous Mansfield. As Sunday afternoon draws to a close and Sunday evening begins, there's no better accompaniment than live jazz!
The ticket price now includes cheese platters and snacks after the first set.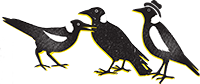 Children welcome, plenty of seating available, four different rooms available so you can sit right in front of the band or have a chinwag in another room.
Listen for yourself Yardbird Suite performed by The Rookies