Description
Join us for our latest lecture of the #georgetalks series
The health system is struggling under the pressure of aging and growing populations, along with escalating rates of complex, chronic diseases. Combined with increasing advances in medical treatment and rising labour costs, public health budgets are under pressure to provide quality healthcare at scale, especially in low- and middle-income countries.
Social enterprise can act as the catalyst for new ways of thinking, using market-driven strategies to tackle health issues in new ways.
Dr Ruth Webster, Global Head of Medicine in George Health Technologies, one of The George Institute for Global Health's social enterprises, will explore;
What is social entrepeneurship in global health and how does it differ from traditional research?

What are the potential benefits of establishing a strong social enterprise focus in global health?

What are the risks and challenges that need to be overcome?

And, at the end of the day, how do we measure whether social enterprise has had true impact on social issues and not just achieved financial viability?
Dr Ruth Webster: George Health Technologies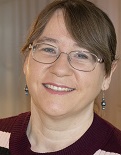 Dr Ruth Webster is the Global Head of Medicine in George Health Technologies, a social enterprise of The George Institute for Global Health. George Health Technologies aims to scaleup effective digital health solutions to improve the diagnosis and management of chronic disease globally. Dr Webster is also the Head of Technical Transfer within The George Institute for Global Health with the responsibility for ensuring smooth transfer of intellectual property generated by The George Institute's world leading researchers into the social enterprise arm for scaleup. As a researcher, she has a particular interest in the development of novel strategies to bridge the evidence-practice gap in Cardiovascular Disease prevention. She is actively involved in trials of various types of polypill strategies, as well as improving use of technology in Australian general practice.