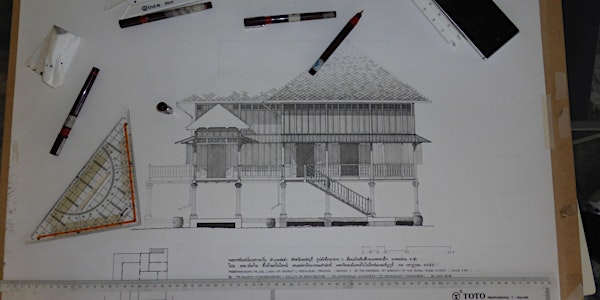 The Role of Heritage in our "Future Cities" – investigating methods of reco...
Event Information
Location
Office for Design and Architecture
28 Leigh Street
Adelaide, SA 5000
Australia
Description
To summarise the VERNADOC EXPERIENCES Exhibition there will be a Discussion Panel – The role of heritage in our "Future Cities" – investigating methods of recording and engaging.
Join our panel in this fascinating discussion.
Mr Daniel Bennett

Dr Mandy Paul

Dr Darren Peacock

Mr Simon Carter

Dr Julie Nichols
Vernadoc (an acronym for vernacular documentation involves cultural immersion and immediate transfer of measured information to the drawing page. These documents communicate traditions of buildings, contextualise the structures within their environment, record spatial relationshups between buildings and through the accurate depiction of everyday artefacts, the building's role in communal life.
The Exhibition on show at ODASA on Leigh Street celebrates basic but beautiful drawing methods in understanding urban space through onsite cultural immersive experiences. It reveals textures, effects and diversity of two very different contexts,
DANIEL BENNETT
Daniel is a multi-award winning registered landscape architect with 20 years' experience working across Australia, the United Kingdom and China. He is passionate about the value of design in shaping our cities. Daniel is the City of Adelaide's Associate Director of Design and Strategy, leading four diverse teams across Transport Strategy, City Strategy, Park Lands Strategy and City Design. Key strategies include 'Smart Move'; Council's 10-year transport strategy, and Council's 'Adelaide Design Manual' for creating better streets and public spaces. Between 2011 and 2014, he was Urban Design Leader for the Sydney Light Rail project for Transport for NSW, and in 2013/2014 completed the feasibility study for the Capital Metro Light Rail project for the ACT Government. He was a Principal at HASSELL between 2004 and 2011, his work resulting in numerous national and state awards; and was a Director and National President of the Australian Institute of Landscape Architects (AILA) for 2015 and 2016 (and a Director of AILA since 2013). Daniel is a contributor to Adelaide's independent newspaper online, the InDaily, as well as ABC radio, and is an occasional feature writer on a wide range of issues including design, transport and planning in our cities.
MANDY PAUL
Mandy Paul is the Director of the Migration Museum. She has postgraduate qualifications in history and museum studies, has worked in museums and as a consultant across Australia and in the United Kingdom, and has published widely on Australian social and cultural history. During her career she has worked in, enjoyed, and led a number of exhibition projects re-using and interpreting heritage buildings, most recently spaces in the Destitute Asylum Lying-in Home at the Migration Museum and the Centre of Democracy in the Institute Building.
DARREN PEACOCK

Dr Darren Peacock is the Chief Executive Officer of the National Trust of South Australia. The Trust is the leading non-government heritage conservation and advocacy organisation in the state, managing more than 130 heritage properties. Darren has worked for a range of heritage, cultural and environmental organisations in Australia, Europe and North America in management and consulting roles. He is particularly interested in the transformative possibilities of digital technologies in promoting heritage awareness and engagement. He holds a PhD from the University of South Australia where he investigated organisational innovation through the use of digital technologies.
SIMON CARTER
Simon Carter is a heritage focussed graduate of architecture at Grieve Gillett Andersen. Simon began his career in heritage at the State Heritage Unit (SA Government) where he gained experience as a heritage consultant, assessing places for the South Australian Heritage Register and providing heritage advice for developments ranging from small scale additions to major government infrastructure. Simon is currently continuing to develop his knowledge of heritage and architectural practice working at Grieve Gillett Andersen. Simon is keenly interested in the reciprocal relationship between society and the things we conserve, as well as how we manage their inherent value in the competitive environments of our ever changing cities and communities.
JULIE NICHOLS
Julie lectures in architecture, environment and sustainable design. Her main research interests link the fields of urban history and theory, urban cartography and urban design. Julie published her first book in 2014 titled "Maps and Meanings: Urban Cartography and Urban Design." This research reflects Julie's cross-cultural professional and academic experience as well as interdisciplinary research interests. Current and future work focusses on multiple methods of representation, recording and interacting with built cultural heritage in Aceh and Bali in Indonesia, Thailand and Australia. These interactions include capturing the intellectual histories of religion, colonialism in Aceh in the early modern period, in addition to the vernacular knowledge of these regions which enabled transitions into modernity. http://aad.unisa.edu.au/vkrg

Date and time
Location
Office for Design and Architecture
28 Leigh Street
Adelaide, SA 5000
Australia