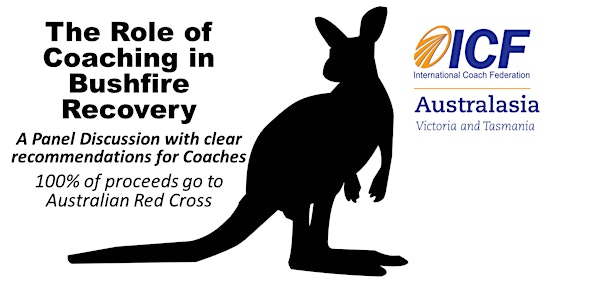 The Role of Coaching in Bushfire Recovery
Refund policy
Contact the organiser to request a refund.
Eventbrite's fee is nonrefundable.
Panel Discussion to assist Coaches effectively respond to those affected by the bushfires. 100% of Ticket sales go to Red Cross Australia.
About this event
The Australian Bushfires have touched the hearts of our nation, and brought us all together to ask, "How can I help?". Many Coaches are wondering how they can most effectively respond, and want to contribute to the healing that will take place in the coming weeks, months and years. Responding to a traumatic event is a complex and many-faceted issue, and ICF Australasia recognises that it's more important than ever for Coaches to be well-informed and confident in how they move forward.
In this specially convened webinar, we will talk about the issues surrounding traumatic response, recovery and how Coaching fits into the bigger picture. 100% of your ticket price will be donated to the Australian Red Cross via ICF Australasia, Victoria & Tasmania Branch.
Join us for a Panel Discussion to explore themes including:
What are the different types of responses we might see in individuals and groups as a result of the national emergency?
What kinds of impact does a large-scale emergency have on communities, and what are some of the issues people will need to work through as the rebuilding begins?
How can we best respond as Coaches?
What ethical considerations we need to work through; and
When is it time to refer a Client on for help with more serious issues, how do we do so, and who can we refer them to?
Panellists will include:
Anna McNaughton, ACC, Member of the ICF Australasia NSW Branch Leadership Team, experienced in response to large-scale emergencies through her work on the ground with St John Ambulance in Christchurch after the earthquakes of 2011;
Lisa Westgate, Coach and ex-Paramedic specialising in helping clients through trauma;
Councillor Jackie Ashe, Murrindindi Shire, who experienced the Black Saturday fires and has been involved in rebuilding the devastated region in her work through local Council;
Chris Mackey, B.A. (Hons); M.A. (Clin.Psych.); Dip.Clin.Hypnosis; FAPS - Registered Psychologist, respected researcher, speaker and published author with over 40 years' clinical experience, including 10 years as Senior Clinical Psychologist at the Geelong and Heidelberg Repatriation Hospitals. Chris will provide us with invaluable specialist advice about traumatic response, signs and symptoms to be aware of which may signal the need for referral to Psychological services, and referral protocols; and
Catherine Bell, ACC, your host and Member of the ICF Australasia Victoria & Tasmania Branch Leadership Team, Mental Health First Aider who also experienced the Black Saturday fires.
In this extended Webinar, the Panel will answer questions and share their experience in dealing with the complex individual, group and community aspects of large-scale emergency events, trauma response and where Coaches can help - or refer Clients on to other services. There will be an extended time at the conclusion for Q&A so that participants can clarify any remaining questions and form an appropriate plan for their own practice, informed by the expert commentary.
Don't miss this opportunity to learn from our incredible panel, enhance your ability to respond to the needs of our community at this time and contribute your ticket price to support the Red Cross in helping those directly affected!
**CCEU's Pending.** If you can't attend live on the day, this webinar will be recorded and sent to you. Please note, due to ICF regulations, only Resource Development CCEU's are available for those who do not attend the live event. Core Competency CCEU's can only be earned through live Webinar attendance.