The Rocks Pub Walking Tour

Weekly Event - Every Tuesday Thursday & Saturday: 6:30 pm (AEDT)
Event Details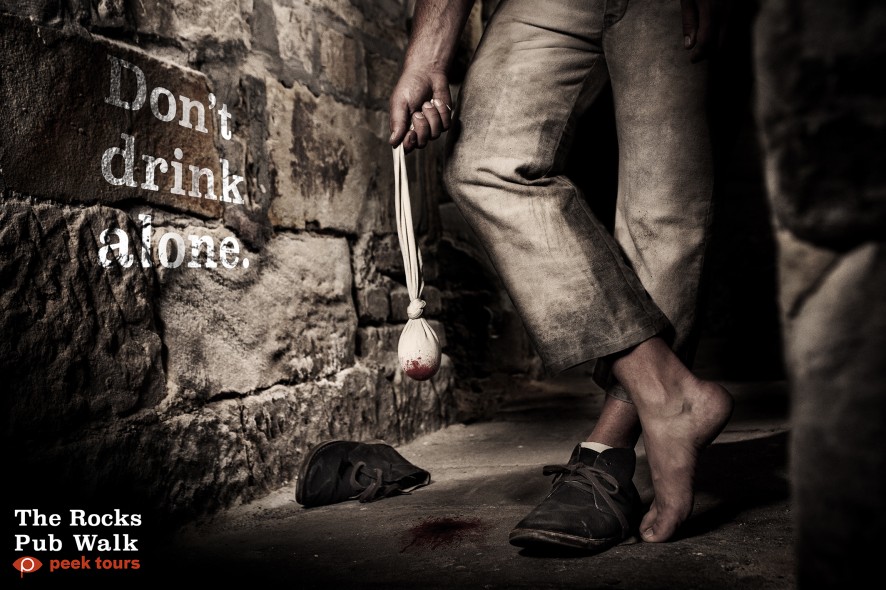 THE ROCKS PUB WALK
 TUESDAY, THURSDAY & SATURDAY @ 6:30pm*
*Please check www.peektours.com.au for an up to date tour calender. 
No tours on public holidays, Xmas Eve, New Years Eve & St Patricks Day. 
Tread in the footsteps of the convicts, larrikin gangs & locals of the past as you share a drink in 3 of Sydney's oldest pubs. Between watering holes, your guide will take you through the alleys & cobbled streets of The Rocks as they share the gossip, shouts and stories of Australia's first European settlement.
After the tour, you can enjoy a tasty meal and another beer with your fellow tour members.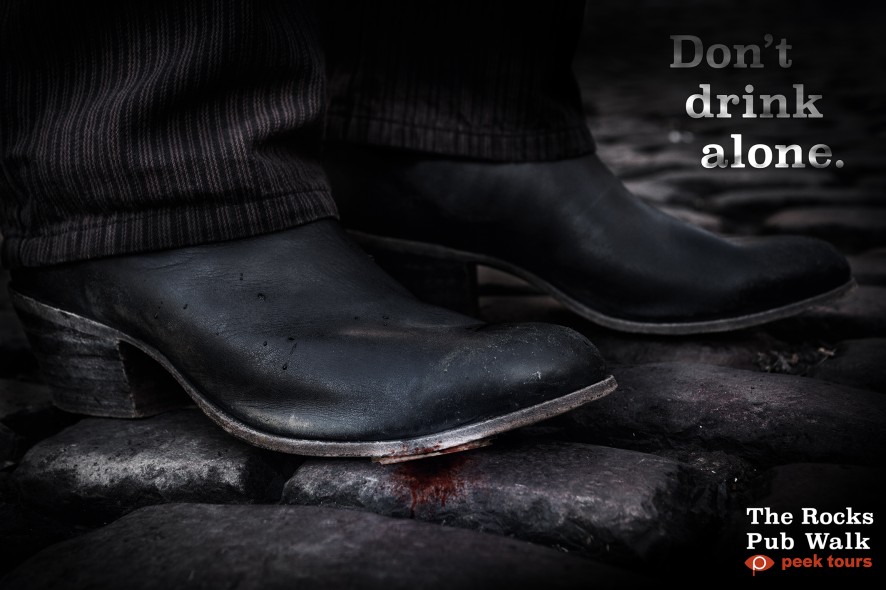 Tour includes: A choice of a beer, wine or soft drink (285ml or 10oz) at each pub and a 2 hour guided walking tour of The Rocks covering:
Sydney's Oldest Pub

Larrikin Gangs

The 6 o'clock Swill

Bubonic Plague Outbreak

The Fight for The Rocks

The Rum Rebellion

Haunted places

......and more!
Bookings Essential. For bookings after 2:30pm on the day of the tour please call 0420244756 (internationally +61 420244756) to confirm your place on the tour.
Meet us:
6:30pm Tuesday, Thursday or Saturday* next to The Rocks Visitors Centre across from the Lowenbrau Keller (Corner of Argyle & Playfair streets, The Rocks)
Look for your Peek Tours guide on the corner.
NOTE:
*Other days can be booked with a minimum group of 4 persons.
No Tours on public holidays, New Year's Eve & St Patrick's Day.
You must be 18+ to tour and photo ID is required to drink alcohol. Children over 14 can accompany adults, though the tour does include adult themes.
This is not a pub crawl.
________________________________________________________________________________
Frequently Asked Questions
Ticket sales have stopped, can i still go on tonight's tour?
Yes. You'll need to call Gregg on 0420244756 to confirm the tour after 2:30pm

Should i bring ID?
Yes. You must be 18 years of age to tour. If you look 25 or younger you could be asked for ID.

The only Identification Documents acceptable on the tour are current Australian Drivers Licence, Australian over 18+ card, international passport or international drivers license in complete English. No photocopies! 
These are relaxed pubs so you can wear whatever you're comfortable walking in.
Which pubs do we visit? 
The route can change at any time, so we won't list the pubs in case it changes. We do however, currently finish at The Harbour View Hotel (18 Fort Street, The Rocks)
What drinks are included?
A middy of beer or a small wine in each pub.
What if i'm running late and/or can't find the tour?
We'll usually wait 5 minutes from the start time, but if you're going to be very late call Gregg on 0420244756. If you're calling internationally +61420244756 
The tour reaches the last pub at about 8:30pm.
www.131500.com.au is the Sydney Transport website, it has a journey planner if you need to know how to get back to where you're staying.
What if I don't drink alcohol?
Non-alcoholic drinks can be included as your free drink in each venue 
Can i get a ticket from the guide?
No. This tour only runs with confirmed bookings
No. If you miss a tour, the ticket is valid for another tour on another day, but you will need to contact us to make sure we can accomodate you. 
You didn't answer my question.
Email - gregg@peektours.com.au or call 0420244756
_____________________________________________________________________________________
Tickets are non-refundable, may not be resold at cost or premium, or used for advertising promotion or other commercial purposes, without our consent. 
You agree to comply with all the rules and regulations of the licensed venues and all directions from us and any of our employees or agents or the licensed venue during the tour. 

You may be removed from the licensed venue if you do not comply with any such directions. 

You understand that the nature of the tour may have risks and you must take care at all times. You expressly assume all risk incidental to the tour, whether occurring prior to, during or subsequent to the actual conduct of the tour, and you hereby release us, and any other associated parties including all directors, officers, members, shareholders, owners, affiliates, employees and agents of each of the foregoing from any and all claims arising from the tour.

You grant us the right to use any image of you in any live or recorded video display or any transmission or reproduction of the tour. All rights to broadcast, record, photograph, repeat, reproduce, or recreate the tour is reserved by us.
Any images or sound recordings you take during the tour must only be used for private and domestic purposes and you agree that you will not commercially exploit them and in particular make available any footage, sound recording or series of still pictures taken at the event on the internet.

You agree and acknowledge that you are responsible for your own safety and for the safety and security of your property that you bring on the tour.

You agree and acknowledge that we endorse the responsible service of alcohol and you agree to drink responsibly and comply with all rules and regulations imposed by the licensee of each venue with respect to your consumption of alcohol in a responsible manner and you acknowledge that such rules and regulations are enforced by and monitored by the New South Wales Police and that all your actions are subject to the normal laws relating thereto.
Peek Tours reserves the right to refuse any person or persons admission to the tour or remove them at anytime for any reason, whatsoever.
You acknowledge that your use of the ticket constitutes your acceptance of the terms of this agreement. If this ticket was purchased on your behalf you warrant that the purchaser acted on your behalf.
If you have purchased this ticket on behalf of other members of a group, you acknowledge you have acted as the group's agent and accepted the terms of this ticket on their behalf.
Where

The Rocks Visitor's Centre
Argyle St
The Rocks, NSW 2000
Australia

Weekly Event - Every Tuesday Thursday & Saturday: 6:30 pm (AEDT)
Add to my calendar
Organiser
We run walking tours in Sydney and Melbourne.  
Check out our great tours in both cities at www.peektours.com.au