Description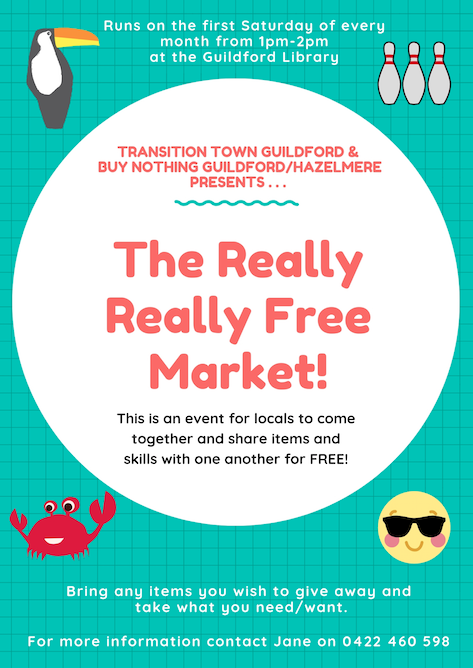 This is an event for locals to come together and share items and skills with one another for FREE!
No cash exchanged.

No bartering.

No haggling.
This is a Really Really Free Market!
The Really Really Free Market runs on the first Saturday of the month (1pm-2pm) outside the Guildford library.
How you can participate:
You bring any items you wish to give away and you take what you want/need.
Tables will be setup outside the library for you to place your items on.
Please note: if you are bringing items to give away, you'll need to take them home if they are not taken. You can drop them off to the local op shop (People who Care), which is a short walk from the Guildford library, or post them on the Buy Nothing New group.
This is why we encourage you to hang around for the hour. You can pop into the library, read a magazine or a book, take out some books, have a chat, etc.
To recap:
1. From 1pm bring your items and add them to tables at the Guildford library. If you have a skill to share, let us know and we'll create a sign/station for you!
2. Take any items you want or need, visit the library, have a chat, etc.
3. At 2pm, collect any of your items that are not taken.
This event is hosted by Transition Town Guildford and Buy Nothing Guildford/Hazelmere.