About this Event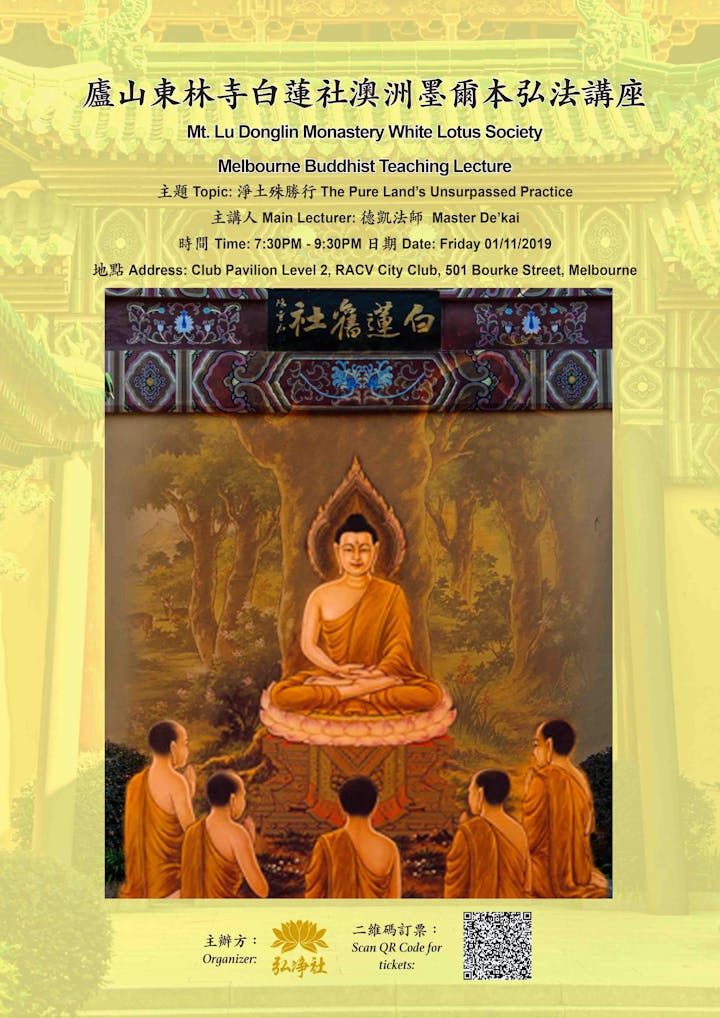 Pureland Propagation Association Inc will be holding Buddhist teaching lecture on 1st 2nd 3rd 9th 16th of November in Melbourne、Sydney Australia and Aucland New Zealand. Five venerable from Mt. Lu Donglin Monastery including Venerable De'shou and Venerable De'kai will be invited to teach lectures. We sincerely invite everyone to attend the lecture.
First session in Melbourne
Topic: The Pure Land's Unsurpassed Practice
Main Lecturer: Venerable De'kai
Time: 7:30pm - 9:30pm
Date: 01/11/2019
Address: Club Pavilion, Level 2, 501 Bourke Street, Melbourne
Interpreting service will be provided
This page is the booking link for first session, if you want to attend other session, please click the corresponding link to get the E-ticket.
Second Session Link: https://www.eventbrite.com.au/e/72388833951
Third Session Link: https://www.eventbrite.com.au/e/72389855005
Sydney Lecture Link: https://www.eventbrite.com.au/e/72390791807
——————————————————————————
弘凈社茲定於2019年11月1日、2日、3日、9日、16日五天,恭請凈土宗祖庭廬山東林寺監院上德下首法師、白蓮社上德下凱法師等一行五位法師前來澳洲墨爾本、悉尼和新西蘭奧克蘭主持佛法講座,誠邀大眾出席聆聽,珍惜此殊勝因緣,共沾法益。
墨爾本第一場
主題:凈土殊勝行
主講人:上德下凱法師
時間:晚上7點半 - 9點半
日期:2019年11月1號
聯系電話:0490 386 858
微信:hongjingsheau
我們會提供英文翻譯服務
此頁面為第一場講座的訂票連接,如需要參加其它場請點擊對應的連接獲取電子票。
墨爾本第二場: https://www.eventbrite.com.au/e/72388833951
墨爾本第三場: https://www.eventbrite.com.au/e/72389855005
悉尼講座: https://www.eventbrite.com.au/e/72390791807