Description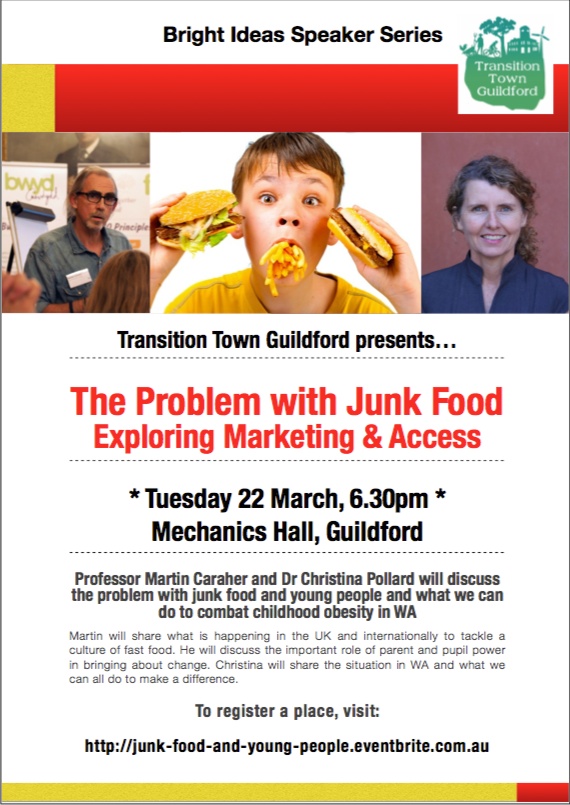 Professor Martin Caraher and Dr Christina Pollard will discuss the problem with junk food and young people and what we can do to combat childhood obesity in Western Australia.


Martin will share what is happening in the UK and internationally to tackle a culture of fast food. He will discuss the important role of parent and pupil power in bringing about change. Christina will share the situation in WA and what we can all do to make a difference.


About Professor Martin Caraher

Martin Caraher is Professor of Food and Health Policy at the Centre for Food Policy at City University, London and currently a Healthway visiting research fellow. He has worked for and acted as a consultant to the UK Department of Health, the World Bank and the World Health Organization. He was a trustee of the Caroline Walker trust. He was a member of the original London Food Board which developed the food strategy for London. He currently acts as an advisor on food matters to a number of social science research groups across Europe, as well as being an advisor to the European Executive Agency for Health and Consumers (DG Sanco). He is a member to the International Obesity Task Force scientific committee.
About Dr Christina Pollard
Christina Pollard has worked for the Western Australian government for about 30 years to improve nutrition through health promotion. She's developed, implemented and evaluated public health interventions at national, state and local levels. She calls herself a 'pracademic' –recognising the need for translating research into policy and practice. Recently she was awarded a five year Healthway Research into Practice Grant entitled "Food Law, Policy and Communications to Improve Public Health". This ambitious project will undertake trend analysis of three large nutrition-related government datasets and develop a priority driven research agenda for public health nutrition in Australia. Christina has a particular interest in improving nutrition for population groups who are vulnerable to poor nutrition due to their social, environmental or economic circumstances. She is a Fellow of the Public Health Association of Australia working with members to stir the advocacy pot to improve public health through better nutrition.
By registering for this event, you'll join the TTG email list. You can update what emails you receive or unsubscribe from our email updates at any time. And we'll never share or sell your information.