Description

Mastermind Lunch Series
The Potential of Video in Marketing - Trends, insights and strategies
Did you know that Australians downloaded over 3 Million Terabytes of data in the 3 months ending June 2017 and that 70% of internet traffic accounted for online video? We have heard many times over that video increased the chances of making a sale by up to 80% and yet nearly 70% of businesses haven't used a video in their marketing during the last 12 months.
Shehan speaks on the lasted developments, how video can be used to make business's get more ROI on their marketing spend and possible pitfalls.
ABOUT THE SPEAKER - Shehan Selvanayagam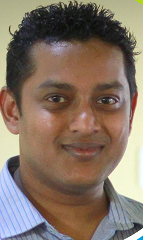 Shehan is a digital native, with over 15 years of experience in eCommerce and digital media. He has worked with over 150 companies, including start-ups, SME's, Multi-Nationals and NGO's, helping establish their digital presence and increase revenue.
Shehan pioneered digital marketing for two airlines and several BFSI companies. His company, LOOPS Solutions, based in Sri Lanka serves clients in several countries including Australia, Qatar, UK and the USA, covering animated and traditional video, social media and digital marketing and digital strategy. LOOPS has also several international awards to its credit for digital strategy and customer engagement. LOOPS is present in Sydney and Melbourne as Creative Kiwi, offering Animation videos and other content creation services.
He has an MSc in Information Technology, a BSc in Management and Member of the Chartered Marketing Institute UK (CIM). He was recognised as the Young Digital Media professional of the Year in 2015 by Mobbys.
SPONSORS