Description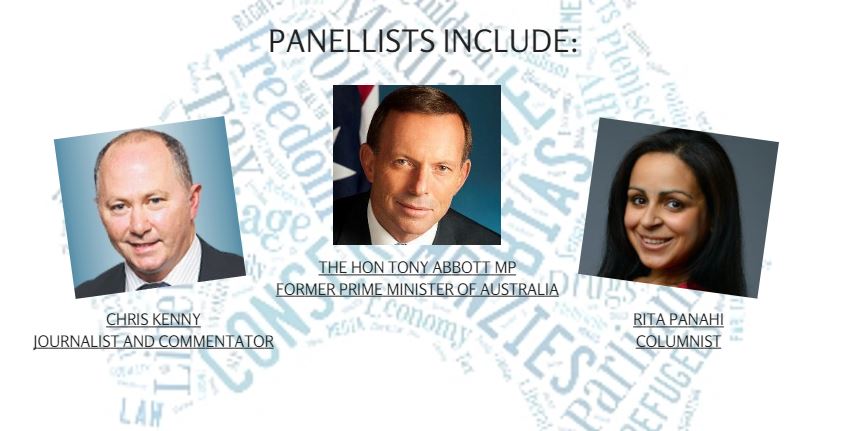 Sick of the left-wing bias when watching Q&A on a Monday night? Feeling excluded from the public policy conversations which shape and transform our culture and our society? Believe that there isn't a forum for conservative values to be debated and expressed?
There is a place for your voice to be heard (and not taken as a comment)!
We at The Policy Forum are of the view that the Australian policy conversation should reflect the enduring, egalitarian values that are the bedrock of Australian civil society – strong families, individual freedoms, the entrepreneurial spirit of Australian enterprise, and limited governments that serve and support (rather than stifle) individual and community initiatives.
Damien Tudehope MP, in conjunction with The Policy Forum, cordially invites you to a function and Q&A with former Prime Minister of Australia Tony Abbott, journalist and commentator Chris Kenny, and columnist Rita Panahi.
The Policy Forum promotes robust debate and grassroots action on the public policy issues that matter most to everyday Australians. The purpose of the forum is to bring together like-minded conservatives to discuss ideas and engage in debate on the topical questions of today.
If you have any questions you would like to ask Mr Abbott, Chris or Rita, or any general queries, please email them to policyforumnsw@gmail.com.
The Policy Forum will be held at Castle Hill RSL Club on Saturday 15th of October. Be there at 4:00pm for a 4:30pm start. Feel free to join others for drinks and dinner afterwards.
Please note it is an invite-only event.
Cost: $20
Dress code: Smart casual
*This is not a fundraising event, and is run at cost-price
We hope you can make it!
Cheers,
The Policy Forum