About this Event
As the world feels the health, economic and social burdens of the COVID-19 pandemic, we wonder where we go from here.
It seems like so long ago – 31 December 2019 – when pneumonia of unknown aetiology was first detected in Wuhan, China and reported to the World Health Organisation. Within a matter of weeks, SARS-CoV-2 had made it to every continent on Earth except Antarctica. The outbreak spread accelerated, and the number of cases, deaths and countries impacted rose, causing COVID-19 to be declared a pandemic by the WHO on 11 March 2020.
Months later, many parts of the world are still in lockdown. But after "flattening the curve", as restrictions in Victoria ease, the number of cases has jumped back up. This calls into question the end goal of social distancing measures and whether we are prepared for a potential second wave.
At the beginning of the outbreak, because relatively little was known about the SARS-CoV-2 virus, researchers and clinicians looked to knowledge of other respiratory viruses for guidance, especially those that cause influenza, SARS, and MERS. Researchers and clinicians are working around the clock to gain a better understanding of the virus, how it spreads, and how we can fight back (with drugs and/or our immune system).
The Convergence Science Network is convening a team of experts from the Doherty Institute for Infection and Immunity to offer you a chance to ask your burning questions.
Join Professor Dale Godfrey, Professor Kanta Subbarao, and Associate Professor Steven Tong for a panel discussion on the future of COVID-19, how the pandemic ends, and lessons learned in preparation for public health threats to come.
Extensive time will be allocated for you to ask your questions to the panel live or you can send us your question/s beforehand by posting on Twitter via the handle @Conversci and hashtag #CSNcovid, or by emailing your question to info@ConvergenceScienceNetwork.org.au.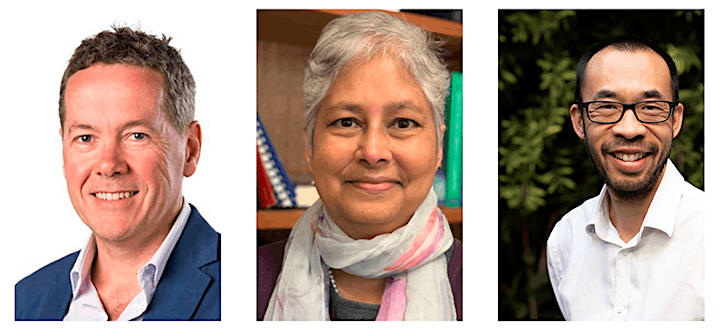 The Panel:
Professor Dale Godfrey

Professor Dale Godfrey was awarded his PhD in 1990 from Monash University and then worked as a postdoc Hoffman-La Roche in New Jersey, USA and then DNAX Research Institute in Palo Alto, USA. He returned to the Centenary Institute at The University of Sydney in 1994, then returned to Monash University, Department of Immunology, as a Research Fellow and Senior Research Fellow. In 2003, Dale moved to The University of Melbourne, Department of Microbiology and Immunology, where he was appointed as Associate Professor and then full Professor. Dale is currently an NHMRC Senior Principal Research Fellow and Immunology Theme Leader at the Doherty Institute.  
Professor Kanta Subbarao

Professor Kanta Subbarao was appointed Director of the WHO Collaborating Centre for Reference and Research on Influenza and Honorary Professorial Fellow in the Department of Microbiology and Immunology, University of Melbourne at the Peter Doherty Institute for Infection and Immunity in 2016. Prior to her arrival in Melbourne, she was Chief of the Emerging Respiratory Viruses Section of the Laboratory of Infectious Diseases, NIAID, National Institutes of Health (NIH) in the United States from 2002-2016 and chief of the Molecular Genetics Section of the Influenza Branch at the US CDC from 1997-2002.
Kanta is a virologist and a physician with specialty training in paediatric infectious diseases. She received her M.B.B.S. from Christian Medical College, Vellore in India, completed training in paediatrics and paediatric infectious diseases in the US and earned an M.P.H. in epidemiology from the University of Oklahoma Health Sciences Center and received postdoctoral training in the Laboratory of Infectious Diseases, NIAID, NIH.
Her research is focused on newly emerging viral diseases of global importance including seasonal and pandemic influenza, severe acute respiratory syndrome (SARS), Middle East Respiratory Syndrome (MERS) and now COVID-19. Her research includes the study of virus biology and pathogenesis, immune responses to infection and vaccination, development and preclinical and clinical evaluation of vaccines and evaluation of antiviral drugs. She is an internationally recognised leader in the field of emerging respiratory viruses with a sustained record of research excellence. In response to the COVID-19 pandemic, she have been invited to serve on international panels on animal models and vaccine safety (CEPI, WHO and American Society for Microbiology).
Associate Professor Steven Tong

Associate Professor Steven Tong is an infectious diseases physician with the Victorian Infectious Diseases Service and Co-Head of the Translational and Clinical Research and Indigenous Health cross-cutting disciplines at the Doherty Institute. He spent 10 years in Darwin before moving Melbourne to join the Doherty Institute in 2016. He conducts clinical trials for infectious diseases syndromes and in 2020 initiated the Australasian COVID-19 Trial.

The Moderator:
Catriona Nguyen-Robertson

Catriona Nguyen-Robertson is a PhD Candidate at the Peter Doherty Institute for Infection and Immunity. She studies the immune response in bacterial infection and skin allergy, with a particular focus on Mycobacterium tuberculosis, the bacteria that causes tuberculosis. She is a Science Communications Officer for the Convergence Science Network, the Science Engagement Officer for Royal Society of Victoria and Associate Editor of the scientific journal, Immunology & Cell Biology.
Catriona is passionate about encouraging diversity in STEM fields and engaging students in science. To this end, she is active on social media as a science communicator and regularly engages with science mentoring and outreach programs, such as with the Gene Technology Access Centre, In2Science and BrainSTEM, and teaches immunology to undergraduate students at The University of Melbourne. 
Event details:
Date: Thursday, 16 July 2020
Time: 6.00pm – 7.30pm

Place: This is a live webinar.
Registration is essential. Prior to the event, registrants will receive a link to join it live.