Description
Where's the Passion?
Helping young people find it is a gift that lasts a lifetime
"Nothing great in the world has ever been accomplished without passion." - Georg Wilhelm Friedrich Hegel.
This quest is going to build a story about you, what really matters to you, and you will clarify your sense of self as you design your pathway to a happy and successful life.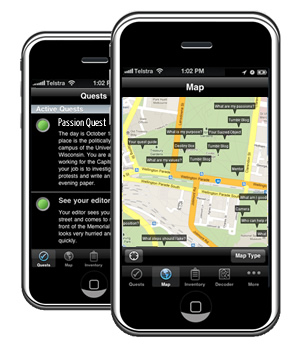 The Passion Quest is a social game and uses a game-based learning approach to personal/career development taught through a series of life-skills elements.
It's a technology infused quest designed to uncover your passions and illuminate ways to activate the pathways to fulfilling those passions using game mechanics and strategy.
Part mobile game and part digital story. Using GPS and QR Codes, virtual rewards and some secret technologies, we've created a truly engaging experience.
This quest is locative and the journey incorporates several cultural institutions including The State Library of Victoria, Federation Square, and The Immigration Museum.
The 3 hour mobile learning quest and 2 hour personal pathway plan involves teams of four 13-18 year olds. The event is held in the CBD over 6 hours. There is a break for a 60 minute lunch chowdown in the middle of the quest.
The Passion Quest is a blended learning activity that promotes 21st Century Skills. Participants collect their data in the field as they progress through the game play. Data is then used to complete a pathway plan and can used to build other strategies which can assist with future personal/career development. We encourage all participants to create their own videos, audio, visuals, photos, and panoramas.
The quest has four levels to complete.

With level one and two played in the field, the final two levels can be played out as a group after the event, back at home or in the classroom back at school along with supporting lesson plans and materials supplied by us.

Anyone can play levels one and two free or play with our group and we'll finish with levels three and four back at headquaters.

Inclusions
Includes curiosity lab membership

Membership gives you special discounts for events and one on one coaching

A sweet treat

Free WIFI and water

Online access learning materials

A student PLP (personal learning plan) and parent account on Goalbook

We all meet online a week later for a 1 hour follow up discussion


How it works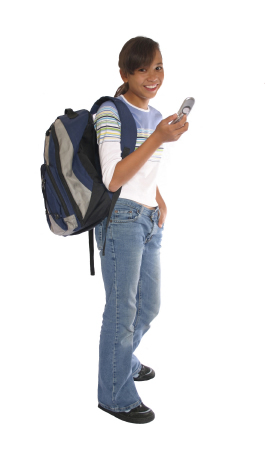 Teams use mobile devices connected via Internet to navigate a set of clues that use QR codes, photos, videos, maps, music and augmented reality. These elements all help participants reveal their values, skills, passions and have a think about what they feel their purpose might be.
Participants learn to celebrate the fact we as individuals all have our own journey that led us to this point as part of a team on the Passion Quest.
Teams meet virtual interactive characters, collect items, and interact with media placed in various physical spaces.
We discuss what it means to know your purpose, your pathway and how to make use of life-long learning opportunities and mentors. We also learn what the key drivers are for a fullfilling work life.
To keep communication going between teams we suggest using tools like Facebook or Twitter.
All participlants leave with a Goalbook account and a pathway plan which includes a goal map, some tips on setting up and maintaining a personal learning plan and network. We can also set online learning goals for students and help track progress along with parents and other educators as an additional service.


Learning outcomes
We focus on 21st Century skills. Participants learn collaboration, critical thinking and problem solving, communication, information and media literacy, digital citizenship, reputation management, innovation and creativity,
flexiblility and adaptability,
goal setting and pathway planning along the way.
Where? Begins at The State Library of Victoria, 328 Swanston St, Melbourne Australia 3000
How much? $25.00
Age group? 13-18
Team sizes 2-4 + our adult Field Guide & Facilitator

How long? 6 Hours (60 minute lunch break)
Key requirements
BYO WIFI or 3G Internet enabled mobile device (iPod Touch, iPhone, Android Smartphone or Tablet)
Ability to access iTunes account to download 2 free apps from your device
BYO packed lunch. We supply water and juice and free WIFI
What to bring
Fully charged phone and re-charger

Digital camera (optional)

Questionaire filled out online

Hat, sun-glasses, sun-lotion & water bottle

Suitable walking shoes

Umbrella (just in case)

your lunch
Terms & conditions agreement
The 2 hour quest will mostly involve walking along public footpaths and parks and public buildings in and around the City. However, it will also involve crossing busy intersections and may involve walking over uneven ground, up and down stairs and other pedestrian obstacles.
Due to the nature and extent of these activities, each participant:
1. Assures the company that he/she is physically and mentally able to undertake the activities; and
2. Assures the company that he/she has no pre-existing condition that may be affected by the activities; and
3. Assures the company that he/she is at least 13 years of age, and the parent or guardian of the minor has provided written consent to the company for the minor to take part in the activities
4. Must not, on the assessment of company staff, be under the influence of alcohol or drugs of any kind during the activities; and
5. Understands that the consumption of alcohol or drugs of any kind during these activities is absolutely prohibited (anyone who, on the assessment of company staff, is consuming or is under the influence of alcohol or drugs of any kind will be expelled from the workshop and will forfeit the fee paid for the workshop); and
6. Understands that he/she accepts full responsibility for his/her own safety, care and wellbeing during the activities. This includes paying due care and attention to traffic, pedestrians and other potential obstacles and dangers; and
7. Understands that the company accepts no responsibility or liability whatsoever for loss or damage to the property of participants. This includes valuables, personal belongings, electronic equipment and clothing; and
8. Understands that he/she is personally responsible for ensuring that he/she has adequate food, water and clothing for the activities.
Cancellation policy
More than 3 days notice: Full refund.
Less than 3 days notice: No refund
All participants must confirm bookings in advance.
Payment must be made in full prior to commencement of the quest.
In the case of inclement weather, class meeting point may be rescheduled and participants will be notified.
Scholarship program

If you know of financially or learning disadvantaged young people who you believe could benefit from a curiosity lab experience, do get in touch. We will make arrangements to provide free tickets to most of our events and supply mobile devices for the event. Please do give us plenty of prior notice. A special thank you to Motorola Mobility Australia for providing us with some XOOM tablets and Smartphones and Telstra for providing mobile WIFI and data for the event.
Contact information
Call Brendan O'Keefe on (03) 9018 7340
For more info: www.curiositylab.com.au
Email: brendan[at]curiositylab.com.au

Organizer of The Passion Quest - a location based learning experience by curiosity lab
Discover your passions. Try things out, get advice and encouragement. Play and learn as you follow your curiosity and share your potential in our pop up labs in and around Melbourne.
The curiosity lab is a new generation learning organisation. We think, work and play well outside any box you can imagine or other generally restrictive environment.
We are a family business and we have pop up learning labs that appear in all kinds of spaces in and around Melbounre. Some are even outdoors.
Based on Pop up shops which are temporary retail spaces. We use the same model but apply this to learning spaces. Our learning experiences are often conducted in short term vacancies in high street or shopping centres, libraries, museums and outdoor festivals and events.
We are part of a next generation learning network across Melbourne which connects with youth services, libraries, galleries, and community organisations.
We work with a team of designers, educators and subject matter experts. Together we collaborate and host online and offline events, classes and other fun stuff designed to effect positive change.
We have programs for young people. Professional development for teachers and opportunities for companies to showcase their technologies and learning opportunities to a captive audience.
Feel free to get in touch.
Call Brendan O'Keefe on (03) 9018 7340
For more info: www.curiositylab.com.au
Email: brendan[at]curiositylab.com.au