Sales Have Ended
Ticket sales have ended
You give permission to Diversity Arts Australia and third parties (such as our project partner Blacktown Arts), to take photographs, video and audio recordings of you. You agree to assign the rights to these recordings to those outlined above, and give permission for the editing, re-recording, duplication, reproduction, exhibition, broadcast and/or distribution of the recordings for archival, promotional, technical, research and educational purposes. We will ask your permission for any use beyond the scope listed here. Should you have any issues with this image release or wish to opt out, please advise Diversity Arts Australia by email info@diversityarts.org.au or phone 02 8821 9169. You agree to be added to the Diversity Arts Australia mailing list. Should you wish to opt out, please email info@diversityarts.org.au or phone 02 8821 9169. To read more about how Diversity Arts' Privacy Policy and how we collect information, visit: http://diversityarts.org.au/about/privacy-policy/
Event Information
Location
The Leo Kelly Blacktown Arts Centre
78 Flushcombe Road
Blacktown, NSW 2148
Australia
Refund policy
Contact the organiser to request a refund.
Eventbrite's fee is nonrefundable.
Sales Have Ended
Ticket sales have ended
You give permission to Diversity Arts Australia and third parties (such as our project partner Blacktown Arts), to take photographs, video and audio recordings of you. You agree to assign the rights to these recordings to those outlined above, and give permission for the editing, re-recording, duplication, reproduction, exhibition, broadcast and/or distribution of the recordings for archival, promotional, technical, research and educational purposes. We will ask your permission for any use beyond the scope listed here. Should you have any issues with this image release or wish to opt out, please advise Diversity Arts Australia by email info@diversityarts.org.au or phone 02 8821 9169. You agree to be added to the Diversity Arts Australia mailing list. Should you wish to opt out, please email info@diversityarts.org.au or phone 02 8821 9169. To read more about how Diversity Arts' Privacy Policy and how we collect information, visit: http://diversityarts.org.au/about/privacy-policy/
Join us for a block party with a difference
About this event
A mixtape, a block party, an online platform to offer sustenance, films and discussions.
Join Diversity Arts Australia and Blacktown Arts for The Pacesetters, and get ready to dance-it-off at our block party and to feast on some delicious Australian Indigenous bush tucker courtesy of Kallico Catering.
Featuring trailblazing artists Aamer Rahman, Kim "Busty Beatz" Bowers, Rani Pramesti and Latai Taumoepeau, whose works celebrate and pay homage to First Nations and culturally diverse Pacesetters through new films, music, performance and an online platform.
Setting the pace will be a pumping soundtrack, The Fierce Awakens Mixtape by Busty Beatz, culminating in a mini-block party, paying tribute to First Nations and non-white migrant WOMEN of Australian hip hop.
"The Fierce Awakens Mixtape pays homage to the power of Herstory and the phenomenal women who have paved their own path and continue to do so. This sonic, beats-based journey explores the significant impact of place, time, community and the voice. The stage is my battlefield to decolonise, one stage at a time and this is how I do it!"
Aamer Rahman's new short films, The Pacesetters, document discussions with his mentors and collaborators, Dr Gary Foley (Indigenous activist, artist and academic), Nazeem Hussain (comedian and media personality), Beverley Wang (journalist, producer, podcaster).
Latai's new animation 'War Dance the final frontier', is a work of protest against deep sea mining.
Rani Pramesti presents her new #CreativesofColour platform, which also profiles significant creative activists like Eugenia Flynn and Amanda Ma.
Get ready to listen, reflect and dance at this event this Friday 25 Oct Blacktown Arts, 5.30pm for a 6pm start.
pacesetter [peys-set-er] Noun1. a person that is the first to do new or different things; a leader in a particular field or activity, providing an example for others to follow. 2. someone that sets the pace.
This event is wheelchair accessible. Please email info@diversityarts.org.au if you have any access needs.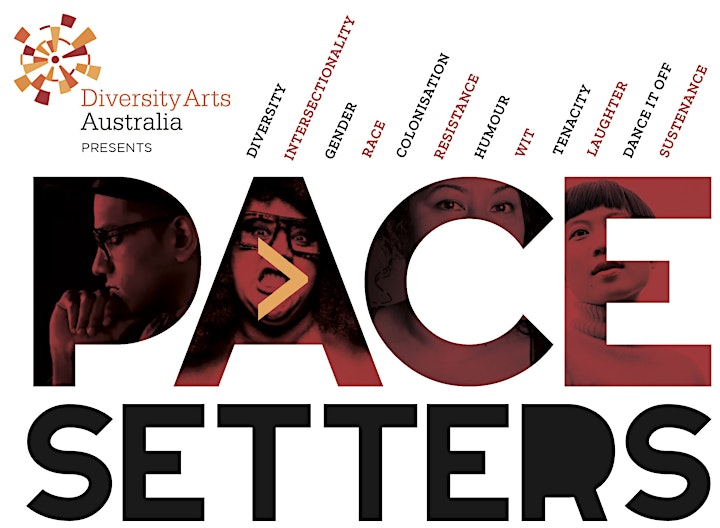 Celebrate and pay homage to First Nations and culturally diverse Pacesetters this Friday 25 Oct at Blacktown Arts with a block party, films, talks by leading artists Aamer Rahman (Fear of a Brown Planet), Kim BustyBeatz Bowers (Hot Brown Honey), Rani Pramesti (Chinese Whispers) and Latai Funaki Taumoepeau.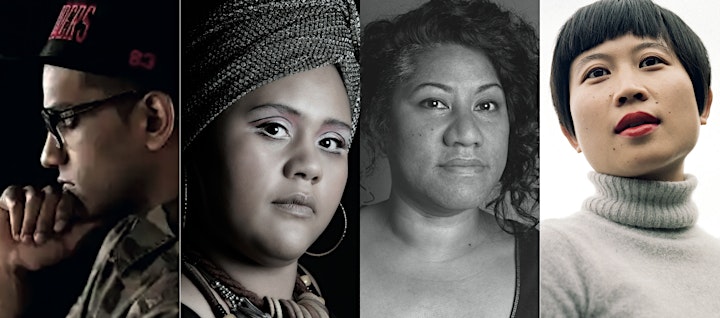 Kim 'Busty Beatz' Bowers is a musical director, composer, sound designer, remixer, DJ and performer. Of Xhosa heritage and living on Yuggera country, she has been making fearless art to activate, pollinate and liberate for over 25 years. Her music is featured in cult Australian films Fresh Air, Eleven, Love and Other Catastrophes and The Well, and she has composed for film including Amar directed by Fatima Mawas and Love Bites directed by Jermaine D'Vauz. Composition and sound design for theatre credits include Samson (Belvoir Street), Straight White Men (State Theatre, SA), The Longest Minute (Debase and Queensland Theatre), Prize Fighter (La Boite Theatre). Musical direction credits include East London West Sydney directed by Breakin' Convention's Jonzi D, Polytoxic Dance Theatre Company's The Rat Trap and she is the resident MD for the internationally renowned Briefs. This beat-making mama is the MD, composer and sound artist of the international smash-hit Hot Brown Honey, which saw her win the 2016 UK Total Theatre Award for Innovation, Experimentation & Playing with Form, two Green Room Awards and the 2017 Helpmann for Best Cabaret Performer. Kim is currently creating compositions with Birri Gubba/Kungalu poet/singer Ancestress and creating the soundtrack to the Hot Brown Honey Revolution
Aamer Rahman is an Australian comedian and writer concerned with politics, race relations, and the War on Terror. He has performed sold-out shows at some of the world's largest festivals, including the Melbourne International Comedy Festival and the Edinburgh Fringe. Best known for his viral stand-up clips 'Reverse Racism' and 'Is it OK to Punch Nazis?' he is returning to the stage after a long hiatus from standup. Aamer Rahman's work is a 'spin off' of his New York film series "Can We Kick It?" but based in Melbourne, it features interviews with subjects: Gary Foley, Beverley Wang, and Nazeem Hussein.
Latai Taumoepeau is a Punake, body-centered performance artist; her story is of her homelands, the Island Kingdom of Tonga and her birthplace; the Eora Nation – Sydney, and everything far and in-between. She mimicked, trained and un-learned dance, in multiple institutions of knowledge, starting with her village, a suburban church hall, nightclubs and a university. Latai activates Indigenous philosophies and methodologies; cross-pollinating ancient practices of ceremony with her contemporary processes & performance work to re-interpret, re-generate and extend her movement practice and its function in and from Oceania. She engages in the socio-political landscape of Australia with sensibilities in race, class & the female body politic; committed to bringing the voice of marginalised communities to the frangipani-less foreground.
Rani Pramesti is a proud Chinese-Javanese-Indonesian woman living, working and learning on Kulin Country (Narrm, Melbourne). Like many in the performing arts, she wears many hats: as an independent performance maker, an intercultural producer and an advocate for the arts. Since graduating from the Victorian College of Arts in 2013, Rani has dedicated herself to collaborations with underrepresented groups in the performing arts, working intersectionally with culturally diverse practitioners, First Nations communities and people with lived experiences of disability. Throughout 2015-2016, as an Associate Producer at Footscray Community Arts Centre (FCAC), Rani played a pivotal role in curating and delivering capacity building programs with diverse emerging producers, artists and facilitators. Throughout 2017-2018, Rani worked as a Youth Development Officer (Arts and Events) at the City of Maribyrnong's Phoenix Youth Hub and was quickly promoted to Team Leader of Resources, Facility and Performing Arts. In 2019, Rani has been developing curated conversations with creatives of colour, commissioned by Diversity Arts Australia and delivering projects with Australia Council for the Arts' Capacity Building program.

Artists (alphabetically)
Kim "Busty Beatz" Bowers
Rani Pramesti
Aamer Rahman
Latai Taumoepeau and
Fadia Abboud (development stage)
Project team
Lena Nahlous, Creative Producer and Diversity Arts Executive Director
Paschal Daantos Berry, Creative Director
Miguel Olmo, Coordinator, Operations and Administration, Blacktown Arts
Sonia Mehrmand, Associate Creative Producer
Andy Ko, Associate Creative Producer until June 2019
Maria Tran, Screen Producer
Kevin Bathman, Marketing and Design
Rachel Marie, Publicity
Sukhmani Khorana, Writer in Residence
Monikka Eliah and Stephen Pham, Citizen Journalists
Helen Tran, Photographer
Deborah Rodrigo (Brown Girl in the Ring), Audio/ podcast documentation
You give permission to Diversity Arts Australia and third parties (such as our project partner Blacktown Arts), to take photographs, video and audio recordings of you. You agree to assign the rights to these recordings to those outlined above, and give permission for the editing, re-recording, duplication, reproduction, exhibition, broadcast and/or distribution of the recordings for archival, promotional, technical, research and educational purposes. We will ask your permission for any use beyond the scope listed here. Should you have any issues with this image release or wish to opt out, please advise Diversity Arts Australia by email info@diversityarts.org.au or phone 02 8821 9169.
You agree to be added to the Diversity Arts Australia mailing list. Should you wish to opt out, please email info@diversityarts.org.au or phone 02 8821 9169.
To read more about how Diversity Arts' Privacy Policy and how we collect information, visit: http://diversityarts.org.au/about/privacy-policy/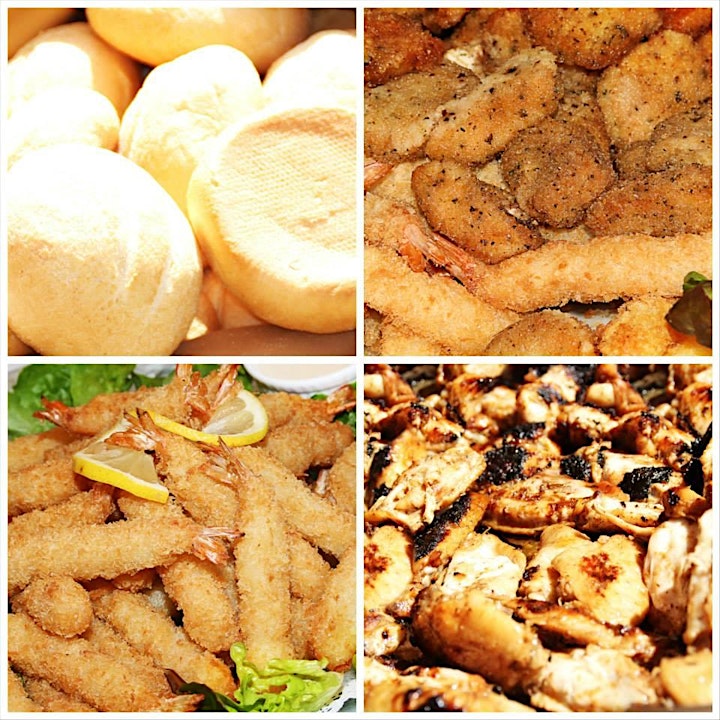 Date and time
Location
The Leo Kelly Blacktown Arts Centre
78 Flushcombe Road
Blacktown, NSW 2148
Australia
Refund policy
Contact the organiser to request a refund.
Eventbrite's fee is nonrefundable.