Event Information
Refund Policy
Contact the organiser to request a refund.
Eventbrite's fee is nonrefundable.
Release stress and trauma, enliven your body and enhance your capacity for pleasure, sensual sensation and sexual energy with a NLMM® class.
About this Event
Stress, anxiety, overwhelm and trauma tend to be hallmarks of modern day living, perhaps even more so over the last nine months as the pandemic has swept the world. A by-product of this is that our capacity for feeling aliveness, pleasure and sexual responsiveness is diminished, as is our capacity to self-regulate our nervous system.
Non-Linear Movement Method® is a powerful, yet gentle, somatic embodiment practice that will help you to get back into your body and enable you to develop a greater intimacy with your inner world and bodily genius and wisdom.
So many of the practices we participate in today are linear, structured movement classes. We impose certain movements on to our body and attempt to tell our body what to do. NLMM is unique in that it lets our body tell us what it wants to do. Our body directs us towards self-regulation and wellbeing.
NLMM ® specific benefits:
1. Smooth out the nervous system
NLMM® encourages an identifying and unwinding of the patterns of contraction and through gentle, non-force movements relieves the bodily tension and underlying mental loops. The result is a systematic, self-guided unburdening of the nervous system.
2. Process and identify emotions
As the body unwinds and the mind relaxes its pressured pace the emotions associated with these patterns become apparent and are being let go of. You can note recurring emotional loops for further processing  and at the same time allow emotions to simply rise and release.
3. Awaken sexual energy and sensual sensation
As tension, contraction and emotion are being released the body becomes sensitised and we are able to feel deeper. One of the marked results of this sensitisation is an ability to feel increased pleasure and well being. Participants report an increased ability to connect through their body, both with themselves and others.
4. Release trauma patterns into flow
One of the results of traumatic experience (fresh and old alike) is "freeze", a state in which body, mind and emotions are stuck in a state of numbness. Often "freeze" is falsely perceived as a feeling of "calm/nothing", which results in an inability to release the experience and ease the bodily patterns. NLMM® facilitates a continued movement, which gently opens the freeze pattern and allows for recognition and release of the underlying bodily and emotional patterns.
5. Unite mind and body in intimacy with physical sensation
Through continued engagement with the release of contraction and facilitation of emotional awareness the ingrained patterns become apparent and less pronounced. Over time physical sensation can be engaged with and the acceptance and tolerance of all sensation increases. Intimacy with whatever is present is possible.
6. Create high bodily responsiveness
NLMM® educates the body how to release and process contractions, stress and emotional tension.  The body becomes highly attuned to all sensations and can note, react or release fluidly and without having to attend to traumatic or suppressed backlog.
7. Open access to bodily wisdom
By putting emphasis on movement and circumventing the analytical mind and loops of tense thinking the natural intelligence of our bodies is accessed. Through gentle guidance the mechanisms of "freeze" and refusal to feel are being loosened and bodily wisdom can create the necessary actions and releases.
Class Details:
To join the class you will need:
Access to Zoom
Ability to hear audio
A quiet private area for practice
A yoga mat or something similar
Comfortable clothing that you can move in
Although held via Zoom, the beauty of this style of class is that you don't have to look at the screen other than for the first few minutes of instruction. For the remainder of the class, you are guided by my voice and an accompanying music playlist on an inwards journey.
The method can be applied independent of fitness level or age and adjusted to fit anyone's individual needs. There is no need for experience with somatic modalities, dance or any other movemet practices.
NLMM® is not a substitute for therapy or medical treatment. If you have a history of trauma, mental health issues or medical conditions, please consult your physician or mental health care practitioner to determine if somatic movement modalities are appropriate for you.
Reistration information and next steps:
Once you make a booking, you'll receive a confirmation email including Zoom dial-in details.
Should you have any questions at any stage, please don't hesistate to contact me at: sharon@sharonsztar.com.
I hope to see you in class.
Sharon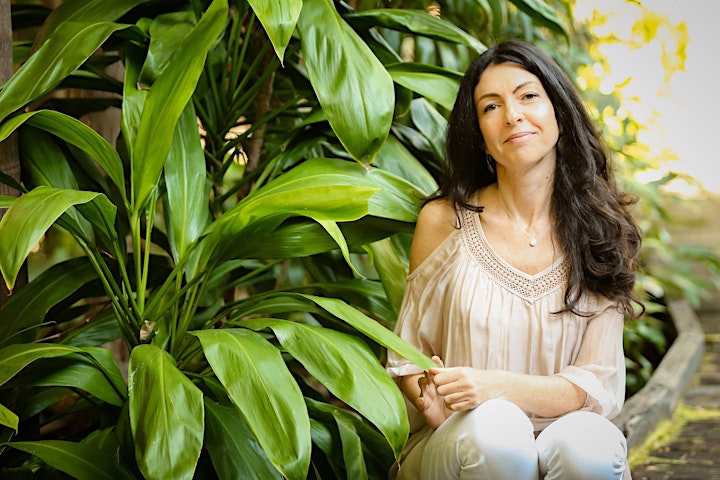 Facilitator - Sharon Sztar
Sharon is an ex-corporate executive turned women's well-being advocate, passionate about changing the narrative of what it means to be a well and vital woman across all seasons of life. As well as being a Non-Linear Movement Method® instructor, Sharon facilitates circles, immersions and retreats designed to reconnect women with their own bodily wisdom. She is also a writer and currently working on her first memoir.
Date and Time
Location
Refund Policy
Contact the organiser to request a refund.
Eventbrite's fee is nonrefundable.