Description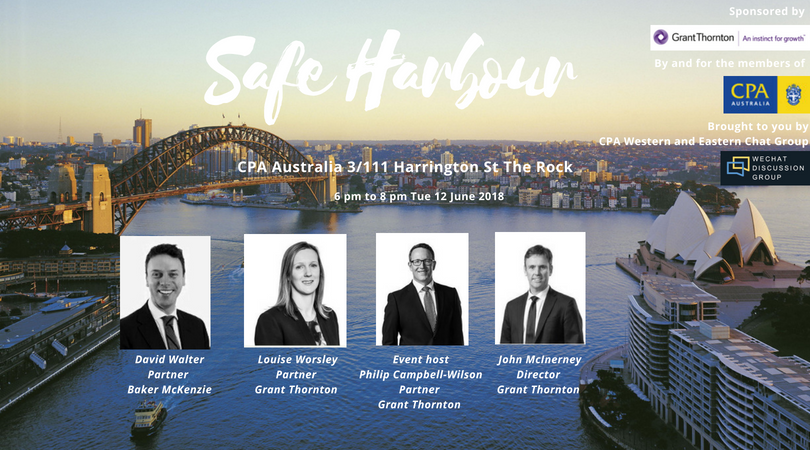 On 18 September 2017, the 'Safe Harbour' provisions came into effect by Royal assent, one of the biggest changes to the Restructuring Industry in about 30 years.
The Safe Harbour law reform, presented as part of the Federal Government's Science and Innovation agenda, is in part aimed at creating a more innovative and entrepreneurial business culture in Australia. Historically, the threat of being personally liable for insolvent trading has been significant enough to deter directors from properly planning a turnaround strategy in circumstances where the company had solvency concerns, leading to the premature appointments of external administrators. The aim of the Safe Harbour regime is to allow time to plan a successful restructuring of a business that results in a better outcome than an immediate formal insolvency appointment.
Philip will provide an overview of what the Safe Harbour regime means, how it is imposed by Directors and what it means for key stakeholders and professional advisers, such as you.
To compliment this, a panel of experts will be tested on certain scenarios and be available to take questions from the floor.
(Light refreshment will be served)
---
Host: Philip Campbell-Wilson, Partner of Grant Thornton, Restructuring Advisory
Philip is a Financial Advisory Partner with Grant Thornton. Prior to joining Grant Thornton, he was a Partner at Ernst & Young for 7 years in their Transactional Advisory Services team and all up spent 20 years with EY. He has several years of banking experience in London and Sydney with JP Morgan, Nomura and ING.
Philip advises Directors and Management on how to deal with liquidity constraints, cash flow risk, solvency risk and generally stabilising a business. He is a registered liquidator with expertise in turnaround advisory, independent business reviews, alternative capital advisory, formal appointments and streamlining corporate structures.
Philip is a trusted advisor to Australia's financial institutions and other major stakeholders (Government, corporate shareholders etc.) to better understand credit risk. He has worked on numerous mid-market to large restructurings in various industries including mining, retail, property, agricultural, financial services, manufacturing etc.
Philip is a Safe Harbour advisor and a Registered Liquidator.
More details via:
https://www.grantthornton.com.au/meet-our-people/philip-campbell-wilson/
---
On the Panel:

David Walter, Partner of Baker McKenzie, Restructuring & Insolvency
"David Walter is a partner in the Sydney office of Baker & McKenzie. His practice focuses on contentious and non-contentious financial restructuring and insolvency where he advises a wide array of stakeholders, including company directors and investors, in both informal restructures and formal insolvencies. Since 2012, David has been recognised across a number of directories as a leading insolvency and disputes lawyer. He is deputy chair of the Law Council's restructuring and insolvency committee, and he publishes and speaks regularly on current issues and emerging trends in the Australian restructuring and insolvency market."
More details via
https://www.bakermckenzie.com/en/people/w/walter-david/
Louise Worsley, Partner of Grant Thornton Australia, Audit & Assurance
"Louise has over 15 years' experience co-ordinating audit and other services to a diverse portfolio of clients, including the audits of privately held and listed public companies and large international groups. Louise has also been involved in corporate finance engagements varying from acquisitions to initial public offerings.
Louise's industry experience includes Life Sciences, Technology & Media and Consumer Products & Retail."
More details via
https://www.grantthornton.com.au/meet-our-people/louise-worsley/
John McInerney, Director of Grant Thornton Australia, Restructuring Advisory
John is a registered liquidator, chartered accountant and member of the Australian Restructuring Insolvency & Turnaround Association and brings over 16 years' corporate insolvency, restructuring and advisory experience to the Grant Thornton team.
John has a passion for working with business owners and their advisers in the dynamic mid-market segment and thrives on formulating cost effective performance improvement and business restructuring strategies. John's recent assignments include:
Voluntary administrator of roller door business operating in Victoria, South Australia and Western Australia, with turnover of $20M p.a. and 75 staff.
Liquidator of a retail bakery chain in Tasmania with turnover of $2M p.a. and 20 staff.
Director in the business review of a chain of fast food outlets in NSW and Canberra.
John has significant expertise assisting businesses in Real Estate & Construction and Hospitality industries.
More details via:
https://www.grantthornton.com.au/en/meet-our-people/john-mcinerney/
---
Event is proudly sponsored by